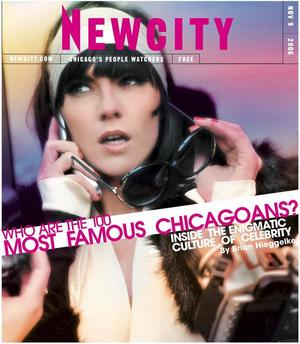 I found myself among the reporters on the red carpet at Macy's Glamorama party this fall, watching as a march of B- and C-listers chatted up the fashion and lifestyle press who'd lined up to collect quippage for transmission to their audiences, while waiting for the night's sole A-lister, the mega-wattage Beyonce Knowles, to make her last-minute arrival. At some point, I overheard someone exclaim in surprise, "Billy Dec is on the red carpet."
By crossing the ropes to the other side of the red carpet, the nightclub impresario, "Bachelorette" employer and frequently photographed pal of David Schwimmer crossed the line, so to speak. I had the same reaction until I realized that, unlike many of those being paraded before us, I'd actually heard of him. The problem with Dec, it seems, is that he is one of ours—a Chicago celebrity.

We're living in a paradoxical time. Thanks to the advent of digital technology, the hegemony of mass media is weaker than it's been in generations. The headlines in the daily newspaper often report on its very own impending doom. So go the broadcast networks. Yet, at the same time, the culture of celebrity has never been more pervasive. We watch celebrity news, we're transfixed more by the red-carpet arrivals and the "fashion police" analysis than the awards shows themselves, we all know who Paris Hilton is, she the very creation of celebrity culture, the manifestation of "famous for being famous." Celebrity is a creation of the press, which manufactures fame as part of its efforts to sell papers or boost ratings, while simultaneously decrying the culture of celebrity. But the press as we know it seems to be dying—just as its creations become bigger than ever.
Chicago is more consumer of celebrity culture than its creator. But we've always had our share of both local celebrities and global phenoms. We even have a few movie stars among us, though those who stay here usually do so specifically to stay out of the spotlight at home. (Vince Vaughn, anyone?) Wasn't long ago that, save for a sports hero or talk-show host, TV newscasters were the closest we got to local celebrities. Nowadays, the TV networks are hard-pressed to find viewers who don't live in a nursing home, and their newsreaders seem so—what, unimportant? Which led us to wonder, who are the most famous Chicagoans? The rise of Google, and the related practice of "googling" people, offered a way to measure fame on a relative basis, at least as reflected on the web. Our "Chicago Fame 100" resides below, where you'll likely note a few "of courses" as well as plenty of "who?" like we did. And maybe a few "how did they forgets," which I'm sure you'll tell us about.
Fame is relative, more so now than ever. Every special interest, every industry, has its own list of "players." If you're part of the group, you know them all. If you're not, it's a list of foreign names. As the media loses mass but subcultures gain traction through digital communities, your American idol is likely to be my American who?
Once you get past the top 25, the Chicago Fame 100 gets fairly interesting. I especially enjoy some of the juxtapositions and wonder if they know each other. For example, Bears linebacker Brian Urlacher resides at #43, just ahead of Studs Terkel and Steve Albini. Somehow, I don't see the three of them going fishing together. Another pleasant surprise is the presence of poets and Nobel Prize winners on the list. The mainstream media may ignore the intelligentsia, but clearly the public does not. Equally surprising is the poor showing of local newscasters who used to seem like our biggest celebrities. Most of those we checked did not even make the cut. Nor, for that matter, did Billy Dec.
But Oprah sure did. As far as we can tell, Oprah Winfrey has become one of the world's most famous people—bigger than Tom Cruise, Brad Pitt or Madonna. Only George W. Bush, with 88.9 million results, is better known among the names we searched. We even checked out dead Chicagoans: Al Capone (2.4 million), Gene Siskel (815,000), Walter Payton (589,000), John Wayne Gacy (361,000) and Richard J. Daley (197,000).
In 1966, John Lennon quipped to a London newspaper that his Beatles were "more popular than Jesus now" and all hell broke loose. Nowadays, it doesn't seem that surprising that Oprah is nearly twice as popular as Jesus Christ, at least that's the result if you use our method of weighing celebrity. Given her charitable nature and self-effacing persona, we can live with that. But the fact that Paris Hilton is also bigger than Jesus? You decide that one.
Notes on methodology: The definition of "Chicagoan" is quite fluid and, in the end, we were subjective in our decisions. This is especially challenging for music and movie artists, who often live in New York or LA for work reasons. Ultimately, we evaluated them based on how much they continue to be associated with Chicago, or whether the core of their career was spent here. Just being from here was not enough. We googled every name as spelled on the chart, in quotes, and did so in the seven days between November 1 and November 8. In some cases where names are "common" and indistinguishable from others who share the name, we added a second search criteria (e.g. "+ Chicago"). Not a perfect science for sure, but better than any other we can imagine. Clearly the web favors text, especially in searches. This means broadcast fame is underrepresented, unless there is related "chatter" on the web. It also undercounts "society" photos, since those are often not uploaded online. In fact, writers are especially at an advantage, since they also benefit from links to stories they've written. Score one for the good guys!
Rank    Name     Results      Claim to Fame
1    Oprah    34,400,000    Talk show host
2    Kanye West    5,300,000    Hip-Hop artist
3    R. Kelly    4,390,000    R&B artist
4    Michael Jordan    4,370,000    Retired Bulls player
5    Dennis Hastert    4,070,000    Speaker of the House
6    Common    3,200,000     Hip-Hop artist
7    Roger Ebert    3,180,000    Movie Critic
8    Barack Obama    3,110,000    Senator
9    Bill Murray    3,090,000     Actor
10    Vince Vaughn    2,570,000     Actor
11    John Cusack    2,190,000     Actor
12    Jerry Springer    2,180,000     Talk show host
13    Lupe Fiasco    2,170,000     Hip-Hop artist
14    Buddy Guy    2,160,000     Blues artist
15    Steven Levitt    2,080,000     Author
16    Jesse Jackson    1,850,000     Political activist
17    Rod Blagojevich    1,590,000     Governor
18    David Schwimmer    1,550,000     Actor
19    Hugh Hefner    1,510,000     Playboy founder
20    Billy Corgan    1,460,000     Smashing Pumpkins front man
21    Felix Da Housecat    1,340,000     House music artist
22    Liz Phair    1,280,000     Pop music artist
23    Gary Sinise    1,250,000     Actor
24    Joan Cusack    1,160,000     Actor
25    Bernie Mac    1,160,000     Comedian
26    Richard Marx    1,060,000     Pop music artist
27    Jeremy Piven    1,020,000     Actor
28    Jeff Tweedy    997,000     Wilco front man
29    Rhymefest    877,000     Hip-Hop artist
30    John Hughes    813,000
31    Harold Ramis    807,000     Filmmaker
32    Audrey Niffenegger    611,000     Author
33    Rex Grossman    603,000     Bears player
34    Ramsey Lewis    589,000     Jazz artist
35    Pete Wentz    581,000     Fall Out Boy front man
36    Lauren Holly    570,000     Actor
37    Brian Urlacher    535,000     Bears player
38    Studs Terkel    526,000     Author
39    Steve Albini    526,000     Music recording engineer
40    Scott Turow    500,000     Author
41    Frankie Knuckles    492,000     House music artist
42    Koko Taylor    466,000     Blues artist
43    Chris Ware    458,000     Comics artist
44    Ozzie Guillen    451,000     White Sox manager
45    Mike Ditka    435,000     Retired Bears coach and player
46    Kirk Hinrich    431,000     Bulls player
47    Kurt Elling     413,000     Jazz artist
48    Eric Zorn    401,000     Tribune columnist
49    Scottie Pippen    390,000     Retired Bulls player
50    Ernie Banks    352,000     Retired Cubs player
51    Garry Wills    346,000     Author
52    Tom Joyner    343,000     Radio DJ
53    Derrick Carter    341,000     House music artist
54    Alex Brown    325,000     Bears player
55    Richard Roeper    319,000     Sun-Times columnist
56    Richard M. Daley    279,000     Mayor
57    Charlie Trotter    275,000     Chef
58    Elizabeth Berg    269,000     Author
59    Ken Vandermark    267,000     Jazz artist
60    Dick Butkus    266,000     Retired Bears player
61    Ira Glass    246,000     Radio host
62    Judy Baar Topinka    241,000     Republican candidate for governor
63    Lovie Smith    238,000     Bears coach
64    Andrew Greeley    235,000     Author
65    Grant Achatz    222,000     Chef
66    Ryne Sandberg    220,000     Retired Cubs player
67    Gale Sayers    214,000     Retired Bears player
68    Ronald Coase    211,000     Nobel Prize winning economist
69    Mark Strand    209,000     Poet
70    Jesse Jackson, Jr.    204,000     Congressman
71    Rick Bayless    199,000     Chef
72    Bobby Hull    191,000     Retired Blackhawks player
73    Martin Marty    184,000     Religious scholar
74    Jim DeRogatis    179,000     Music critic
75    Ron Santo    168,000     Retired Cubs player
76    Gary S. Becker    160,000     Nobel Prize winning economist
77    John Mahoney    155,000     Actor
78    Terry Savage    149,000     Personal finance expert
79    Scott Skiles    148,000     Bulls coach
80    Archer Prewitt    141,000     Comics artist/musician
81    James McManus    133,000     Author
82    Michael Sneed    129,000     Sun-Times columnist
83    Nate Berkus    127,000     Interior designer
84    Bill Zwecker    121,000     Sun-Times columnist
85    Bill Kurtis    116,000     Newscaster
86    Mike Singletary    111,000     Retired Bears player
87    James Heckman    108,000     Nobel Prize winning economist
88    Bill Rancic    104,000     Reality television personality
89    Christie Hefner    103,000     Playboy CEO
90    Al Jourgensen    101,000     Ministry front man
91    Fred Eychaner    95,500     Media investor
92    Tom Rosenberg    94,500     Film producer
93    Jerry Reinsdorf    91,700     Bulls and White Sox principal owner
94    Rich Whitney    91,500     Green Party candidate for governor
95    James Cronin    90,000     Nobel Prize winning physicist
96    Robert Lucas    86,900     Nobel Prize winning economist
97    Li-Young Lee    84,900     Poet
98    Joe Meno    81,500     Author
99    Rick Tramonto    80,900     Chef
100    Robert Fogel    77,700     Nobel Prize winning economist