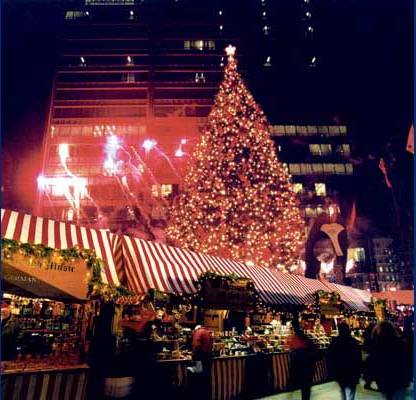 This time-honored tradition, which nips at your nose the day before Thanksgiving, is spent in the freezing rain. Swarms of people are bundled in winter coats, scarves, hats and gloves as they stand and wait for the massive tree in the middle of Daley Plaza to illuminate and inform that the holidays are upon us.
Families and couples from all over the Chicago area, spanning from Algonquin to Zion, flock to this historical event that has been a city staple for years, bringing back the Christmas spirit before a dreaded month of crowded malls and retail nightmares consume their lives. Tourists stuff their faces with authentic German-style pastries and bratwurst as they peruse the Christkindlmarket. The aisles are filled with trinkets, artwork and countless other overpriced souvenirs to commemorate the trek downtown during the start of the most wonderful time of year.
Helping to celebrate the occasion is local movie star and daytime talk-show host Bonnie Hunt, always proud to call Chicago her hometown, saying this city makes her feel pretty when compared to Los Angeles, but we can let that slide.
"You guys are all my warm blanket," Hunt says to the hundreds of smiling, shivering attendants waiting impatiently for the towering tree to sparkle. Accompanying her are  Keith Williams, CEO of Underwriters Laboratories, which has sponsored the ceremony in past years, as well as Mayor Daley.
As if raised from the concrete slabs of the plaza courtyard, the pine stands several stories high, wrapped in lights, though this year is different then past.
No one is jumping to any conclusions, but this season sports a single, slightly sparse tree instead of many bundled together to form a lush mountain of foliage. Have the budget cuts of Da Mare forced the city to spend less on our holiday landscaping? A waiting crowd member took notice of all the planters filled with dying flowers surrounding the plaza.
The clock finally strikes 4:30 and the lights flicker on, wiping away the rain with awe and applause. "It's a tradition and the largest family holiday of the year," says an anonymous market employee who has worked the event for several years. "We're starting the holiday off right!" (Jonathan Kaplan)