By Martin Northway
He lives on in crackling 1930s football footage: a running back in a long, Homeric dash ranging from sideline to sideline, on a field so muddy water stands in visible pools; he is a speeding human gyroscope, maintaining his balance while he evades and breaks tackles. Every defender seems to have a shot, yet he crashes into the end zone.
Comparisons of John Jacob "Jay" Berwanger with other football players fail. Legendary sports broadcaster Red Barber called him simply "the greatest college player I ever saw." Late former President and onetime Michigan star Gerald Ford bragged about his scar from tackling Jay Berwanger in 1934.
The famous Red Grange said Berwanger had a "faraway look" allowing him to see downfield and rapidly adjust. Grange also said Berwanger could hit a hole closing on him, drumming his feet lightly, freezing tacklers before slashing through.
In fall 1935, the star back of the University of Chicago Maroons was selected as the first recipient of what came to be known as the Heisman Trophy. "Seventy-five years later, Jay Berwanger still receives positive publicity," says Brian Cooper, Dubuque newspaper editor and sports author, writer of a forthcoming biography of Berwanger. "Not just because he was the first Heisman recipient but because [of] how he played the game—tenacious and tireless, and playing both ways every game"—and "how he lived his entire life."
Called Chicago's "one-man gang" or "one-man team," even in that era of single-platoon football Berwanger was an ironman. Perhaps even more remarkably, his achievements came in a football program in swift decline. The University of Chicago had been champ of the Big Ten (originally the Western Conference) seven times under pioneering coach Amos Alonzo Stagg—the last time in 1922.
But even as Berwanger entered UofC as a freshman in 1933, Stagg was being forced into mandatory retirement. The University was well into strengthening undergraduate education but de-emphasizing football under youthful president Robert Maynard Hutchins. In addition, the growth in the size of the undergraduate college was not keeping pace with other competing universities.
For each of Berwanger's three varsity years, 1933-1935, the Maroons' record was only .500. How was it even possible the star from such a team could win the Heisman—let alone be selected All-America two years in a row?
It was UofC's distinctive education that attracted Berwanger in the first place. Excelling in wrestling and track (he became a decathlete as well), Berwanger was an all-state halfback in Dubuque, Iowa, recruited by Iowa, Michigan, Minnesota and Purdue—but Chicago hadn't even asked.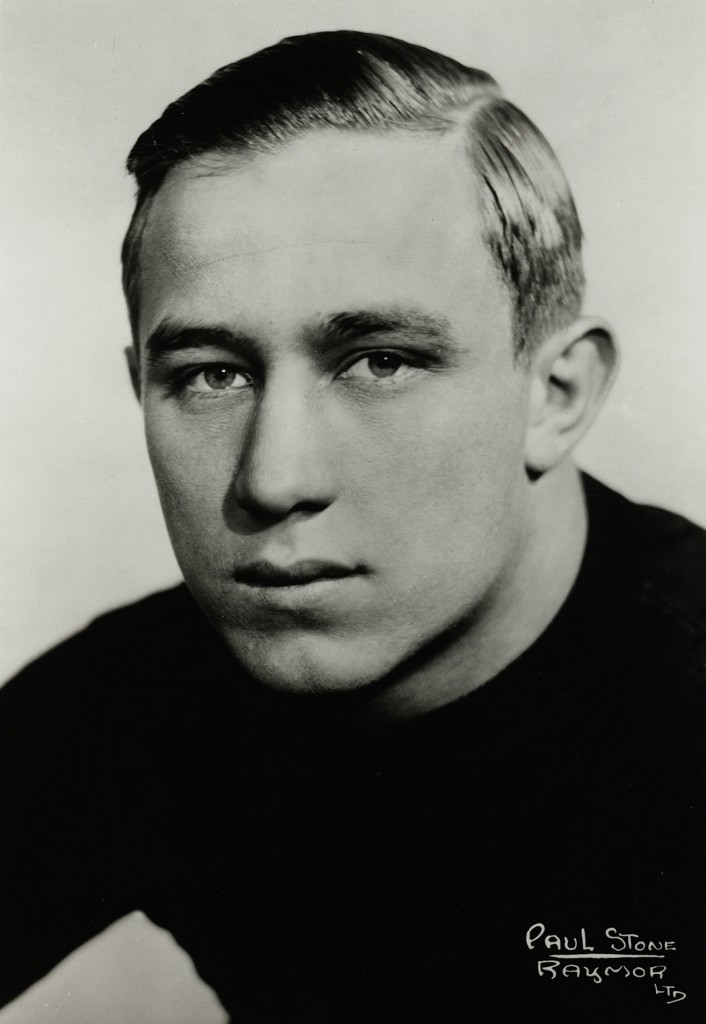 But "times were tough then," Berwanger said in 1986. "I wanted to attend a school that would give me a first-rate education in business, without special treatment, so that I would be prepared when opportunities were certain to return."
He was accepted at UofC and received a basic academic tuition scholarship of $300 a year. To cover his other expenses he worked part time for the University Engineer running elevators and fixing toilets, cleaned the gymnasium, and waited tables at his fraternity, Psi Upsilon.
His talent on the football field showed from the beginning. Hesitant to hand over the reins of the team to Clark Shaughnessy, Coach Stagg was quoted as saying, "I hate to bow out just when that freshman kid, Berwanger, is becoming eligible."
As a sophomore, he played more minutes than any other player in the Big Ten, scoring fifty-five points, making all but two Maroon punts, throwing half of the Maroons' forward passes and excelling as well on defense. While Coach Shaughnessy would come to be known as a pioneer of the T formation, Berwanger said his coach told him later that he used five or six other particular offensive formations to put the back's skills to best advantage.
While his individual statistical categories as a junior may not seem impressive by modern standards, the total amount of offense in seven games (he missed his only one game due to injury) was enormous—eight touchdowns on 119 hauls for just under five yards a carry, fourteen passes completed for 196 yards, eighteen punt returns for 186 yards, and seventy-seven punts totaling 3,026 yards. In that 1934 season, he at least had some blocking help, from All-America guard Ellmore ("Ell") Patterson. At 6'1" and 195 pounds, Berwanger actually outweighed his 185-pound teammate.
Berwanger was usually self-deprecating about his own blocking skills, however. On the occasion of the fiftieth anniversary of his Heisman Trophy, in 1985, he told that year's UofC small-college team that after he threw a block that sprang the quarterback for the tying touchdown in the 1936 College All-Stars game, "My teammates in the stands said later it was the first block I'd ever thrown."
In fact, in 1934 he received an alumni award as the team's outstanding blocker. And in both 1934 and 1935, on defense he usually played corner or what we might call middle linebacker for three downs and then backpedaled to the safety position for the fourth.
In the second to the last game of the 1934 season, Chicago could get little offensive traction against a national champion Minnesota team some consider the best ever in college football to that point. Though losing 35-7, on defense Berwanger made fourteen tackles in the first half alone. Chicago fell to 4-4 with a final loss to Illinois, 6-0.
Berwanger's distinctiveness was further enhanced because in that era without faceguards he wore a helmet with spring steel bars to protect a broken nose that had failed to heal properly. He was sometimes called "The Man in the Iron Mask."
The numbers put up in his senior year generally equaled or exceeded his previous year's achievement. But spectators would never forget two brilliant runs in the sixth and eighth games of the 4-4 season.
Despite a 20-13 loss to powerhouse Ohio State, Berwanger ripped off an 85-yard touchdown that one Big Ten historian described as "a 140-yard scoring gallop" with Berwanger "slithering through the mud off tackle, then down a sideline, then crossing back to mid-field between tacklers, then back to the sideline again where he burst through two converging Buckeyes who had their hands on him."
A UofC publicist called it "a beautiful example of his skill as an open-field runner, in which he combined his natural speed with a strong stiff-arm, change of pace, hip-sway and fine sense of position on the field. Blocking got him past the scrimmage line but the rest of the route he traveled on his own."
He secured a 7-6 victory over Illinois in the final game of the season with a 49-yard runback of a punt. He was stopped at the one-yard-line, but calling the signals as offensive captain, he twice summoned fullback Warren Skoning. Skoning failed to score both times. Then Berwanger smashed across the goal line himself. (Skoning, by the way, had an otherwise admirable day, running for 85 yards.)
After the season, when Berwanger got word from New York's Downtown Athletic Club he had won their new award for outstanding college football player, he wasn't sure the recognition was anything special. He told the Wall Street Journal in 1985 that he found a telegram waiting for him at the fraternity when he got back from class.
"I'd won a few things that year, and I might have ignored it if it didn't mention a plane trip to New York," he said. "I'd never been to New York, so I went. Had a real good time, too."
(For years he treated the monumental twenty-five-pound trophy rather cavalierly. After moving out of the fraternity, he placed it in the safekeeping of an aunt who sometimes used it as a doorstop. "The Downtown Athletic Club doesn't like me to tell that story," he told me, "but it was true and so I tell it.")
He was also the first player selected in the still-nascent National Football League's very first draft. The Philadelphia Eagles picked him but traded rights to the Chicago Bears, owned and coached by George Halas. There is a myth that Berwanger had demanded high pay. Players then might get $100 to $150 a game—the Bears' highest-paid star was the formidable fullback Bronko Nagurski at a reported $7,000 a year—but, in truth, Berwanger had already decided he could do better in the business world.
In a phone interview in 1983, Berwanger told me that he was with a date at a college function at the Sherman House when he ran into Halas and his wife in the lobby. "We talked, and he asked how much I'd need to play for the Bears," recalled the UofC star, who said his answer was "sort of tongue-in cheek."
"I told him I wanted $25,000 for two years and a no-cut contract. He just smiled and said goodnight to my date and me."
Halas' reaction would have been no surprise to former Bear player and coach Mike Ditka, who claimed Halas threw nickels around like manhole covers. But Berwanger insisted there was never any animosity between him and the Bears owner. Sometimes he would run into Halas while raising money for the University in later years. "He was cooperative," said Berwanger, "and he was a gentleman."
Berwanger said he never regretted not going professional. "The only regret I have is that we weren't talking seven or eight years later…"
Instead he took his considerable achievements out into the world of business. As well as having been captain of the football team, he was captain of the track team and president of his senior class and of his fraternity. He became a salesman of foam-rubber products but also refereed Big Ten college games, wrote a column for the Chicago Daily News and helped coach the Maroons through the 1939 season, when UofC dropped football.
In 1940 he married Philomela Baker and began a family. In World War II he was a U.S. Navy flight instructor, attaining the rank of lieutenant commander. After the war he established a company producing plastic and rubber parts for the automotive market. A subsidiary he retained was grossing $30 million a year when he sold it in 1992.
While achieving financial success, Berwanger sustained his relationship to his alma mater, involved with fund raising and alumni relations. He was awarded the Alumni Service Medal in 1984 but remained active in various capacities throughout the 1990s including chairing the President's Fund in 1993.
In the 1960s the University took a tentative step toward bringing football back to campus with a football club. Despite some resistance due to the symbolism of football, in 1969—exactly thirty years since its abolition—University officials re-established varsity football on a Division III small-college status.
Berwanger rarely missed a homecoming game. A whole new generation of students found him accessible and unassuming.
His wife of 35 years died in 1975, and he married Jane Temple (she died in 1998), inheriting stepchildren to join with his own three grown children.
He maintained his playing weight with regular rounds of golf. This writer caught up with him in 1985 after he and Jane had returned to their home in Oak Brook after a vacation in Mexico. At 71, he had been wind surfing.
"What's the big deal?" he answered in reply to the obvious question. "There are hundred-pound girls who can do it. You've got to have balance, but it's not as hard on you as water-skiing."
Jay Berwanger died in 2002 at the age of 88. "He epitomizes the positives of intercollegiate athletics," biographer Brian Cooper observes in an email. "No matter what, to have Jay Berwanger's name at the top of the list adds status to the Heisman roster."
Today, even a great player like Berwanger might not get a look for the Heisman. "Not only do I doubt that a star on a .500 team would win the Heisman," says Cooper, "I doubt that Berwanger would have put up with the publicity hoopla associated with Heisman 'campaigns' today.
"He was too modest for that."