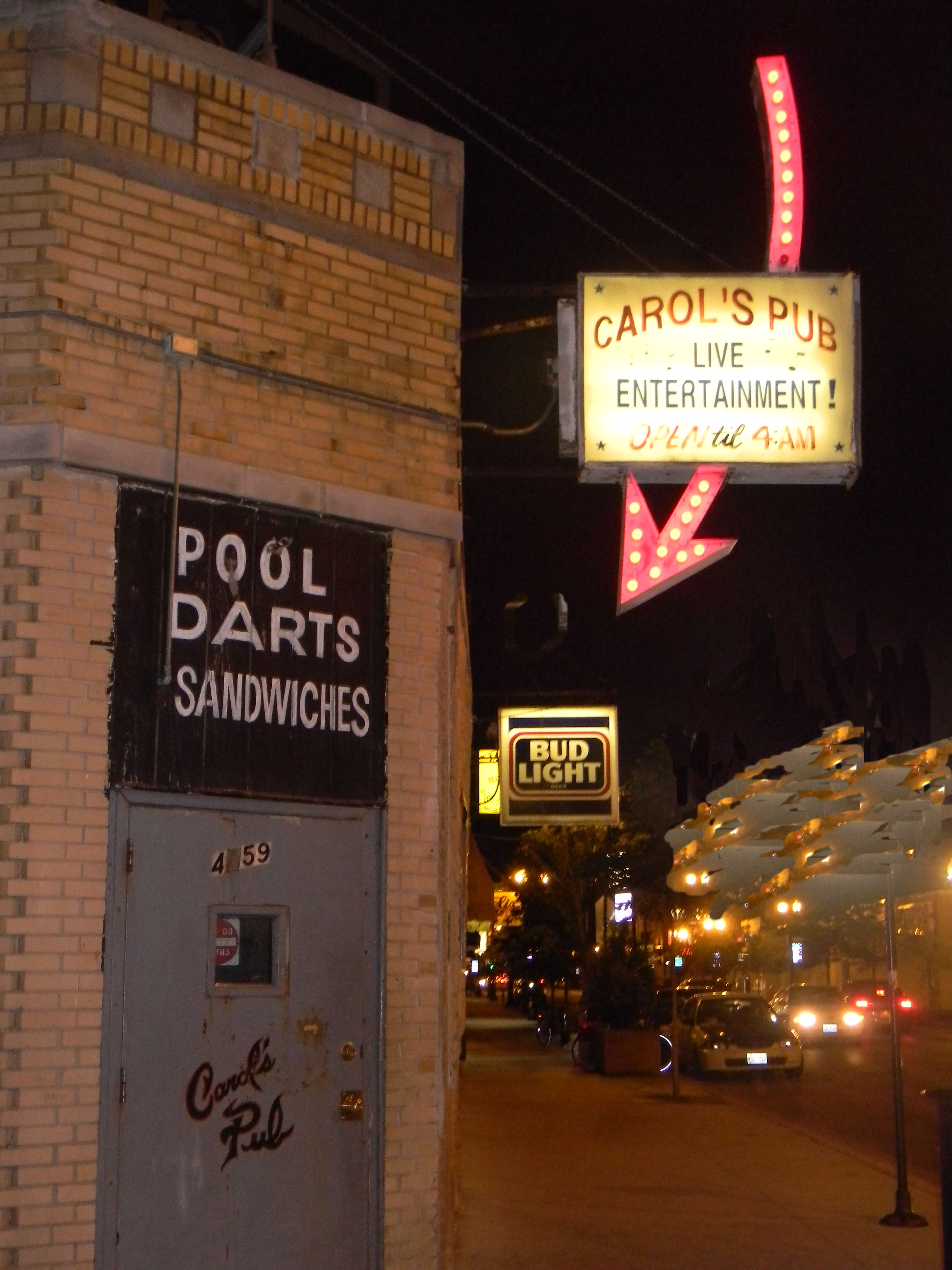 It is two-thirty in the morning at Carol's Pub. Most of the other bars in the neighborhood have closed, and customers of all ages—from twenty-one to sixty—file in to order more beer and whiskey, and to dance to the music of Diamondback, Carol's house band for more than fifteen years. Some people talk, most drink, and some even dance beneath a sign which features a guitar, cowboy boots and hat reading: "Welcome to Carol's, The Best in Country Music."
By four o'clock in the morning, the music and beer have stopped flowing and dozens of people with beer on their breath and cigarettes in their mouths make their way through the streets of Uptown, humming the music of Johnny Cash as they go.
Forty years ago, the same streets were filled with similar spirits morning, noon and night. Take a walk down Clark Street or Broadway near Wilson and you would be sure to see hosts of men sporting Elvis-like sideburns and hair slicked back with the help of generous dabs of Brylcreem or Vitalis, usually wearing green work pants, a dark canvas jacket or nylon windbreaker and vinyl penny loafers with white socks. The women, often with children in tow, wore feminine white or yellow dresses and piled their hair high in a beehive. Together, these southern transplants transformed Uptown into what became known as "Hillbilly Heaven," turning bars into honky-tonks, delis into diners, streets into drag strips and vacant lots and alleys into auto repair centers.
"When we came here in 1972, Uptown was booming," says Carol Harris, owner and manager of Carol's. "Most of the people here were Appalachians, and my husband Ted was from Alabama. He knew country people and country music and saw opening a country bar as a great business opportunity."
Yet their influence spread far beyond Uptown.
"The 'hillbilly' presence overlapped Uptown, probably ranging from Sheridan on the east and Ashland on the west and Addison to the south and Foster to the north," says Patrick Butler, who covered the area for the Lerner Newspapers during the sixties, seventies and eighties. "They also had concentrations in Lincoln Park, Lakeview and the Bowmanville neighborhoods."
In fact, records show that while the forties, fifties and sixties saw as many as 400,000 African-Americans migrate to Chicago from Deep South states like Mississippi, Alabama and Georgia, an estimated 70,000 whites also settled in Chicago after the Korean War. These migrants came from the Mid-South, the mountainous regions of states like North Carolina, Kentucky, Eastern Tennessee and West Virginia.
Like most new immigrant or migrant groups, they were immediately vilified. Yet perhaps because they were largely of the same race and spoke the same language, their own habits and customs were even more vehemently derived in the press. Albert N. Votaw, executive director of the Uptown Chicago Commission wrote an article titled "The Hillbillies Invade Chicago," for the February, 1958 edition of Harper's magazine stating:
"These southerners bring with them suspicion of landlords, bosses, police, principals, and most church people, settling in deteriorating neighborhoods where they can stick with their own kind, living much as they did back home, often removing window screens, they sit half-dressed where it is cooler and dispose of their garbage in the quickest way."
A series of Chicago Tribune articles, penned in 1957 by reporter Norma Lee Browning and reposted on a Chicago magazine web page, painted an even worse picture.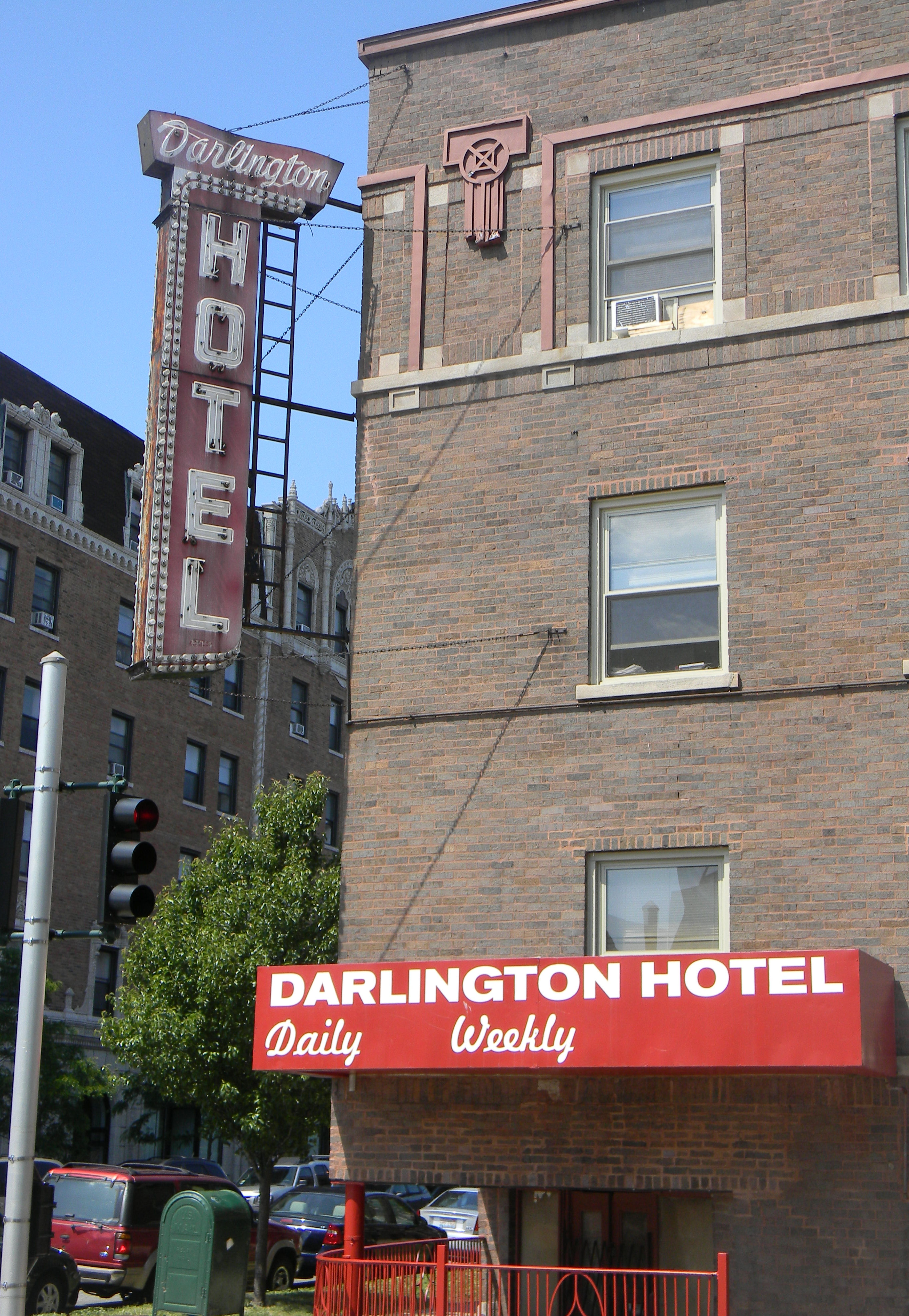 "Skid row dives, opium parlors, and assorted other dens of inequity collectively are as safe as a Sunday school picnic compared with the joints taken over by the clan's fightin', feudin' southern hillbillies and their shootin' cousins, who today constitute one of the most dangerous and lawless elements of Chicago's fastest growing migrant population….  Authorities are reluctant to point a finger at any one segment of the population or nationality group, but they agree that the southern hillbilly migrants, who have descended on Chicago like a plague of locusts in the last few years, have the lowest standard of living and moral code [if any] of all, the biggest capacity for liquor, and the most savage and vicious tactics when drunk, which is most of the time."
Articles from this era can easily be described as insensitive and sensationalistic journalism that would not appear in a major newspaper or magazine today. Yet as somebody who grew up in Lincoln Park in the 1970s with the last remnants of the "hillbillies'" I can testify that some of the stereotypes depicted in these articles are not entirely without precedent. The neighborhood even had its own version of "The Hatfields and McCoys"—The Corns and The Tates. I remember my friend Norman got into a fight with Dell Tate at Alcott School. As soon as school ended, about ten Tate males holding sticks, thick Coke bottles and garbage-can lids were standing in back of his house near Clark and Drummond, the eldest one shouting, "You mess with one of the Tate's, you mess with the whole family!"
Butler can also recount an incident at what was then the Club Jubilee, a long-since-transformed Southern hangout near Montrose and Broadway.
"It was a great place, with cheap drinks and live entertainment," says Butler, who also lived in the Uptown area after graduating from Columbia College. "But I remember one night I just got this strange feeling. The hair on the back of my neck started to stand up and I knew something was happening. I told my friends to get out and about a minute later a fist fight breaks out. The barmaid kept a baseball bat under the bar and we saw her grab the bat, jump on the bar and start swinging at people who used the diversion to try and get into the register." Butler continues. "She might not have played in the major leagues, but she could sure swing a bat."
As somebody who also spent much of my childhood going to Cubs games and carnivals, playing baseball, football, freeze-tag and hide-and-seek with the children of Appalachian parents, I can also say that these incidents by no means represented a majority of the Appalachians on the North Side. Just like the African-Americans who migrated to the South and West Sides, and the immigrants from Europe before them, the majority of the Appalachians were hard-working, family-centered people who came to Chicago in the hopes of earning a decent living and providing a better life for their children.
"The Appalachians were people like everybody else who came here and worked hard," says Butler, who still covers the North Side for Inside Publications. "They moved North because they were already practically living in poverty when the jobs in the coal mines began drying up, and word got out that they could find better paying jobs in Chicago."
While many African Americans found labor alongside the Poles and Lithuanians in the stockyards and steel mills on Chicago's South and East Sides, the Appalachians settled almost entirely north of Fullerton Avenue. They worked in medium-to-large factories like Bell & Howell, General Valve and Stewart-Warner, which had a 100,000-square-foot plant on Diversey near Racine; some found jobs in gas stations or as handymen.
"A lot of them also got trained in the army in electrics, and opened or worked in small TV-and-radio-repair shops," Butler says.
The 1960s are remembered for music, marijuana and the feeling of optimism and change manifested in the civil rights and women's movements. While it has not been as widely depicted in books and films, there was also a major movement to end hunger and poverty in Appalachia, led by President Lyndon Johnson and Senator Robert F. Kennedy. As many Appalachians moved to Chicago, the end of the 1960s saw a host of organizations, leaders and volunteers travel to the North Side of Chicago to facilitate the movement.
One of these organizations was The Council of the Southern Mountains. In 1963 the council opened The Chicago Southern Center on Montrose Avenue near Racine. Funded in part by W. Clement Stone with volunteers from Berea College, it was used as a food bank, medical center and hub for social services until it closed in 1971. The Tri-Faith Employment Agency was also a center for organization and protest funded by the federal war on poverty. It was run by Chuck Geary, who became a local celebrity after being the subject of a report for CBS news as he traveled to Chicago from Horse Branch Kentucky in a broken down automobile. Depicted as a cross between Tom Joad and Woody Guthrie, he began each protest by breaking out his guitar and singing a song called "Hillbilly Heaven."
"Geary was in Chicago during most of the late sixties, organizing food drives, holding rallies and opening up facilities to help the Appalachians with education as well as medical needs, like opening clinics for people who suffered from Black Lung disease," Butler says. "In a way he was almost like the Jesse Jackson of the Appalachians in Chicago."
In 1971, the Council of the Southern Mountains outreach in Chicago closed after W. Clement Stone withdrew funding, citing demographic changes. Many of the smaller factories also began to close or move to the suburbs. In 1973, the nation went into a two-year recession, further damaging Chicago's economy. Unlike the African-American migrants, who established strong communities on the South and West Sides, many of the Appalachians  began to make their way back home.
"A reverend who worked in the Uptown area told me that 'they figure they can starve more comfortably back home than in Chicago,'" Butler says.
Just as they migrated North over a number of years, the exodus of the Southern whites from Chicago was gradual. Along with the decline in low-skilled jobs, the main reason for the exodus was urban renewal. Growing up in Lincoln Park, I witnessed what was probably the first wave of these changes. In the area west of Halsted near Diversey, on streets like Burling, Schubert, Dayton and Mildred, rusted iron fences, tarpaper houses and grey wood porches gave way to manicured gardens, wolmanized wood decks and aluminum siding. Rents went up and the hill folk either moved back South or into Uptown, which remained the last bastion for the Southern migrants.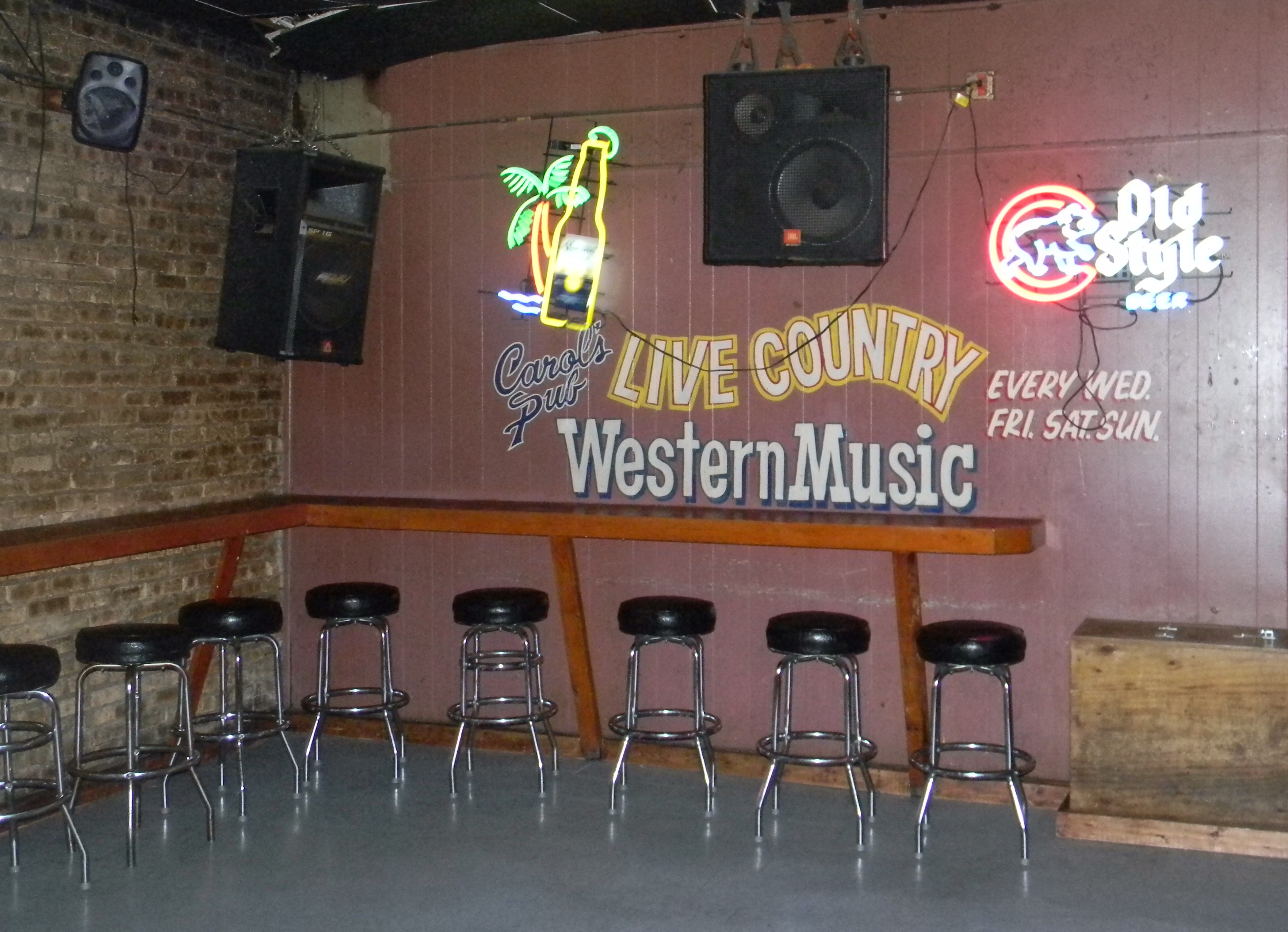 "Things were strong here through the seventies and eighties as far as Southerners living and staying," says Harris, whose bar features live country music five nights a week.
"It wasn't really until the 1990s when they started rehabbing the condos and the yuppies moved in. After that the landlords started raising the rents and the people moved back South."
Many of the Southern whites also stayed in Chicago, perhaps living in the same North Side neighborhoods or moving to the suburbs, blending in and enjoying all the benefits of a prosperous community.
"You've got to realize that the white southern migrant, unlike the black or Puerto Rican, faces what is basically just a one-generation problem," says Bill Myers, a social worker who worked in Uptown during the seventies. "All he has to do is lose his Southern accent and move out of the migrant community and nobody recognizes him any more."
With the closing of "Sharon's Hillbilly Heaven"  on Lawrence and Broadway, Carol's represents what may be the last bastion of the true, Southern-white culture in Uptown. Now the crowd is a mixture of the few remaining regulars as well as young hipsters trying to catch the country vibe. Because of this, Diamondback now mixes in old pop, R&B and even rock numbers with traditional country standards like "Kiss An Angel Good Morning," "Faded Love," and "Your Cheatin' Heart."
"When the neighborhood began to change fifteen years ago we thought we would see a drop in business," Harris says, "but we found out that yuppies like country too."