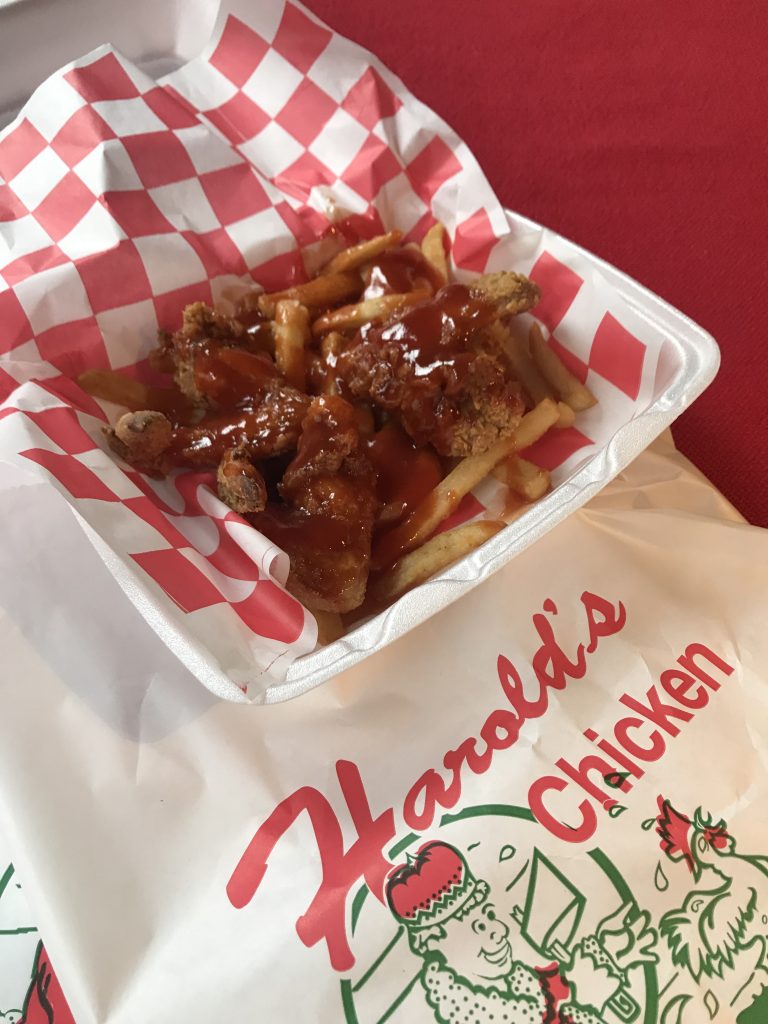 "What you wan' on it, baby?" That was always the final question asked after you placed your order. Leon's. On the 9. 79th Street. When they only served ribs and links. The golden era. When the lady behind the glass would fix her teeth with her tongue, waiting for your two-to-five-word answer: "hot sauce" or "salt and pepper" or "extra bbq sauce" or "nothin' ma'am" or… "mild sauce." And it was those two words when they left your mouth that separated you from anyone else anywhere in the world because those were the two words that you could only say in Chi and "ma'am"—that lady behind that non-assault-weapon-protective bulletproof plexiglass—would know WTF you were talking about.
Usually held hostage in yellow squeeze bottles, mild sauce for at least four (maybe, five) generations has found its way onto our chicken, rib tips, pizza, fries, onion rings, pizza puffs, waffles (only when they're paired with chicken) and grease-soaked white bread at many Michelin-missed five-star 'hood food emporiums and trucks that serve one-course meals fit for families. Part hot, part chili, part ketchup, part Sriracha with maybe a hint of bbq sauce and aged vinegar, "mild" has carved out a space in the hearts, minds, souls and stomachs of black Chicagoans to the degree that we claim it being a part of "black Chicago" on the same level we claim the Obamas, Oprah, Jordan, Farrakhan, Harold (both Washington and Pierce), Frankie Knuckles, Ye and Father Pfleger.
If you ask, as some have recently, the owner of Uncle Remus (West Side in Austin) will tell you that they were the ones who invented the original mild sauce. Could be truth. What the original receipt is/was remains unknown. Always been that way. Unsuddenly, with this new influx of foodies and the non-urban interest in urban cuisine came a geographical and racial colonizing interest in mild sauce. Not just for the taste, but for its life. It's like the "greatest condiment ever" recently found its way into the intersection of Chicago, black folk and the things white folk don't know. White people from outside the South and West Sides who'd "only heard about but never experienced" mild sauce crossed the South and West segregation lines and wanted in. Like it was a secret that was kept from them. Which by American standards is un-American.
Here's facts: No one who has made Remus—or Harold's Fried Chicken, where mild sauce may not have originated but was perfected—their second home, literally, figuratively and actually gives a shit where mild sauce originated, who originated it or what's in it. We grew up on it, can't stop eating it, swear by it, know where to find it and ain't died from eating it (yet!), that's all we've ever needed to know. So when writers from Chicago magazine call it "bright orange sauce" and use the term "orange" (like it's the color of Donald Trump or something) to describe the sauce that was on his chicken and fingers, when Thrillist sends its "food guy" to interview the sauce's experts and appear on the Mild Sauce podcast, you know a cultural invasion is upon us. And this time they want our sauce—not our music, minds, women, style, filmmaking or basketball talents.
But like Frankie Beverly and Maze, skins (pork rinds), peppermint sticks in pickles, socks and slides, weaves and fake eyelashes, mild sauce remains 'hood. Chi or die. Unaffected by outside interest and curiosity, unfazed by newfound fame invading its 773/708 space. It's what dips from Mavis Staples and Chaka Khan's voices. At sixty years old, it knows both what and who it is; knows exactly what it represents. As Dave Infante of Thrillist learned, "To some Chicagoans mild sauce is more than a food—it's a worldview." Chikanda. Because with mild sauce it's not the invention or ingredients, it's the importance. Nothing else. Larry Legend, respected and designated mild sauce god, began his mild sauce dependence film short, "Intervention," stating every detail that needs to be known about the addictive accessory that baptizes—not lathers, drenches over covers—your 1/2 Dark: "Harold's Chicken is the birthplace of mild sauce." Debatable. "8 out of 10 people use mild sauce." Biblical.
Leave knowing this: Mild sauce is indigenous to black Chicago like privilege is to white American males. What it is, what's in it, who started it? Muthafucka, we ain't tellin'! Just lick you fingers and keep it moving. Cross you arms across your chest. Mild Sauce forever.