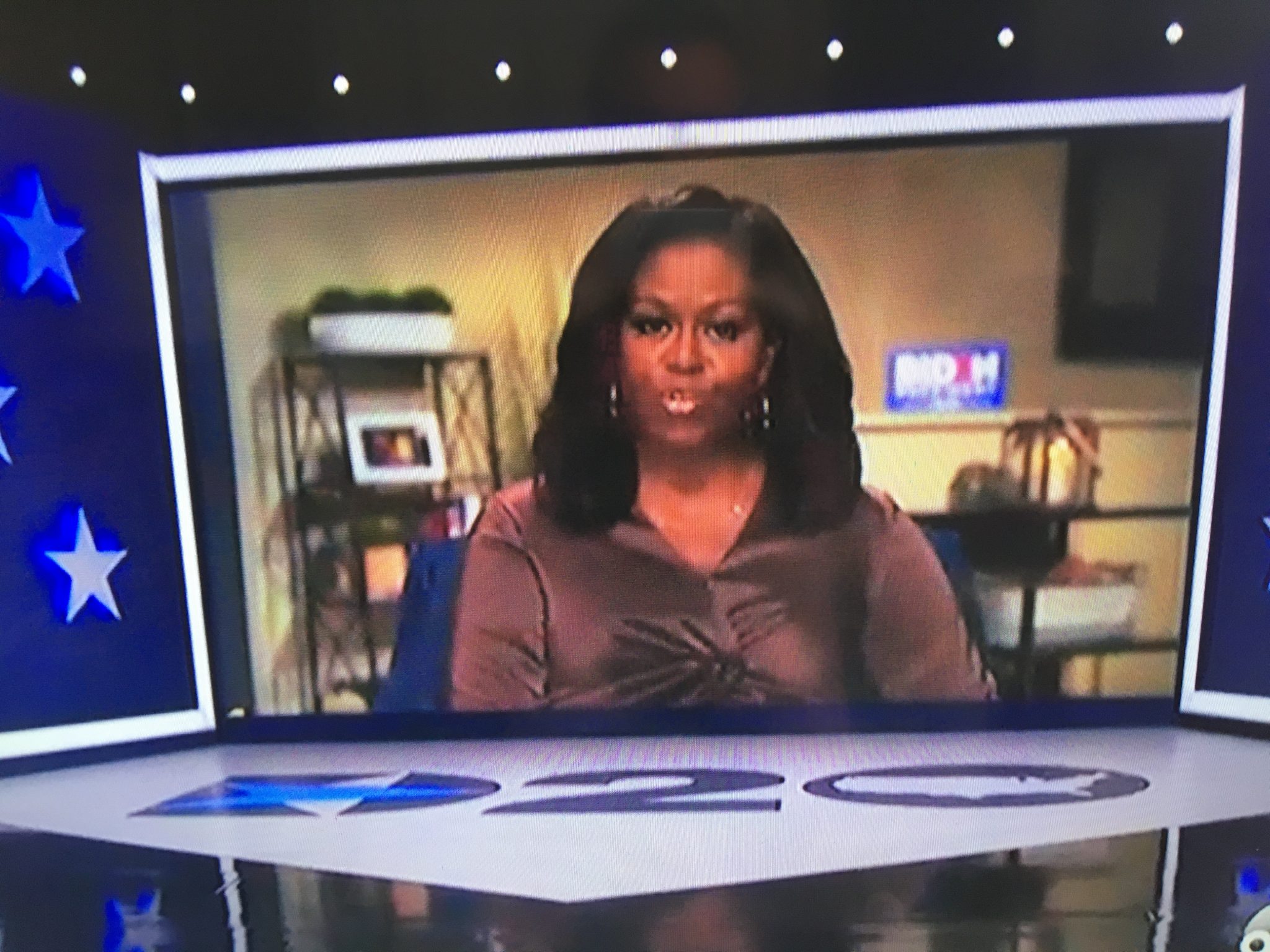 Watching the 2020 Democratic National Convention, one could not help but feel some trepidation from the opening, hosted by one of the "Desperate Housewives," but which eventually led to some pretty surprising moments. You also noticed that the murder of George Floyd was front and center, sharing equal footing with the pandemic. I began to feel, for the first time in five years, that the American Body Politic has a puncher's chance at weathering four years of Trumpism.
The Dems trotted out Bernie Sanders, Gretchen Whitmer, Andrew Cuomo and Amy Klobuchar, among others, as well as the usual Party suspects, but they also did something else. They brought racism front and center, giving George Floyd's brothers a platform with which they held a moment of silence for their murdered brother.
Even the virtual format could not take away the gravity of this moment.
For the first time in either party's convention, it wasn't merely a bunch of old white guys tossing off feel-good bromides to a servile base wearing stupid hats. It wasn't a pep rally—it attempted to be a serious consideration of where we are, as a people and a country, and for the most part, it succeeded. Michelle Obama's closing speech won the night—it was heartfelt, thoughtful and empty of cynicism. I felt, for the first time in a very long time, like we stood half a chance as a people.
Even some Republicans came out and defied their party, most notably John Kasich, who was Presidential timber in 2016. Politicians crossing party lines and cheering for the other team is nothing new—I'm old enough to remember "Democrats for Nixon" in 1972—there are always some contrarians. But Kasich is a GOP man to his bone marrow who used to have a show on Fox News. For him to cross the street and endorse Biden may seem a rather ordinary act of politics, but in Trump's GOP, it is also an amazing act of patriotism.
They will gut him. There is not a bigger collection of vindictive, grimy pricks than today's GOP. They don't have a bottom—there is no vile act, word or deed that they are not capable of. These guys are lower than a snake's crank in a wheelbarrow rut.
There is nothing I agree with John Kasich on, but you get the feeling his politics reflect deeply held principles rather than cheap bigotries, greed and hatred.
There was also a young woman who'd lost her father to Covid-19. She looked into the camera and explained: "My father was a perfectly healthy sixty-five-year-old man; his only pre-existing condition was believing in Donald Trump." Her father died, after being exposed to Covid-19, in a hospital, alone, with a nurse holding his hand.
The convention is, ostensibly, in Milwaukee, but is being beamed in from everywhere BUT Milwaukee. That's not, so far, entirely a bad thing. There are, to be sure, showbiz touches: The Springsteen montage, set to "The Rising," was affecting, but to what end? I love Bruce as much as any other middle-aged white guy, but this affectation, while meant to be galvanizing, struck me as mawkish. Leon Bridges sang a lovely song in honor of George Floyd as well; but I fear these moments, as well-intentioned as they are, are not answering any questions. Like what's next?
The crisis of faith in Biden and Harris comes from the far left of their party. They need to validate the anger of that voting bloc. The people out there peacefully protesting and Black Lives Matter—the progressive wing of their party—are inconsolably angry and Biden-Harris need to speak to it. They also need to listen. I've made a LOT of noise with my contempt for people who do not vote, but in this generation, I see them doing the work my generation should have done and they want answers. Joe and Kamala have to engage them or they'll lose them and the election, as well of what is left of the American promise.
I was encouraged at the sight of Biden in a Zoom meeting with leaders from the Black community asking them what they needed to see next to regain the trust of their leaders. Nobody sugarcoated their answers, and Biden listened. Look, I know this is show business but I'd never seen it before—Biden seems to know what he does NOT know, and this is encouraging. It shows that he has the ability to evolve, and maybe, so do we.
The highlight of all of it was Michelle Obama. The former first lady was measured, strong and took Trump to the woodshed in a big way while never once losing sight of the idea of civility. She stressed the value of empathy and sought to unite a fractured Democratic Party.
Of course the Republican response was the same old mouthing of Trump's sad platitudes. They trotted out Chris Christie who, when not laying waste to Krispy Kremes, has cultivated quite an appetite for kissing Trump's ass. Christie called Kasich a "backstabber" and mouthed a bunch of other crap about Christine Todd Whitman, another former governor of New Jersey—and a Republican who endorsed Biden—saying her endorsement "would amount to nothing." He then labeled Kasich "an untruthful guy."
Really? Chris Christie is the best they can do? He's the punchline of every Jersey joke I've heard for the last five years.
What has to happen next? The Democrats have to listen to the anger and pain of their own base, particularly those ever further marginalized by four years of unimpeded Trumpism.
Those protests mean something:
Be able to absorb the lessons.
Be willing to meet the moment.
It's time for Joe and Kamala to walk the walk.