David Hammond's Personal Best
My personal best Chicago places, each representing peak and memorable experiences, no surprise, are about food.
Hot dog in a Chicago Public Park
When I was five or so, my father would come home from work, have his supper, and then take me to the Portage Park pool. The changing area was in an old WPA-looking brick building. After putting our street clothes in metal baskets, each with a numbered pin we'd stick on our swimming suits, we'd paddle happily in the cool waters and the warm night air. After getting dressed in the outdoor changing rooms, we'd walk back to our home on Hutchinson. On the way, we'd pass by the man selling hot dogs in a white trailer, hot dog- and onion-scented steam pouring out the takeout window, the interior bathed in bright yellow light. At that age, nothing in the world smelled better. Sometimes, my dad would buy us hot dogs (twenty-five cents, I recall), and being young and particularly ravenous after a vigorous swim, a hot dog was the most beautiful thing.
Hot dogs served in Chicago Parks during the Eisenhower years were of the "depression" variety still offered at places like Gene and Jude's: the dog in the bun was dressed with just onions, mustard, glow-in-the-dark green-blue relish and sport peppers. It would be a while before I sampled the fully dressed Chicago dog with pickle spear, fresh tomato and so on, and I can't say I prefer one variety over the other. But when I have the dogs at a place like Gene & Jude's, I think back to those simple dogs I enjoyed in postwar Portage Park.
When I see vendors in Chicago parks offering hot dogs—an increasingly rare sight—there's a likelihood I will stop and buy one. I stopped recently, minutes after lunch elsewhere, because the combo smell of the park and the steamed wiener is irresistible. So, when we were strolling on the Chicago Museum Campus in early August, we spotted a vendor, and I ordered one "with everything."
"Everything" from this twenty-first century vendor meant mustard, pickle, onion… And ketchup, which raises the hackles and even psychotic antipathies of Chicagoans who will put fistfuls of appalling garbage down their gullets but who draw the line at ketchup on their hot dog. As it turned out, I ate the hot dog, and I liked it, because it was a hot dog in the park, and it would take more than ketchup to wreck that Chicago experience.
Maxwell Street Polish at Jim's Original
I first visited the Maxwell Street Market around 1965, when the outdoor bazaar was still on Maxwell Street. At that time, it was cavalierly referred to as the "Cheat You Fair," and older kids would smile knowingly as they whispered, "You can get anything there."
I went with my friend Larry. His dad, Big Larry, who drove us into Chicago from Elmhurst, was looking for a used carburetor to retrofit into a vehicle he was working on.
It was a wintry day, and as we stood in the empty lot at the northeast corner of Halsted and Maxwell, I saw Jim's Original, the enduring streetside stand, at its original location. A line of guys on the Halsted side waited patiently for their Polish sausage or bone-in-pork-chop sandwich, and fries, always fries. (For top-of-the-menu items, "A Bag of French Fries Is Included FREE")
Jim's has been serving the Maxwell Street Polish since around 1939, when James "Jimmy" Stefanovic, a Macedonian immigrant and founder and namesake of Jim's Original, took over his aunt's and uncle's stand. Stefanovic claimed to be the inventor of the sandwich, and it's accepted that he was, indeed, the man responsible for popularizing it. If you'd seen his stand in the old days, before it relocated not far away on Union Street, you'd notice that Polish sausage was the first item listed on Jim's trademark red-and-yellow signage.
The Maxwell Street Polish, as served at Jim's Original, has been pretty much the same over the decades. Hours of sitting on the warm grill allows the sausages to render out the fat that makes them so irresistible and soak up the essential, acidic juices of steaming yellow onions. Jim's Polish sausage sandwiches are as tasty now as ever, although there have been some changes. Jim Christopoulos, grandson of the original Jim, offers something for those who don't eat pork, telling us, "We do have an all-beef Polish sausage, but it tastes more like a hot dog."
It's excellent that Jim offers non-pork options, but if I want a hot dog, I'll eat a hot dog; as for a Polish, I prefer mine prepared from the traditional pork, cooked on a grill with griddled onions, greasy and delicious as all get-out.
Hagen's Smoked Fish
Ever since we lived in the Portage Park neighborhood, if I'm traveling along Montrose near Central, I'm going to stop in at Hagen's Fish Market.
Walking in the door, the smell of hot smoke interacting with fatty fish fills the nose, and I will, inevitably, unavoidably, be going home with multiple packages, each tightly bound in white paper, cradling smoked salmon, trout, eel or other seaborne deliciousness.
I'm a big fan of Calumet Fisheries, of course, but that worthy destination is a long drive, so I more often go to Hagen's. The E.P.A. has cracked down on smoking fish, but both Hagen's and Calumet were grandfathered in, making them the last of the Chicago-based smoked fish operations. We will probably not see their likes again.
Since 1946, Hagen's has been in the business of smoking fish, even your own, if you want to bring in your catch. Smoking is an excellent way to add flavor with zero calories to your fish as well as preserve it a while longer without freezing.
If I'm at Hagen's during the lunch or dinner hour, I also buy one of their fried fish sandwiches, dipped in "Grandpa Hagen's secret blend of spices." I contend this is one of the best fish sandwiches you will find anywhere in Chicago. You don't want to take this sandwich all the way home (fried food goes limp fast), and there's no seating area in the store; so, take shelter and your lunch in the parking lot.
The smoked fish, though, is the main allure, and half the fun of going to Hagen's is to experience the place, to talk to the knowledgeable folks at the counter (who will tell you anything you want to know about their offerings), and to smell the atmosphere that surrounds the place like the protective shield around the shrunken Kryptonian city in Superman's Fortress of Solitude. It's a place that's warm and inviting, yet frozen in time.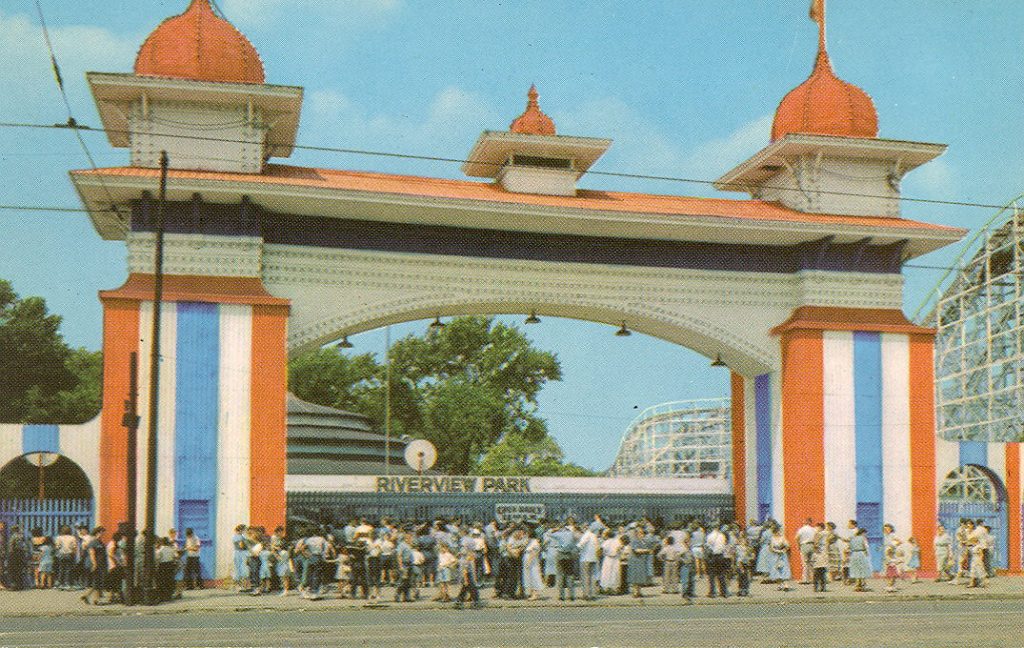 Cotton Candy at Riverview
My parents were somewhat health-conscious. We rarely had Coca-Cola, candy, or other empty-calorie foods in our pantry. But when we went to Riverview, everything changed, and not only did we eat lots of candy, but we also ate one type of candy you would never have at home.
I'm talking about cotton candy, and yes, I know you can buy tampon-looking slugs of cotton candy in a sealed plastic bag, but those never felt or tasted anything like the fresh-spun stuff at Riverview, which disappeared with a whiff of sugary fake-fruit flavor—blue raspberry, cherry-berry—the moment it hit the tongue.
Riverview, which opened in 1904, was the greatest amusement park the city had—or has—ever seen. Chicagoan Walt Disney looked to Riverview for inspiration as he later created his own fantasy kingdom in California.
There were marvelous attractions at Riverview, like Aladdin's Castle, a scary funhouse and a taste of Arabian "exotica" in the Midwest, and the Chutes, which sent passengers on a fast ride down a steep slope of running water, ending with a skidding splash-down in a long pool. My personal favorite was the Wild Mouse, at the time one of the newer rides, and less rickety than the creaky old roller coasters, built on a steel structure. This ride got its name because it would zoom screaming passengers fast on the straightaway and then do tight, ninety-degree turns at every corner… just like a rodent.
There were also despicable attractions at Riverview. The racially tinged dunk tanks—advertised as the "African Dip" and referred to with other, less polite names —were popular with white dudes who hurled racial epithets at the Black men sitting above the water tanks and baseballs at a round target which, when hit, would release the man into the water. There were also the freak shows, which I never visited, but had some idea about from the postcards of deformed faces and twisted bodies sold on the Midway; I had nightmares for years about an image of a man with one very huge eye.
It's hard to describe the pain we Chicagoans felt in 1967 when it was announced that Riverview was closing for good. None of us had been to that magical place enough times, and then we realized we would never go there again. If you ask any lifelong Chicagoan of a certain age if they remember Riverview, watch closely and if the reply is in the affirmative, you'll see their eyes get a little misty.
Riverview, like cotton candy, vanished in an instant, but there is not a time—not a single time—that I don't drive by the intersection of Western and Belmont and hear in my mind's ear the park's famous spokesperson-huckster, Two-Ton Baker, beckoning us all to "Laugh your troubles away… at Riverview!"
Best of Chicago 2021