Michael Workman's Personal Best
Ballad of the Delivery Driver
I immediately had questions when asked to participate in writing for this year's Best of Chicago issue. For starters, as a "personal Best of Chicago," I wondered if that meant of all time, or just this year? What does a "personal best" mean, exactly? Was I supposed to write about what would matter most to consumers who read this magazine for the next, best tickets to buy, record store to shop at, or restaurant? Or just what matters most to me?
It seemed a complex question, but my editors appeared to have given me carte blanche on how I may choose to answer the question (a situation I always prefer when writing, of course), so I decided to solve the problem by choosing a perspective to write from. See, though I'm known more as a writer, artist and editor-in-chief of the Bridge Journal, for about the last ten years, I've also been a delivery driver for Newcity, slogging north, south, east and west, more than once throwing out my already bad back to trundle bundles of this sometimes cinderblock-heavy publication into hair salons, pizzerias, record stores, university campus buildings. And it gives me time, that most valuable asset of all; I work a few days once a month and live a spartan life, giving myself as much time as I can to write or work in my studio.
Plus, as a delivery driver, you get to see pretty much all of Chicago, frequently, good for someone looking to stay current. It's a little bit of an infiltration game—people behind the counter at smaller places come to recognize you over the months and years, while at bigger places there's always someone wondering what you're doing exactly—until they see the bundle under your arm. Then they know: I am bringing you the news, the written word, the visual essay. I am the "dérive-r" of city streets, deliverer of critical, informed opinion. Sometimes they think you're a nuisance.
**
I am bringing you the news, the written word, the visual essay. I am the "dérive-r" of city streets, deliverer of critical, informed opinion.
**
Mostly, people think of us as street urchin-like figures, best overlooked as you make your way, part of the regular background noise of labor happening to resupply the city—a nobody. I like to think there's something unique about the delivery driver's perspective, about the experience they get when they're trying to find a stretch of curb to pull over onto in Lakeview, Pilsen, on 67th Street or in Norwood Park. Running out into the rain or shine, the polar vortex, walking into the Foremost Liquors over broken glass after the George Floyd protests, masked up, with COVID-19 pandemic papers at hand from the State of Illinois with the section highlighted granting you essential worker status so you don't get arrested.
There's really no one more anonymous than someone driving around the city in a U-Haul van, my BFF roomie J. Niimi (cellie, he likes to say just because he went to jail once, but actually we're roomies) is fond of remarking. I've driven past riot crowds, seen guns flashed more than once, rolled slowly through police cordons at bloody shooting scenes; a most likely blackout drunk driver cutting off a truck and rolling his car into the barricades on I-90 / 94. I've seen all the sights of the city at night, at high speeds and slow.
What I find most interesting, though, is where you may find some semblance of kindness and momentary respite on the trail each month—which shop or store offers you a free cup of coffee at the tail-end of a long day, or the bar owner who holds out a free bottle of ice-cold water when you trundle in, shoulders down, dripping sweat from a heat index of 108. People who don't see me as either a mark for a customer, but just as another human in the world, who takes the time to ask about me. I would have deeply appreciated some social history of the Ram Bookstore, illicit cruising spaces now vanished. Also too, the warm and friendly Hollywood Beach hangout hosts, or the guards at the Block Museum, offering a space free for all (if not the beaches).
So, for this Best of Chicago, the personal best-of metric I'd like to use is how strangers are treated on the road, what places are not just businesses to check off my route sheets, but where an extra little bit of kindness, hospitality and human fellow-feeling may be found for the weary urban traveler. In this, I hope to share what I truly believe is not just the best of Chicago in its usual sense, but also in the very finest sense as a city where generosity and inclusion, thoughtfulness and mutual self-respect still matter. So come along with me on a brief tour of a few select stops along my delivery routes. I'd like to start with calling out a few places right off the bat, of course:
Every Chicago Public Library
I can't place enough emphasis on how important libraries are to the delivery driver—the right to freely walk in for no other reason than to simply use the restrooms should be all I have to say. And while true enough, there's just also a million other reasons to visit the library while on the trail, including their cutting-edge maker labs, access to free WiFi and computers, programs for family and teens—Sunday hours—alongside more grown-up programming from those showcasing their new novels and poetry, political views. (I remember first seeing Howard Dean at a Harold Washington Library event.) Of course, there's also more books than we can, and should, all strive to read in our lifetimes. Aside to CPL planners: can we start archiving artist's websites, finally?
Pilsen Street Art
I live for the public square, and it happens in a uniquely Chicago print culture that takes place across the city, except maybe River North where they tend to scrape off the public art pretty quickly. Nowhere else in the city can you immerse yourself in a public conversation taking place in the stickers and wheat paste and posted bills daily, sometimes even hourly, than on the streets of Pilsen.
It's a striking, vital, ever-evolving range of vital discourse to the city at large, happening in real time and unifying a range of communities. Some are so immediate and solemn when they recognize the horrors of the shooting of Adam Toledo, or arguing for viewers to stop the "ShotSpotter" program, you name it. But memorials in some places matter, and they matter more where the conversation is immediate on the streets.
The Video Strip
There's something I just personally feel in common with this place, out on the outskirts on Archer in Bridgeport. Drivers will one day be replaced by autonomous everything most likely, and of course renting videotapes faces a similar fate. Owner Joe Trutin greets me right at the door nearly every time, saving me a few steps.
The Coffee Studio 
There's a LOT of coffee shops in Chicago, and I've delivered to most of them at one time or another. The Coffee Studio on Clark Street in Andersonville is not the only place that has offered a pick-me-up cup of the brown water, but it's the only one that reliably has. They are more than friendly here, the folks behind the counter at this place raised my spirits and made me feel I'd entered into a place of welcome and community. They've offered to take the old magazines so I could carry less recycling, and just generally give a shit.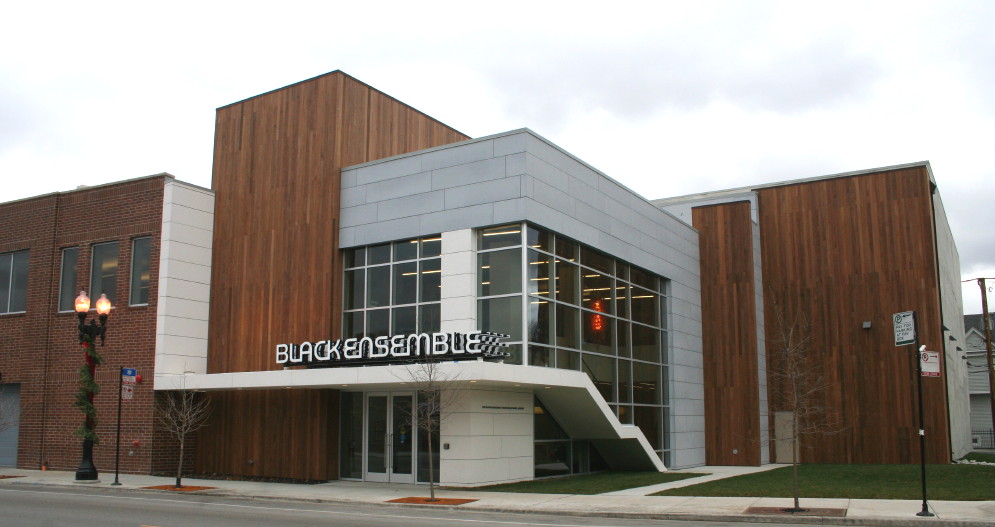 The Black Ensemble Theatre
I don't know his name, but the night and weekend guard who has been there maybe a year always makes sure to greet me, opens the door when it's locked, and makes sure the magazine "books" are taken care of personally. We're just workers together, equals, and it's always a pleasure to see the man. He has become a monthly affirmation of the graciousness we can greet each other with, though we are at our labors.
Farraguts on Clark
Down the street from The Coffee Studio, there's this other place. It depends on who's behind the counter here, but for many a summer this was where I came in, and the kindly bartender behind the counter handed me a bottle of ice-cold water. Every time, without fail. It has since stopped, but that little touch of kindness when I was weary has stayed with me.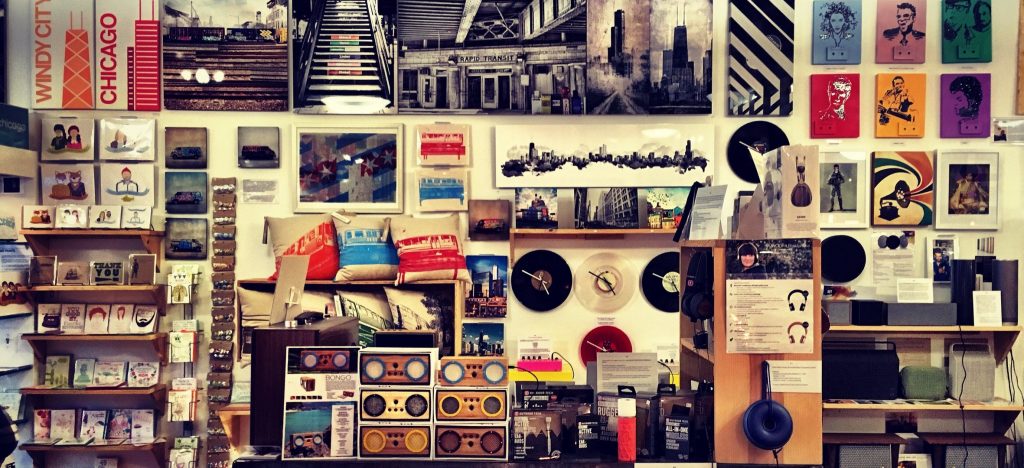 Transistor Chicago
As far as novelty home goods shops go, Transistor is in the mom-and-pop mold of Foursquared, or Neighborly, stores with any number of novelties and hipstery collections that I always find delightful. Co-founder Andy Miles, however, is not only friendly, he's been a warm, welcoming face who takes an interest in who I am, and isn't this a crazy place we all live in? I have no relationship with him other than him as delivery driver and he as shopkeeper. He's awesome, and I saw they had recently announced they were closing up shop at their Andersonville location, with hopes of finding a new storefront. I'm excited to welcome them when they locate that forever home.
La Villita Arch
In this mini-treatise on kindness and hospitality it would be a failure of observation for me to not note the inclusion of the La Villita Arch in the National Register Historic Places, built in 1990 by Vietnam veterans Ronald J. Baltierra and David Ramirez and designed by architect, Adrian Lozano, making it the first Mexican-designed architecture in the city to achieve landmark status.
The Green Mill
Existing outside the usual parameters for how we measure time and space, the Green Mill is also an island for pets and musicians, for the kind of musicality and sense of community you don't find anywhere else. It's also the only place I've been offered free shots for delivering "that magazine." Maybe it's nostalgia, or the rapport between two fading institutions, one Al Capone's former hangout, the other a human being darting in from noonday traffic to drop a bundle. Either way, I know where to go for my afternoon pick-me-up.
Unabridged Bookstore
The only place in the city where I can find Rain Taxi, a national review of books which I also write for and read religiously, the Unabridged Bookstore on Broadway in the Northalsted neighborhood (formerly known as Boy's Town) supports the writing and reading community as well as selling books. They also have a repository of great LGBTQIA+ titles and a track record of over forty years as a storefront.
57th Street Books / Powell's Books / Myopic Books / The Book Cellar / Women and Children First
The University of Chicago and Hyde Park neighborhood's community bookstores, Wicker Park's Myopic, Lincoln Square's The Book Cellar and Andersonville's Women and Children First all win this title equally; they've all been largely out of commission off and on throughout the pandemic drop-in wise, but there's nothing like timing your route to catch a reading by just about anyone in the observable universe at any of these places. Really, I should just list all bookstores.
Brave Space Alliance
This spot isn't on my drop list, but they should be and I'm including them anyway. If you're a Chicagoan and haven't heard about this important "Black-led, trans-led LGBTQ+ Center located on the South Side," you haven't been reading the news about the incredible work they're doing, from food pantries to mutual aid, to trans community gathering safe spaces, this is the new vanguard. Throughout the pandemic and since they've provided the most essential support services to many of our city's most vulnerable.
Stockyard Institute
I'd like to give something of a micro-critical word here: I think there has always been something salutary that I appreciate in the work of the Stockyard Institute in its conception, and the social practice lineages it branches from. Open now at the DePaul Museum through February 13, 2022, the show shines a light on the long-running project of Jim Duignan and Rachel Harper.
Technically a part of DePaul University, the Institute, according to curator Julie Rodriguez Widholm's catalog essays (her last curatorial project before taking over the UC Berkeley Art Museum and Pacific Film Archive), is a "roaming, nebulous conceptual space based on a clear set of principles rather than a well-defined space." That has meant working in communities to organize pedagogical programming to provide artistic education to youths, with now-famous outcomes including the Gang-Proof Suit project, Public School and Urbs in Horto, among hundreds of similar projects, establishing social settlement efforts modeled on the works of Jane Hull, building thousands of relationships along the way to support lived practices.
When I think of the best of Chicago, in reflection on this assignment, I thought frequently of Duignan, and so he should probably get the last word in this little list. "Build relationships first," he advises in an interview for the catalog. "For me this is the key and the foundation on which to venture forward in any collaborative venture. I hope we think about how we treat one another and how we can better share resources. It is what I have seen in the artists and teachers and graffiti writers, and growers, poets and designers, children, architects, and cultural workers I have worked alongside."
Wise words. So should we all aspire to such fertile social circles as those we have watered the seeds of ourselves.
Best of Chicago 2021