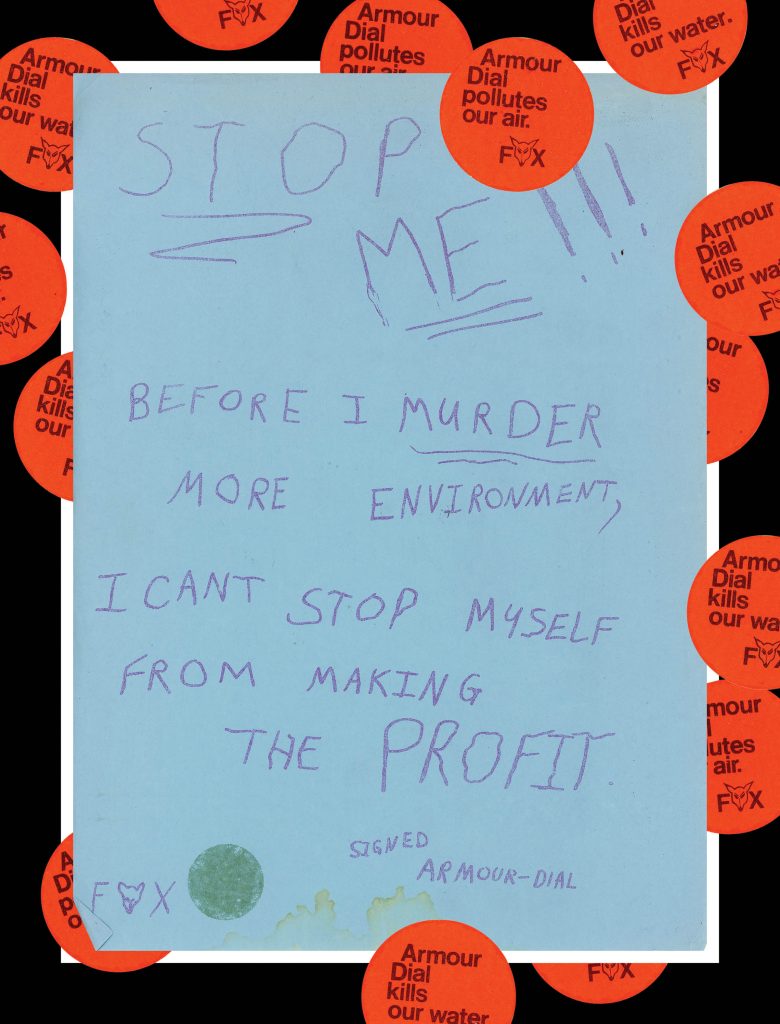 In 1972 the mysterious environmental marauder known as the Fox recruited me when I was editor of the Naperville Central High School newspaper. He called me through a vocal harmonizer to disguise his voice. I encouraged a handful of otherwise bored classmates to participate in his civil disobedience.
The Fox sent me small pink Armour-Dial stickers to be placed on the company's soap bars. He gave me a stack of mimeographed leaflets that declared, "STOP ME! Before I murder more environment, I can't stop myself from making the PROFIT, signed Armour-Dial," with a small hand-scrawled Fox logo at the bottom of the page.
Covert environmental activism, sometimes called eco-tage, was a new thing; the Fox broke the ground that organizations like Greenpeace would soon trod. Armour-Dial, headquartered in Montgomery, near Aurora, was the Fox's first major target. The soap company had been operating on a 1962 contract with the Aurora Sanitary District which allowed it to dump 830 pounds of suspended solids per liter of waste into the district's sewage system daily. Armour-Dial consistently surpassed the limit, which caused the district's waste-treatment facilities to overflow into the Fox River. The Fox's passionate shenanigans worked. In 1975 the state sued the Armour-Dial plant for violating Illinois pollution standards.
At the time, the Fox was a west and south suburban biology teacher named Jim Phillips who'd earned a degree from Northern Illinois University in 1959. Between 1974 and 1985, Phillips was an inspector for the Kane County environmental department. Phillips was born on the North Side of Chicago but grew up on a twenty-two-acre asparagus farm in Montgomery. He loved his native land.
During the late 1960s and through the 1970s, the Fox captured the imagination of Chicago-area residents while liberating the environment. His Armour-Dial stickers made their way to bars of soap in Los Angeles, Seattle and Houston. The Fox took on regional industrial polluters by plugging factory-sewage pipes, draping smokestacks, and dumping sludge in clean corporate offices to fight the pollution of the Fox River and nature. The Fox was an eco-saboteur before his time. The alias helped Phillips and his assistants elude prosecution while also becoming a media darling.
Phillips died in October 2001 at the age of seventy. He'd never married and had no immediate survivors. His services were held that November at the Illinois Street bridge along his beloved Fox River, just north of downtown Aurora. The event marked the first public acknowledgment that Phillips was the Fox.
But some of us remain to tell his story.
Our school newspaper was called "Smoke Signals" because Naperville Central's mascot was the "Redskins." (Today, it is the "Redhawks.") When I was editor, we had an open-minded and patient advisor, Dr. Marilyn Hollman, who like the Fox, allowed us to test the waters of challenging the establishment. Other suburban school newspapers were writing about the football team and student council. We were allowed to write about drug problems in Naperville, minimum-wage pay and the Fox.
The Fox landed on the front page of "Smoke Signals" for efforts as gentle as prairie restoration. A couple of times I was called into the assistant principal's office for rocking the boat. When we won an award for best high-school newspaper in DuPage County, we took the plaque to the assistant principal's house. His dog threw up on my shoes. And so began my lifelong quest to share weird stories.
We once conducted a "Funeral for the Fox River." A group of teenagers made three-foot-tall wooden crosses like we were in a high-school production of "Jesus Christ Superstar." A half-dozen of us faithfully dragged our orange-painted crucifixes to the Fox River. I also got Naperville Central students to join Aurora West High School students in placing more than a dozen fifty-five-gallon green industrial barrels that featured bold white lettering "Litter here! Fox and Friends" in our communities. We rolled out those drums like magic carpets through the streets of downtown Naperville around one in the morning to place them when no one was looking. We never got in trouble. We would today.
The Fox had a lieutenant named Craig Johnson. He was part of the army known as "Friends of the Fox." Johnson would call me and egg me on. "There is a small group of people who work in his name," Johnson told me in 1972. "There's a little bit of Fox in all of us." The Fox was smart to zero in on high-school newspapers. We were an eager audience, out to change the world. My "Smoke Signals" column was called "Writing Wrongs." Yes, Dr. Hollman let me get away with that, too.
Johnson and the Fox got a small group of students at Naperville, Schaumburg, Proviso West and Aurora West involved in water conservation. Students wore loud BIAB buttons. Translated, BIAB meant "Brick in a Biffy." And "Biffy" was another word for "toilet."
"Thus, the button reads 'Brick in a john,' and you ask a 'what in a what?,'" Johnson told me. "If you take the amount of water in your toilet times the amount that people flush, you end up with a boxcar full of water. There is no reason for that much excess water. All the water you need for a toilet is the amount displaced if a brick were placed in the water." We wrote editorials about water conservation and cleaning up the DuPage River in Naperville for our school newspaper.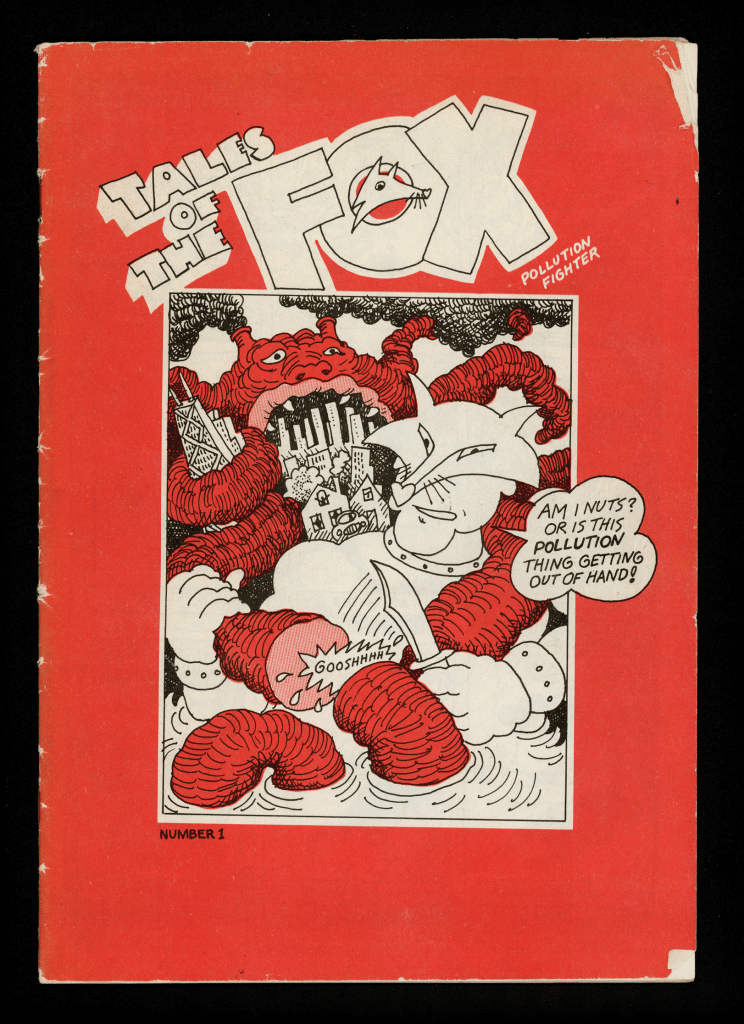 Pieces of the Fox's spirit have been left along an intrepid trail.
The detailed thirty-page comic book "Tales of the Fox: Pollution Fighter" was created in 1972 by Lou Oates and illustrator Sol Levine in suburban Lombard. It was printed on recycled paper under the promise that "no trees were cut to make this book." The book was modestly distributed, mostly in underground comic book stores.
In 1999, Phillips self-published his memoir "Raising Kane" (as in Kane County) under the pseudonym "Ray Fox." Phillips liked to call himself "Rey," which was short for the French "Reynard." In 2021 Pauline Marie Gambill wrote "The Fox Feats and Shark Tales of Pollution Fighter James F. Phillips & Animal Rights Warrior Steven O. Hindi" (Who Chains You Books).
In "Raising Kane," Phillips wrote how teachers can learn from students. While teaching in Oak Lawn, one of his students said he was a hypocrite for railing against air pollution while driving a pickup truck. Phillips listened. He encouraged his students to paint his truck with guerrilla slogans such as "G.M.'s lust for profit kills our air!" Phillips reflected, "Maybe it was time to start living my life in ways that ignorance and greed could understand."
And most recently, Chicago-area filmmaker Nellie Bly Workman has been working on an eighty-five-minute documentary on the Fox since 2014, which is expected to wrap up in the spring. Workman, thirty-six, learned of the Fox while attending the College of DuPage in west suburban Glen Ellyn. She was working on a short documentary on real-life superheroes. A classmate was writing a book on superheroes and mentioned the Fox as an environmental superhero. As a youth, Workman spent summers along the Fox River while also attending the Fox Valley Folk Music Festival every year with her father, a Chicago Public Schools teacher.
I met Workman when she interviewed me for her film. She's also interviewed Gary Swick, president of Friends of the Fox River; former journalist Gary Gordon, who accompanied Phillips on a 1973 Marquette-Joliet reenactment of their 1673 journey down the Mississippi River; and Susan Ward Trestrail, the daughter of the late Aurora Beacon-News columnist Charlie Ward, one of several people who knew that Phillips was the Fox.
Before landing in Aurora, Ward did research for Colonel Robert McCormick's speeches at the Chicago Tribune. Ward was a fine writer and a newspaper character. While in high school I worked weekends and some nights at the Beacon-News. On Saturday mornings I had to fetch the police reports from the Aurora Police Department. I would return to the office and Charlie would be at his cluttered desk, holding a razor while looking in a small mirror with a face full of shaving cream. This irreverence left a mark on me. I could see how Charlie's charming individuality connected with the mysterious Fox.
The film's soundtrack will feature selections from folk musicians from the Fox Valley area including a cover of the 1970 Tom Paxton ballad "Whose Garden Was This?" Acclaimed Illinois singer-songwriter Ben Bradford wrote the traditional ballad "The Fox."
One project, however, has been lost to time.
In 1974, Pulitzer Prize-winning Chicago journalists Roger Ebert and Mike Royko collaborated on a screenplay about the Fox. They called it "The Adventures of a Suburban Guerrilla."
The project would have been in the wake of Ebert's 1970 screenplay with filmmaker Russ Meyer on "Beyond the Valley of the Dolls" that was met with mostly thumbs down. In July 1970, Ebert's future television partner Gene Siskel panned the movie in the Chicago Tribune, concluding, "'For three dollars you can see a Nazi bartender, a decapitation, a man with little breasts who paraphrases Shakespeare, and blood spurt out of a woman's mouth, all of which makes 'Beyond the Valley of the Dolls' the biggest gyp since P.T. Barnum charged a dime for a peek at an egress."
Even so, Ebert still had aspirations to write screenplays. And Royko had consistently chronicled the Fox's exploits in the Chicago Daily News and also knew the Fox was Phillips. In 1970 Phillips invited Royko to come along on a visit to U.S. Steel's Chicago office. Phillips was carrying a gallon of industrial sewage and it spilled out onto the office carpet after a receptionist attempted to confiscate it. Royko chronicled the event for Esquire magazine.
Here is Rokyo from his March 25, 1971 Daily News column under the headline "The Fox Goes National." Royko concluded, "Only one person is the original Fox. He's the man who was in a bar one night talking to some strangers about the threats to the environment, and one of them scoffed, 'You're really a nut when it comes to the environment, aren't you?' 'Sure,' the Fox said.
'I'm a nut about the environment because I don't know any other place to live.'"
The Ebert-Royko 127-page typewritten screenplay is part of the Mike Royko collection at the Newberry Library in Chicago. It is the third draft and dated September 1974. Besides the Fox as the central character, there is a tavern called Plummer's Saloon, a character named Polly Moore, who is a part-time student and full-time bar waitress, and a few sly raids on polluting chemical plants.
Ebert and Royko had the Fox living in a one-bedroom apartment in the Swinging Valley Residential Community, "one of the many new singles complexes that dot the Chicago suburbs." The Fox listens to "Newsradio 78" to get his information about the corporate pollution of the Fox River. The Fox's best friend is a Vietnam vet named Spitfire who drives a British Triumph and on weekends fills in as a bartender at Plummer's. Everyone hangs out a lot at Plummer's.
When Ebert and Royko put different pieces of the script together, it was disjointed. Royko once told his son David that the script was "crap." One of Royko's two sons, David is a writer, musician and licensed clinical psychologist who lives in Cleveland, Ohio with his wife Karen and son Ben. Last autumn I met with Dr. Royko in Deerfield when he was visiting his in-laws. I showed him the script. Though he knew about it, he had never seen it.
When he read the script, the acclaimed crime drama "Breaking Bad" came to mind. "Walter White and the Fox, both school teachers with secret lives of crime," David said. "Who would suspect this guy? Coming up with creative ways to do their business with a small bunch of trusted bandido helpers and avoid capture."
In the screenplay, the Fox scaled a tower and almost fell down a chute. According to Phillips' autobiography "Raising Kane," he climbed up a roof to plug the smokestack of an Aurora-area aluminum processing foundry with a friend named "Brick." (In real life, "Brick" was the late Kane County Environmental director Dick Young.) The Fox almost fell through the roof. Phillips wrote, "A sudden blast hit me in the face, taking my breath away. I was looking straight down in an open pit of bright orange molten aluminum. The ten-by-ten foot, brick-lined pit down there was actually an electric arc furnace into which dirty aluminum dross was dumped."
David said, "When I read the script I realized the Fox was serious. I'm not sure how much of my dad's personality is there. There were amusing passages Dad could have written. But I don't see my father thinking up a screenplay. That wasn't his wheelhouse."
David Royko was fifteen years old in 1974 when his father worked on the screenplay. Mike Royko died in 1997 at the age of sixty-four. David remembered his father typing away at the family's summer home in Door County, Wisconsin. "He would never bring a typewriter to Door County," David said. "Dad never wrote at home. He read books. He was a huge speed reader and he could read two books in a day. But that's absolutely the only time I remember him doing anything related to work with a typewriter. And I know it was the Fox screenplay.
"The bedroom was on the second floor and he was on the first floor. Late at night when I'd be going to bed he'd be sitting at a desk facing a window. He was typing away. One night I heard him screaming at the top of his lungs. I jumped out of my bed and he comes flying out of this room. A woman had been to a party with my mom and dad. She was a friend. She was walking home and saw him working at his desk and tapped at the window. It was two in the morning. It scared the hell out of my father. That's a vivid memory I have of how his writing sessions could be interrupted."
Longtime Chicago activist-journalist-political consultant Don Rose was a friend of Ebert and Royko's. Rose occasionally ran two-thirds of the Friday evening "Bermuda Triangle" bar circuit (Riccardo's, O'Rourke's and the Old Town Ale House) with Ebert and Royko. He recalled the Fox script but did not remember details. Rose did remember helping them pitch the script to film producer Maurice Rosenfield.
Based in Chicago, Rosenfield produced the 1973 baseball movie "Bang the Drum Slowly" where he cast a young Robert De Niro. He also produced the Tony Award-winning musical "Barnum." Rosenfield was a former civil liberties attorney and had been the primary outside attorney for Playboy magazine. He died in October 2005 at the age of ninety-one.
Rose had screened scripts for Rosenfield and was asked to read the Fox screenplay. "I was not big on it," said Rose, ninety-one. "We had a meeting. My comments were that they couldn't make up their minds on what it was supposed to be: a satirical comedy, the way Mike wrote some of his columns about the Fox, or whether it was supposed to be a serious environmental movie. Those guys [Ebert and Royko] were a little pissed at me because they thought I was going to be their advocate.
"Later on, Mike didn't say it was bad, but he said to write a script down you had to break it up into dialogue and scenes to make it cinematic. He said that's what Roger knew how to do. He said the next time he had something like this going he would learn to do it himself."
Rose did not know the genesis of the project. "I don't know if Roger said, 'This would make a great movie,' or if Mike said to Roger that the Fox would make a great film. They worked for the same newspaper." In the mid-1970s, Royko was at the Chicago Daily News, the afternoon sister publication of the Sun-Times where Ebert worked.
In the early 1960s, Mike Royko wrote about Chicago folk music before covering politics and government. His love of music was handed down to his son David. While living in Chicago in the mid-1980s, David was a drummer for Hear No Evil, a progressive rock band that played clubs like the Thirsty Whale in River Grove and Metro in Chicago. David was recognized by the International Bluegrass Music Association as an award-winning bluegrass critic. While his father was alive, David freelanced under the name of David Duckman, his late mother's maiden name.
In the Fox screenplay, David figured his father wrote in the Clancy Brothers playing "Nancy Whiskey" on the tavern jukebox as well as an old string band playing the traditional English ballad "Fox Went-a-Hunting." As he said this, David smiled and collected his thoughts. He looked at the script. "Yeah, okay," he said. "I'm not sure how much he liked that song. That is something he would have sung with my mother and us when we were kids. My uncle and aunt would get together and they would sing the Weavers with four-part harmonies. When I was nine we were living on the second and third floor of the house at 5408 North Central. My mother's parents lived on the first floor. It was the Duckman Funeral Home way before I was born. I remember on Sunday mornings the alarm clock would go off. Me and my brother's bedroom was next to the living room. And the alarm clock would be a Sousa march."
One Plummer's bar scene has WGN-TV's Jack Brickhouse reporting on a Cubs game from the West Coast at last call and that definitely reminded Royko of his father. In another scene, the Fox receives a bloody nose after a raid at the "Miracle Paint Company." Some of the blood lands on bartender Joe Plummer's shirt, who becomes concerned as to what he will tell his wife. The Fox says, "Tell her you had a little trouble with the Bears backfield." Royko said that sports reference must have come from his father, a devoted Bears fan.
While Mike Royko admired Ebert, he thought "Beyond the Valley of the Dolls" was beyond horrific. Ebert wrote that script in three weeks with the late filmmaker Meyer. In his July 10, 1970 Daily News column "Over and Out, Roger!," Royko concluded: "I believe every young man is entitled to one big mistake, despite what the alimony court judges may say. And this movie is Ebert's and I urge you to avoid it. Someday he will write another movie and I'm confident it will be excellent. Even if it is dirty, it will be better. I'll be his technical adviser."
Discussing this, David smiled and said, "One time Dad told me he just said, 'Roger, how could you?'"
Rose thought Ebert had aspirations to do more screenplays after "Beyond the Valley of the Dolls." His emerging television career put those plans on hold. Ebert was able to write his friend John McHugh, a former Chicago Daily News rewrite man and Chicago Today writer, into a bit role at the late O'Rourke's tavern in "Beyond the Valley of the Dolls." "The bartender was called McHugh," Rose said. "He wasn't in the movie because he wasn't in the union. O'Rourke's was an inspiration." Plummer's bar reads a lot like O'Rourke's, a legendary writers' hangout that closed in 2001 at its second location, 1625 North Halsted.
Filmmaker Workman discovered the screenplay and accompanying notes while researching in the Newberry Library. "I think the Fox would have enjoyed it but would have publicly made it clear that the character was not him," Workman said. "It was interesting seeing a note from 1981 that an agency was still interested in the property long after it seems Ebert and Royko split on it."
David said his father rarely talked about the Fox to the family. "It's amazing when I think about the world he lived in," he said. "Nixon read his column. All the people Dad was connected to. But his work life and family life were separate and not necessarily for wholesome reasons."
The Fox leaned into other media figures besides Mike Royko and high-school journalists. His team sent me a hand-scrawled contact sheet with columnist Jack Mabley at the Tribune, reporter Jim Gibbons at WLS-TV and reporter John Hogan at WGN-TV. I worked at the Sun-Times between 1985—a year after Royko left for the Tribune—and 2014. In 1971, my late Sun-Times colleague Larry Weintraub delivered this lede after the Fox did a hit on Fox Paving, Inc. near Aurora: "An armed guard with orders to shoot patrolled the grounds of a Kane County plant which was disabled briefly by anti-pollution guerrilla warfare." The Fox had padlocked the plant's control panels that effectively shut down the operation that was polluting the air. The Fox left a note telling the company to clean up its act, otherwise he would strike again.
The Fox's legacy has remained secure in recent years. The last major Chicago appearance of folk singer Pete Seeger was in the spring of 2002 when he accepted a Living Treasure of North America Heritage Award from the non-profit Prairyerth Universalist Fellowship at what was then called the Chicago Historical Society. Seeger and Phillips were honored for their work in restoring America's waterways. The Prairyerth Board told Phillips of his nomination a few weeks before his death. Prairyerth wrote in part, "The Fox, acting on his own, has taught us how one man can make a difference, even acting in secret. He has also reminded us that we must stay in touch with the natural world around us. Notice the plants, notice the animals, and create a world that has a place not only for the big and powerful, but for the small and meek."
Today people are canoeing down the DuPage River in Naperville. When I was growing up in Naperville, people were afraid to stick a bare foot into the river. Bald eagles now stop in the Fox River to snag fish. Beautiful bike trails have been built along the Fox River and a popular riverwalk runs through downtown Naperville, not far from where we dropped our fifty-five-gallon garbage drums fifty years ago.
Phillips loved the twelve-mile stretch of the Fox River that runs southwest from downtown Aurora as it features one of Illinois' last sections of red pines. As a Voyageur, Phillips traveled these waterways in a twenty-one-foot birch-bark canoe, a replica of the craft used by the region's early French explorers. He even wore a facsimile Voyageur's outfit of leggings, moccasins and quite appropriately, a Robin Hood-type cap. I still get an occasional note from a high-school student or a writer who is working on a project about the Fox.
"I knew what the Fox was about," David said. "I remember thinking how cool it was that Dad knew who he was and nobody else did. It was only as an adult where I realized how extraordinary it is what Dad did. That work saturated his life. I never saw the stress when I was younger. He was always tilting at windmills. Work was always separate."
Work and life also became separate for filmmaker Workman. The native of the Mount Greenwood neighborhood of Chicago entered graduate school in film production at Governor's State University, south of Chicago. She began work on the documentary as a graduate of DePaul University's Digital Cinema Program. In 2017 she transitioned to Nellie Workman. She got married in 2018. The film was put on hiatus. Since then, Workman's artist husband Addo Workman has been creating images for the project.
Nellie likes to point out that November 20 is Phillips' birthday—as well as the Transgender Day of Remembrance, recalling all victims of anti-transgender violence. "I took time off from the film but a lot of that was to deal with mental health," Workman explained. In a November, 2019 Facebook post she wrote, "Doctors will often make rash decisions. I personally have been victim to this, having had my symptoms being brushed off as 'side effects from hormone therapy,' and remained untreated for months. In my case it was an annoyance. In others the consequences could be far more drastic."
In November, 2021, Workman told me, "It took a few months to sort things out. However, getting the film back up and running again was a little more difficult."
Workman said that her vision as a filmmaker was enhanced after her transition. "Not much changed as much as things came to the surface," she explained. "Obviously I'm doing an environmental documentary so I'm always very concerned about social issues. Since then, I've been putting together a couple of projects that are a little more focused on things that are happening in my life now with transgender issues.
"Even in a broader sense, the way I see people's relationships with one another and how we view one another—even when I'm approaching something that does not have a transgender issue, I still have that [broader] perspective. I don't know how to say this. Any time you see a real-life story about somebody like the Fox with an alternate persona or a superhero who pretends to be someone else, I see that from a new angle. During my interviews I asked everyone 'Who is Jim Phillips?' and 'Who is the Fox?'
"Are they the same person or not?"
Reflecting on the fifty-year path of the Fox's quest for a better world invites a river of questions. What happened to empathy? How does one navigate the spiritual vacuum of the 2020s? And how could one person in the Chicago suburbs be so prescient on the environment and climate change? Listen carefully to all that surrounds you. You will hear a little bit of the Fox in all of us. It will make a great movie someday.