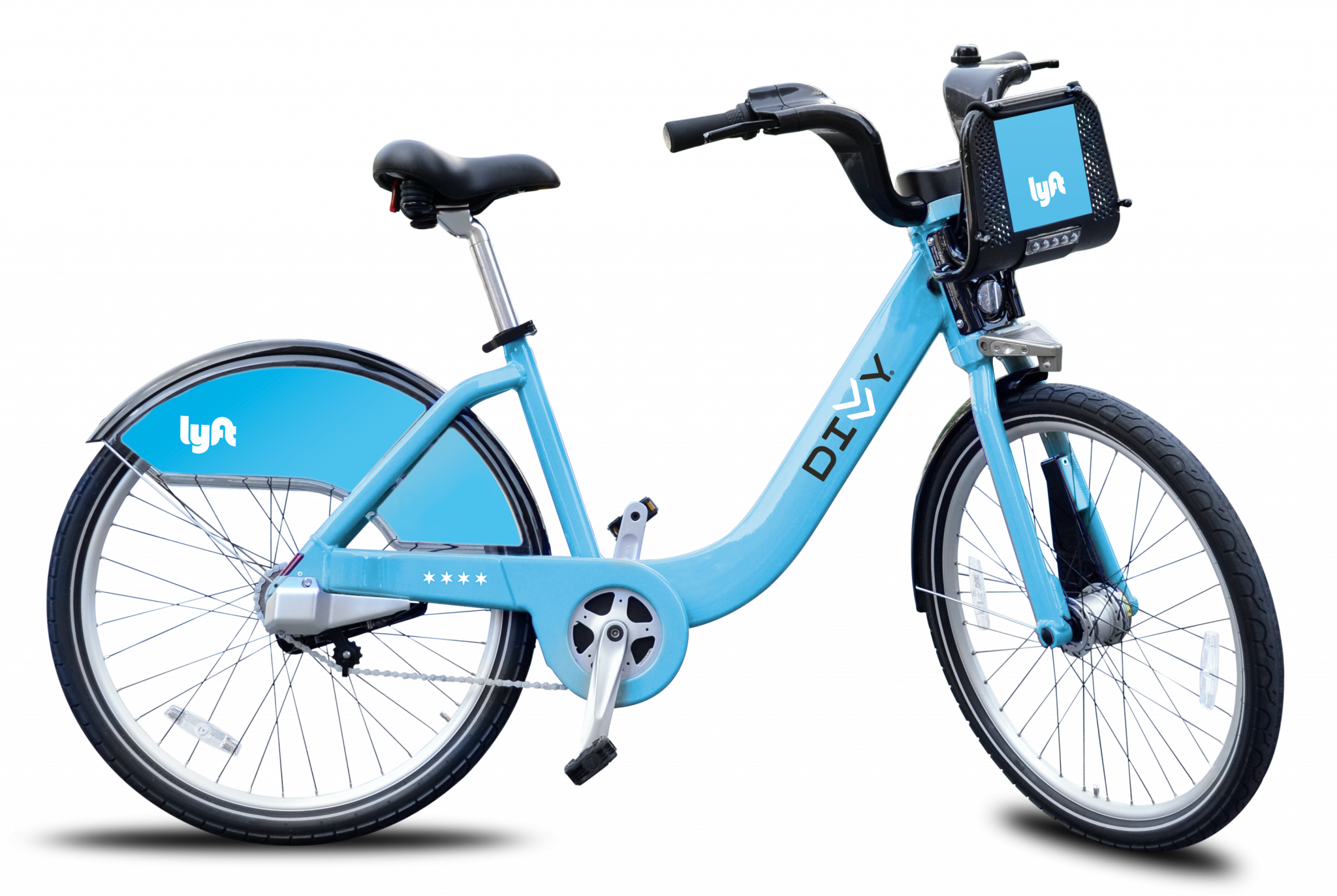 I'm a longtime bike commuter, and a fan of Chicago's bike-share program, Divvy, with its big, blue, heavy, classic pedal-powered bikes. They've been a great option for getting around—it's like having spare bikes around the city.
But I'm worried about Divvy's future.
The classic bikes, which are free for Divvy members, are getting old. They won't be replaced as they wear out, according to a statement from Lyft, which operates Divvy for the Chicago Department of Transportation. And the fancy new ebikes have gotten awfully expensive under a new pricing structure started this past May.
"I'm wondering what the city's endgame is," says Anne Alt, a Chicago bicyclist. "If they were to phase out the blue bikes and the price structure is such that it's mostly aimed at affluent people, then most of the city gets screwed."
"It's absolutely not feasible," says Joe Sislow, Northwest Side representative for the Mayor's Bicycle Advisory Council, of Divvy's new pricing system and the aging of the blue bikes. "It seems like the demise of Divvy as an alternative for commuting," says Sislow. He adds the new prices "seem to be kneecapping the system."
Started in 2013, the Divvy program used to just have one kind of bike—the people-powered blue, the same color as in the Chicago flag. Rides up to forty-five minutes are free for members.
If this bike were a horse, it would be an elderly Clydesdale—strong, heavy, slow, not terribly agile—certainly not suited for racing. A long Divvy commute on a hot day can make you shaky-legged with exhaustion.
But I appreciate their sturdiness and how they can be used to supplement both transit and my own bike. I use them to get around the Loop, instead of a cab or an Uber. I ride them to and from the train station. When the weather is nice in the morning, but storms are predicted in the afternoon, I'll take a Divvy to work and the El home. Since my commute from the Northwest Side takes longer than the forty-five minutes allowed for a free ride, I switch bikes halfway through, like a courier changing horses on the Pony Express.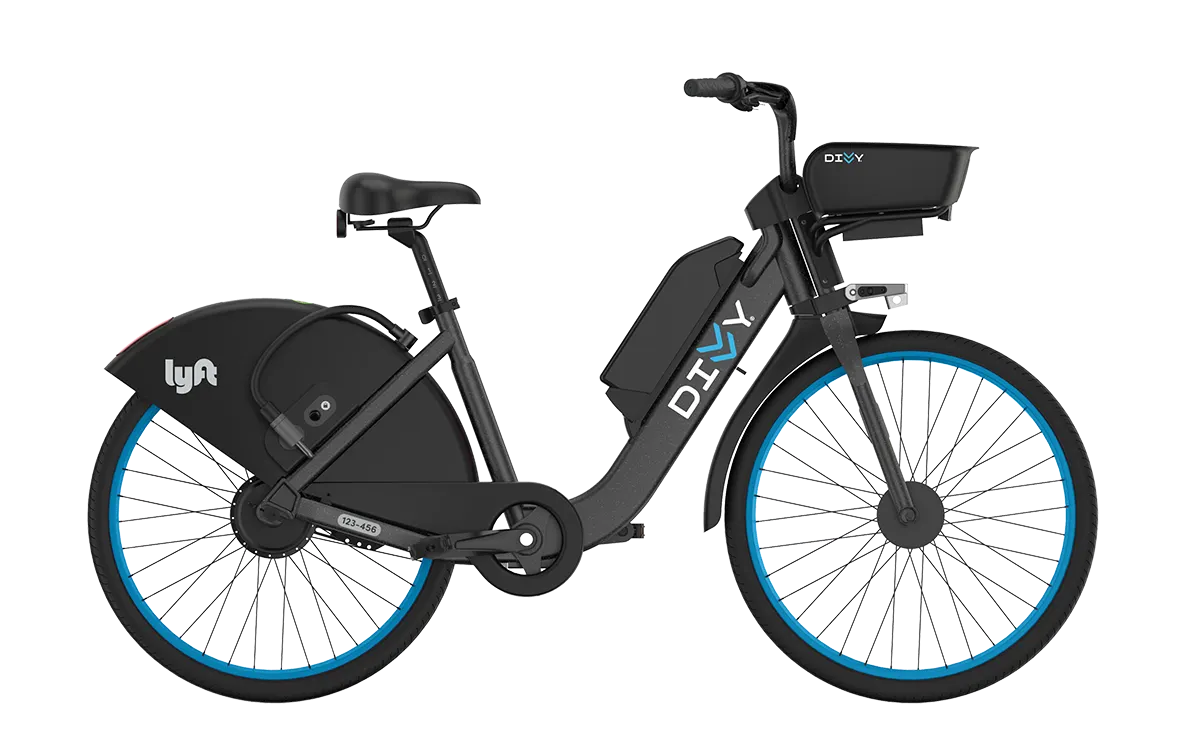 Then in the summer of 2020, Divvy started introducing thousands of black and gray electric bikes, or "ebikes." Electric scooters followed this spring.
The ebike looked to be, on the surface, a good thing. Ebikes are fun—they give a nice boost when you're riding in the wind. With speeds up to 20 mph, it feels like flying, or riding a quiet Vespa. You don't get as sweaty. They're good for cyclists in less-dense parts of the city, like the far Northwest, Southwest and Southeast Sides, where there's a lot of distance between destinations and bike docks. They're great for people with mobility issues, which can deter them from trying a regular Divvy bike. And you can lock the ebikes to racks and poles, instead of looking around for a bike station, which makes them more flexible to use and easier to distribute around the city. The bikes are popular, and Divvy hit a new ridership record last year.
But something unpleasant happened with the ebikes—they've gotten costly, with a change this past May in the pricing system. There used to be a waiver on extra fees associated with using the bikes if you were west of Western Avenue.
But Divvy got rid of the waiver zone, and Divvy members, who pay $119 annually for membership (up from $108), now have to pay sixteen cents-per-minute for an ebike in all parts of the city, up from zero in the waiver zone and fifteen cents in the non-waiver zone, plus a dollar fee if you don't park in a dock. If you're not a member, it's thirty-nine cents a minute, up from twenty cents a minute, plus unlocking and non-dock fees.
This gets really pricey, really fast, especially when you're in the less-fashionable parts of the city, where docks and blue bikes are scarcer. Sislow, a Divvy member, recently paid $13.95 for a round trip between Portage Park and the Loop–more than twice what he'd have paid on Metra and almost three times more than he'd have paid on the CTA, all for the pleasure of an electric trip in the fresh air.
The other problem is that regular Divvy riders report that they are finding the classic blues in increasing disrepair—"janky," as one put it. Riders, including myself, often find classic blues with gear problems, split or slashed seats, low tires, missing lights and other issues. When I encounter this, I hit the "wrench" button on the dock, to alert Divvy. But on one occasion, I couldn't find any blue bikes that worked at my local station, and had to take an ebike for a fun but costly ride. When I complained, Divvy gave me a credit. But it made me worry—doesn't Divvy care about the blues anymore?
In an emailed statement, Tamara Conway, Lyft General Manager for Divvy, assured me that "Classic pedal bikes are an important part of the Divvy system, and CDOT and Lyft continue to keep them in top shape and available for riders to enjoy. Classic bikes are joined by next-generation Divvy ebikes and Divvy scooters, all of which provide travel choices for riders and encourage more people to step out of their cars and onto Divvy." The Lyft statement also says it has hired more mechanics, that the classic blues are regularly maintained, and that the sturdy bikes often last more than ten years.
Well, that's nice, I thought. But then I read this: "We have no plan to remove classic pedal bikes, however we continue to grow our fleet with ebikes. If a classic bike is damaged beyond repair, it will not be replaced with another classic bike," the Lyft statement says. Sources familiar with the program say that there are no plans to replace the old blues with new, non-electric bikes.
It appears that Divvy's future is electric, and this can be prohibitively expensive if you're not a) rich and don't care; b) a tourist and don't care. Even in the "Divvy for Everyone" program for low-income users, ebike prices went from zero cents-a-minute to five cents, though participants get a $10 credit.
Lyft also announced in June that it is giving a $5-a-month credit to casual and standard members who rode in the former waiver zone, to ease the transition.
The new pricing has led to grumbling on Twitter among some Divvy users and bike advocates that their memberships are no longer worth it.
Jacob Peters, a former MBAC representative for the North Side, says he has considered dropping his membership. If the blue bikes disappear, and if they are not replaced by a low-cost, foot-powered alternative, he doesn't see a future for the equitable program that Divvy was envisioned to become. "If it's only ebikes, they're going to lose their most consistent riders," Peters says. He fears that Divvy could turn into an elitist system, with only scooters and ebikes, aimed at the richest and most tech-savvy and ignored by everyone else. "It would be a loss," Peters says.
Here's hoping Lyft and the city will figure out a way to fund new, pedal-powered bikes. In the meantime, I'll keep using the old Divvys and avoiding the ebikes.
I'm singing the blues for the blues. I didn't appreciate you enough, you homely old clunkers, and I cursed your bulk when I was riding into a stiff northwestern wind.
Now I just hope you don't disappear.