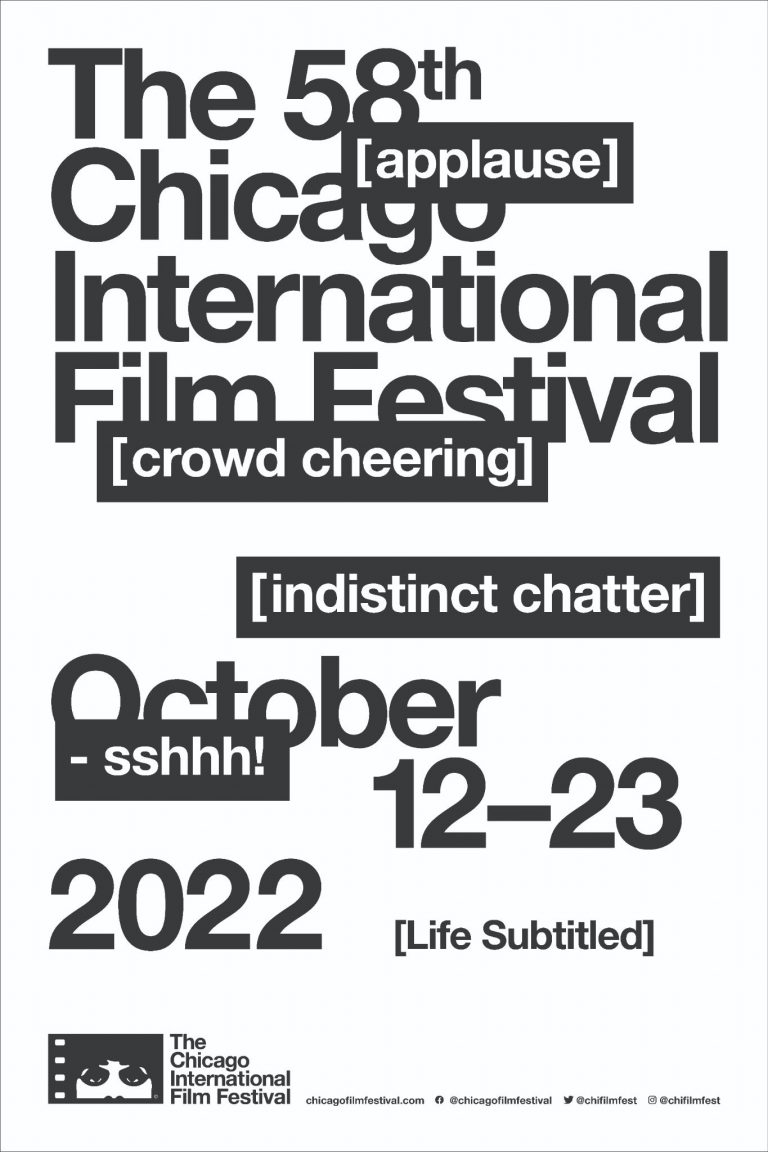 ART
Art On theMART Announces Winter Work
Art on theMART's winter 2022 program will premiere Saturday, November 19 with a new projection, "Chicago Design Through the Decades," a collaboration of the University of Illinois Chicago, Columbia College Chicago and the Chicago Design Archive. "Chicago Design Through the Decades" is "a dynamic piece documenting the progression of design in Chicago over the last century. Following engaging characters and textual tidbits found in the Chicago Design Archive's records (composed of over 3,200 examples of design work by over 1,100 designers), 'Chicago Design Through the Decades' explores styles and methods, starting with the Art Deco illustrative techniques of the 1920s, through contemporary digital renderings from the 2010s. Ultimately, the journey ends in the 2020s with digital portraits produced using neural networks–a machine-learning approach that formed the foundation of much of modern artificial intelligence technologies–increasingly prevalent in contemporary art. As audiences are transported through the decades, legendary personalities and world-changing social movements are highlighted with the popular design styles of each era." The project is led by designers and educators Daria Tsoupikova, Sharon Oiga and Guy Villa Jr., who assembled a team of creators and archivists to contribute to the recognition of Chicago as an international design center through the use of innovative technologies. More here.
Theaster Gates' Rebuild Foundation Sets Mellon Archive Fellowship
Theaster Gates' Chicago-based Rebuild Foundation has received a $3.5 million grant from the Mellon Foundation and will launch the Mellon Archive Fellowship Program. The program is a multifaceted initiative supporting the creation of new research, scholarship and artistic production through engagement with Rebuild's archival collections held at the Stony Island Arts Bank. Among the four collections housed there are the personal vinyl collection of Frankie Knuckles, the godfather of house music, and a collection of books and periodicals donated by the Johnson Publishing Company, publisher of Ebony and Jet magazines. "Central to the Mellon Archive Fellowship is its aim to interrogate, disrupt, and expand the knowledge of histories connected to the African diaspora."
The four inaugural fellows, each of whom will explore the archives and produce new work that can be presented publicly during the eighteen-month fellowship period, are singer, songwriter and musician Corrine Bailey Rae; composer and cornetist Ben LaMar Gay; professor and historian of dance and movement Dr. Honey Crawford; and interdisciplinary performing artist Yaw Agyeman. More here.
Jose Gamaliel Gonzalez, Pioneer Of Chicago's Latino Art Scene, Was Eighty-Nine
Pilsen remembers Jose Gamaliel Gonzalez, reports Block Club Chicago. He "was passionate about uplifting and connecting Latino artists in Chicago, his family and friends said. The artist founded El Movimiento Artistico Chicano and Mi Raza Arts Consortium, and his murals could once be seen on city walls."
Columbus Museum Of Art Workers Push For Union
"Workers at the Columbus Museum of Art sent a letter to the museum's management staff asking them to recognize their union, formed in collaboration with the American Federation of State, County and Municipal Employees," reports the Columbus Dispatch. "The decision by museum staff members to seek unionization comes just months after the staff at the Wexner Center for the Arts filed for a union in March. They also partnered with AFSCME Council 8 and staff members from Wexner Center for Arts, who are still in the process of finalizing their union and were also at Monday's rally to show support for the CMA staff."
DESIGN
Car Kebab Rises In Berwyn
Replacing a long-gone Berwyn landmark, a car kebab has risen in the parking lot of the Paisans Pizzeria at 6226 Ogden Avenue, reports the Sun-Times. "'Everyone loves a re-creation because it was gone and they want to remember it, whether they liked it when it was there or not,' artist Pete Gamen said just a few days after the official unveiling. 'This one is more vibrant. There are not the pigeons sitting on it.'"
Goldman Sachs Workers Must Return To Office Full-Time
"Wall Street giant Goldman Sachs will lift all COVID protocols… as it pushes all employees to return to the office five days a week after Labor Day," reports the New York Post. "Goldman Sachs CEO David Solomon wants his firm to be the leader when it comes to returning to the office full-time… 'This is another way of Goldman Sachs saying, "School's in session and we want you in person" after Labor Day,' said Wells Fargo bank analyst Mike Mayo. 'Goldman is the ultimate customer-facing firm and it's tough to face customers remotely.'"
Rockford's Jefferson Street Bridge Near End Of "Useful Life"
"Rockford city engineers estimate the ninety-seven-year-old Jefferson Street bridge has less than twenty years of useful life remaining, and they don't want to wait until crunch time to plan what comes next," reports the Rockford Register Star. "'Our goal is to be out well ahead of it becoming dangerous,' Public Works Director Kyle Saunders said, adding that the bridge has fifteen to twenty years left of useful life and doesn't have any load restrictions beyond what's legal."
Germany's Cheap Train Tickets Huge Success
While Chicago is among the municipalities experimenting with discounted or free transit—daily, weekly and monthly CTA passes have been discounted at least through Labor Day—Germany shows positive results, including the reduction of 1.8 million tons of carbon dioxide from three months of highly discounted train travel, reports Bloomberg.
DINING & DRINKING
Take Out A Loan When You Can't Afford This Week's Groceries?
"Americans are increasingly turning to 'buy now, pay later' services for food and other everyday essentials. And there are signs that the practice is putting some in deep debt," reports the New York Times. "When pay-later services like Klarna, which was founded in Sweden, arrived in the United States about a decade ago, they were largely used for one-time, discretionary purchases like concert tickets and high-end clothing." But "Americans are increasingly turning to them to finance something much more mundane and essential: what they eat. And there are signs that the use of these services for repeated, everyday expenses like groceries and restaurant meals is pushing some users, particularly younger people who are already overextended, deeper into debt."
Bambola Opens In September 
"A romantic voyage along the Silk Road as imagined through the travels of a bon vivant and connoisseur, Bambola, 1402 West Randolph, is a 175-seat restaurant and cocktail bar that tells the story of trade, travel and culture," relays Bonhomme Hospitality of their latest venture. The restaurant opens on Tuesday, September 13. Istanbul was a touchstone in the creation of Bambola, "due to its peerless mix of influences and cultures, textiles and objects, highly decorative details and a culture of hospitality." Led by chef de cuisine Alisha Elenz and Bonhomme Group's Michelin-starred executive chef Marcos Campos, executive pastry chef Shannah Primiano and culinary director Erwin Mallet, "Bambola is inspired by the rich traditions, ancestral techniques, exciting products and flavorsome spices widely exchanged and mastered by Eastern and Western cultures since the thirteenth century."
"Culture, travel and style are at the heart of everything Bonhomme does, creating singular nomadic experiences for their guests—Porto takes diners to the Atlantic Coast of Spain and Portugal; Bordel is a speakeasy inspired by Paris' Belle Epoque and Pigalle neighborhood; Mama Delia is a pilgrimage across favorite regions of Spain; and where Beatnik restaurants are driven by a sense of escapism to destinations in the Middle East, Morocco, Mexico and Peru, Bambola is a journey for the senses, an expedition to the East that weaves through a diverse cultural tapestry stretching from Italy to Xi'an." More here.
Chicago Restaurants Still Can't Find Enough Workers
"Many restaurants have hiked wages, but it's not enough for workers disillusioned by cranky customers and grueling work," reports Block Club Chicago. "If you don't have to go back to hell, why set yourself up to burn?" "Chef Won Kim needs ten people to fully staff his Bridgeport restaurant, Kimski. Right now, he has about five. Turnover is so high some staff don't stay longer than a month… Staff make $15 an hour plus tips, taking home about $20-$25 per hour before taxes. But it's still not enough to keep staffers showing up… Seven out of ten restaurants nationwide are understaffed and scrambling to retain and attract employees, according to the National Restaurant Association."
FILM & TELEVISION
Cinema/Chicago Unveils Poster
Cinema/Chicago, the presenter of the Chicago International Film Festival, has revealed this year's festival poster heralding the fifty-eighth edition of the longest-running competitive film festival in North America, created in collaboration with advertising agency Ogilvy for the fourth year. This year's campaign, "Life Subtitled," builds on the award-winning success of 2021's "Life, Scripted" campaign. "'Life Subtitled' demonstrates that an international film festival isn't as 'foreign' as some might think," Gabe Usadel, executive design director at Ogilvy says in a release. "Since the beginning of [the film industry], subtitles have helped break down barriers. They transcend language and abilities, reflect universal struggles and triumphs, and unite moviegoers." Launching in September, the campaign features on bus shelters, wild-posting, digital and social media and a trailer. The attractions at the fifty-eighth festival will be announced on September 19. Early Bird passes are on sale through September 16 here.
LIT
Libraries Called Upon For Social Work
"Libraries have long been one of society's great equalizers, offering knowledge to anyone who craves it. As public buildings, often with long hours, they also have become orderly havens for people with nowhere else to go," reports California Healthline. "In recent years, amid unrelenting demand for safety-net services, libraries have been asked by community leaders to formalize that role, expanding beyond books and computers to providing… support for people living on the streets. In big cities and small towns, many now offer help accessing housing, food stamps, medical care, and sometimes even showers or haircuts. Librarians, in turn, have been called on to play the role of welfare workers, first responders, therapists, and security guards. Librarians are divided about those evolving duties. Although many embrace the new role—some voluntarily carry the opioid overdose reversal drug naloxone—others feel overwhelmed and unprepared for regular run-ins with aggressive or unstable patrons."
New Missouri Book Ban Takes Effect
"A law banning books with explicit or sexually inappropriate images in Missouri schools went into effect," reports Missouri's ABC 17. "Senate Bill 775 prohibits teachers from providing 'explicit sexual materials' to students. Under this law, any educator, in public or private K-12 Missouri schools, who 'provides, assigns, supplies, distributes, loans, or coerces acceptance of or the approval of the providing of explicit sexual material' will be charged with a Class A misdemeanor punishable by a fine up to $2,000 or a year in prison. It's part of an omnibus bill on sex crimes and crimes against minors that includes the Sexual Assault Survivors Bill of Rights." Remarks Vulture books editor Maris Kreizman, "I'm sure whoever has the task of deciding which materials are sexually explicit will do so in good faith."
MEDIA
Jeff Bezos' Washington Post Is Losing Money But He's Not Going To Help
"The Washington Post is in business trouble, reports The New York Times. After years of profitable operation and several expansions, it is on track to lose money in 2022 for the first time since Amazon oligarch Jeff Bezos bought it in 2013 for $250 million. Publisher Fred Ryan is reportedly considering [options that include] cutting about a tenth of the 1,000-person staff," writes Ryan Cooper at the American Prospect. "It is rather baffling that Bezos seemingly won't simply write a check to cover any shortfall… The Post has returned him a tidy profit over the years, and it doesn't seem unreasonable to expect him to plow a bit of that back into the paper to float it over a rough patch, so as to give it time to regroup… More importantly, Bezos has an incomprehensibly vast fortune: $153 billion… Bezos is far from the first oligarch to dabble in owning big media properties only to turn into a Dickensian… miser the moment the place starts losing money… Right-wing billionaires understand this perfectly well. They are happy to dump money into conservative media by the barrel, because they view it as an investment in their broader political project."
MUSIC
Looking At The Long-Term Benefits Of Music Festivals
"Music festivals have become an elaborate display of mega-sculptures, architectural pavilions, and other designs that have involved some of the world's most well-known architecture firms," reports ArchDaily. "Coachella has been home to impressive designs from Bureau Spectacular and Pritzker Prize Winner Francis Kéré, making art and architecture almost as important as the music performers themselves… Music festivals have a greater impact on the cities in towns in which they're hosted that last much longer than the extended weekend… For recurring events, crowds can reach up to 90,000 visitors…bringing a significant economic injection of temporary jobs and additional revenue. The town of Indio… reports over $250 million during the [two weekends of Coachella], where hotels, bars, small businesses, and restaurants prepare for the influx by extending hours, hiring temporary staff and increasing prices. But there are some negative aspects that show how festivals have evolved away from their original purpose of peace, love, happiness and equality."
STAGE
Den Theatre Launches The Den Marketplace
The Den Theatre will open The Den Marketplace starting this Sunday, a weekly indoor marketplace featuring the best of Chicago artists, makers, local chefs and food vendors as well as an eclectic mix of entertainment. The market will continue every Sunday. More here.
Rivendell Theatre Ensemble Announces Season
Rivendell Theatre Ensemble announces its fall line-up, including the return of the "Fresh Produce Festival: A Celebration of New Plays by Women" and the world premiere of "A Mile in the Dark" by Emily Schwend, directed by RTE member Georgette Verdin in a co-production with Interrobang Theatre Project. The Blue Jean Ball also returns, celebrating 2022 WREN Award Honoree Joan Callahan at Bridge 410. All productions will be performed at Rivendell Theatre Ensemble, 5779 North Ridge Avenue. Tickets and more here.
ARTS & CULTURE & ETC.
Christkindlmarket Announces Season And Third Location
The Christkindlmarket, "with locations in Daley Plaza and at Gallagher Way in Wrigleyville, returns for the holidays on November 18 and will be open for visitors until around Christmas," reports Channel 5 news. "Christkindlmarket is coming to RiverEdge Park in Aurora for the first time."
Send culture news and tips to [email protected]