The Near North Side neighborhood tavern Weeds has been a garden of cultural delights.
It was a cornerstone of Chicago's poetry scene. It was the site of historic Thursday night jazz sessions featuring Louis Armstrong's drummer Barrett Deems, vibraphonist Carl Leukaufe, bassist John Bany and others. The Bedbugs trekked up from the east side of Chicago to play sweet pop and rock music at Weeds, 1555 North Dayton. Actor John Cusack tended bar at Weeds and Jamie Lee Curtis once drank tequila there. Now a gritty sports bar, Weeds is the template for the popular Hideout music club only a few blocks north.
And there was Weeds bartender-host Sergio Mayora.
He is an artist, poet, singer-songwriter, and actor. In 1970 he played the role of Indio in the Gordon Tech High School production of "West Side Story." Always clad in blue overalls, Sergio wears dark glasses even in the dead of the night. He knows all the words to the De Castro Sisters' 1954 love song "Teach Me Tonight."
He is a friend of mine.
He handcrafted a beautiful mirror, glass and wood spirit box for my dog's ashes. One Saturday night I witnessed Sergio get cracked over the head with a whiskey bottle from a disgruntled customer at Weeds. There was lots of blood but Sergio refused my advice to go to the hospital. He had another drink to pour, another story to tell.
He won't like me telling the story about us sharing a bottle of tequila in a hot tub before an April 1991 Texas Tornados concert at the Star Plaza Theater in Merrillville, Indiana. We kept our clothes on. A large group of us rented a double suite at the hotel. Sergio also wrote a story for an underground newspaper about how he met Freddy Fender of the Texas Tornados after the concert. That was "Fake News." Sergio was ahead of his time.
Over the summer I attended the ninety-fifth birthday party for Sergio's uncle Paul—the Weeds owner and patriarch. The event was in the Weeds beer garden. It was also Sergio's sixty-ninth birthday. He was born on Bastille Day, July 14, in the since-closed Saint Cabrini Hospital on the Near West Side.
Sergio is a tough dude. He has endured heart surgery and a heart attack. He had diabetes. He's got bad eyes. He has a gallbladder operation coming up. He has lost a son. He's been legally married twice and had twelve children. Sergio lives in the basement of a defunct 1920s-era Chicago-Milwaukee electric station near downtown Waukegan.
A life-sized painted bust of Sergio clutching a bottle of tequila once greeted customers at Weeds. It now sits like a king searching for his court atop a front-room mantle in Waukegan. On a recent visit, I was concerned about his breathing and he reminded me about the cow's valve in his heart.
Weeds is an old, heartfelt bar. It opened in 1963 as the 1555 Club. Before that it was a children's furniture store. The 1555 Club was a hangout for workers from the long-shuttered Seeburg jukebox factory down the street. Uncle Paul and his family bought the club in 1983. It morphed into Weeds because it was at the corner of Dayton and Weed streets.
Sergio started as a Weeds cook, filling in for an aunt who left for Mexico. Sergio's mother was from Aguascalientes, near Mexico City. His father was from Mexico City. I first walked into Weeds in the winter of 1985 and was impressed by the room's steamy diversity. The bar often consisted of people from the Cabrini-Green projects as well as the tony Sandburg Village apartments. There were hillbillies and flight attendants. People hung bras and condoms above the bar and Sergio decorated the tavern with artwork he found in North Side dumpsters.
And then Sergio began creating his collage posters to promote the club. They are singular cut-and-paste works of art. And many of these posters predicted the world we are living in today:
"Weed's Pollution Night" (1988), depicting a guy in a face mask dealing with global warming.
"Making America Safe in the War Against Censorship" (2004), promoting a poetry night.
"Birth Control Day" (1986), celebrating "masculinity and femininity," according to Sergio back then.
"Transvestite Nite" (2000), honoring "ordinary men with extraordinary courage to wear dresses." That evening Weeds also promised "the world's only cross-dressing live band. No cover."
Now Sergio explains, "I did not know what business meant and zilch about advertising. But I reckoned it should be intriguing, friendly and forget the bottom line. If you want people to come somewhere you offer something they are missing. Other bars had ferns and phony sitcom store-bought decor. We didn't."
Sergio pauses for a moment and rearranges his thoughts. "Well, we did," he says. "But we got it (decor) after others threw it out just because it was a broken has-been. Not me. I see an opportunity. Those rough misspelled posters were a scream to anyone out there to come and see the spirit that can reside at any location if one makes business the second priority and spiritual comfort number one. I'm an old farmer of concepts. That's why I wear overalls.
"I plant ideas."
His work has been shown at the Ukrainian Institute of Modern Art, the Citlalin Gallery Theater and he made a knockdown circus doll for an auction at the INTUIT (The Center for Intuitive and Outsider Art) gallery in Chicago. He taught kids at the Casa Juan Diego Youth Center in Pilsen how to make spirit boxes.
Sergio was commissioned by Willie Dixon's Blues Heaven Foundation to make a four-plate spirit box for Carlos Santana. I own an ash wood rocking chair made by the late Cajun guitarist-vocalist D.L. Menard. Toward the end of one of my parties Sergio walked out of my house with the rocking chair over his back. It reappeared two years later, hand-painted in vibrant colors. It's safe to say I own the only Sergio-adorned D.L. Menard rocking chair in the world.
Marla Donato is a Chicago-based journalist. She was a staff writer at the Chicago Tribune from the 1980s through 2002. She wrote about Weeds for the Trib at the same time I was writing about Weeds for the Sun-Times. She also taught humanities art at Columbia College and brought in Sergio to speak to her students.
"His posters were very interesting," she says. "It's easy to make a collage but it's hard to make a good collage. The posters are very vibrant. He creates this fantastical world that uses geometric shapes and primordial figures that are sometimes reminiscent of Chichen Itza (the alien city in the Maya lowlands). The shapes and compositions manage to meld the ancient world with the futuristic cosmic. He seems to channel Chichen Itza where aliens came down (50,000 years ago according to Sergio). His work captures my imagination." It is fitting that Sergio resides in Waukegan, the birthplace of science fiction writer Ray Bradbury, who wrote "The Martian Chronicles" and "Something Wicked This Way Comes."
Scott "Squat" Levy is a business consultant and music producer based in San Antonio. He became a Weeds regular in 1988 after several trips to Chicago from Detroit while consulting for the Ford Motor Company. He was part of the Weeds community until 1998 and moved to Santa Fe in 2003. In December 1998, Squat organized a "Death Party" for Sergio because of his ailing health. Squat is also friends with Manuel Cuevas, the acclaimed Mexican fashion designer who made historic garments for Gram Parsons, Bob Dylan, Dolly Parton and others. In 2009-10 Squat had his music studio in the basement of Manuel's Nashville shop.
"Manuel and Sergio, both high-level thinkers," Squat says in a thoughtful conversation from Texas. "They use a lot of vibrant colors. There's intricacies in the designs. There's always deep themes. When you look at Manuel's work and you look at Sergio's work, it's what you see at a glance. Then there's the second look and you see something different. Then the third glance presents another meaning. That's true with Sergio's posters and boxes. Manuel has one of Sergio's boxes. It has a cassette tape inside with some (Sergio) song on it. The two of them have never met. There's a possibility that could happen."
Manuel is designing a bridge that will cross a creek on his property outside of Nashville. Squat and Manuel have been talking about making the bridge out of empty tequila bottles. "Sergio said he could do that," Squat says. Sergio says he can do that, too.
Squat met Manuel through Larry Weiss, one of his longtime clients. Weiss wrote the Glen Campbell hit "Rhinestone Cowboy" and co-wrote "Bend Me, Shape Me" for Chicago's The American Breed. Squat's other clients include Edsel Ford II of the Ford Motor Company and Bob Doyle, the manager for Garth Brooks.
Weeds was also where Levy stood up and got his nickname of Squat. He explains, "Some friends cajoled me to get up and do a poem. I didn't have any. I got on the stage and called myself 'Squat the Extemporaneous Poet.' I just made shit up. People would laugh and thought it was great. But the poems were about nothing."
Acclaimed Chicago poet Gregorio Gomez became the host of the Weeds poetry night in 1987 which ran until 2016. The former managing director of the Latino Chicago Theater Company in Wicker Park also hosted a successful Weeds poetry night reunion this past July.
"Those posters served two purposes," Gomez says. "One, to entice the novice to come and explore the night church of Weeds. The posters had some kind of religious component. Second, it was legendary literary shit Sergio would write on those things. He seemed to be ahead of his time. People collected those posters because they looked at it from an artistic perspective. He gave a lot of them away. I used to have ten, fifteen but they perished in the (theater company) fire. It was limited advertisement. It was more for pleasure in that he was able to show the world what he was doing—artistically and philosophically. Whether he knew it or not, that's what he was doing."
Sergio moved ahead of his place in time.
"He did underwear night before Madonna," Donato points out. "He was encouraging people to put their underwear on top of their clothes. Right? He told me a lot of people he saw in Weeds were very closed-in. He wanted to bring their insides out. He decided to do that by having underwear night so maybe they'd come out of their shells. Sometimes the biggest censors we have are ourselves. He doesn't censor himself. He doesn't worry about it, which is one of his endearing and frustrating qualities. There's a Buddhist concept where you can hold two opposing concepts in the same space. Where it's not this or that, it's this and that. He does that in his approach to things."
Richie Ponce, seventy-two, is a retired Union Pacific freight train conductor who lives in suburban Westmont. He is Sergio's first cousin. His mother, Sergio's mother and Uncle Paul were brothers and sisters. Richie—as he was known around Weeds—helped Sergio light the kinetic incense-soaked fire that became Weeds. "We were open every day," he says. "The jukebox factory closed down and the other factories around there started folding. My uncle wasn't getting any business. Cabrini-Green was there." Richie's mother Alga was the cook at Weeds and Sergio was brought on board to help in the small kitchen. He had been a cook making $17 for a forty-hour work week at a Mexican restaurant in the since-razed Harmony Hall, 3131 South Halsted.
"Well, it got real busy," Richie says. "Sergio started making posters. We'd go to Old Town and stick them on light poles. Sergio has been doing art since he was a kid. He liked abstract art. Right out of his mind all this drawing all the time. We'd ask, 'Where do you come up with this?' Weeds got popular. Sergio started doing theme nights on weekends. Water night, fights with water guns. Pajama night.
People came in lingerie. We had Indian rugs with candles on a table at the front of the bar as you walked in. Sergio would stand outside singing. You couldn't do this stuff today.
"Gayle (Ryan, a close friend of Sergio's) started videotaping customers. Bands started coming in. The band Rico, that's where they got their start. There was a guy named Cleo (Patrick) who played great Jimi Hendrix songs. He looked like Jimi Hendrix. At first Sergio worked the door and I bartended. He later bartended when it got busy."
Ryan was warm and super-friendly. She was a Chicago Public School special education teacher for thirty-eight years. She was a smooth tonic for nervous customers entering the dive bar for the first time. On weekends between 1985 and 1988 she stood on a wobbly metal crate by the front door with a handheld camera and videotaped the weedy bacchanal. "We didn't have a tripod," says Ryan, now retired and living in Florida. "It was a heavy camera. I'd shoot the bands then turn around and shoot the crowd. Sometimes it wasn't a good thing. A guy might be there with a girl on tape and it turned out he was married." Sergio has a library of nearly a hundred VCR Weeds tapes stashed away in a dresser at his Waukegan crib.
Sergio credits Ryan for connecting Weeds with the "local natives," as he puts it. Between 1977 and 1979 Ryan was a bartender at the Old Town Ale House on the Near North Side, where she met Sergio. "It might have been the first time he went to the Ale House," she says. Ryan knew the regulars at the Ale House and O'Rourke's, at both its North Avenue location and later at its final spot just a couple blocks north of Weeds on Halsted Street.
On a good night people would hit Weeds, O'Rourke's and the Ale House. Cusack and his sister Joan wandered off to Weeds a couple of times because John was friends with Jay Kovar, the late owner of O'Rourke's. Ryan knew Kovar. Actor Bill Plummer brought Jamie Lee Curtis into Weeds. "Very tall dude," Sergio recalls. "Raincoat. Rolls Royce. The works. Bill got married, had kids, and moved to Montana. He had a one-thousand-acre cow land in Texas. He once invited me to go to Texas, get on a helicopter and hunt cougars. I told him that shit is no part of me."
Ryan says, "Sergio is amazing for what he did. The posters! He made a special poster every month for an event. He would do the posters all day when I taught. Then we'd go run them off at Kinko's at night. Sometimes we slept on the pool table at Weeds. It was a good time," and she stops to gather her thoughts. "At the end it wasn't so good…"
Donato adds, "He would put together these elaborate posters—and this was before glue-stick—he would tape things onto the posters. Then he would Xerox them and go to Kinko's. They'd run these things off and sometimes you could see the bits where the tape was on the poster. That was some of the charm of it. It was a raw, sophisticated design. His artwork, his posters, his thought process are such an interesting mix. I was in the (Tribune) fashion section for a while. The combination of his colors are really quite remarkable."
Long before "The Tamale Guy" became a colorful culinary celebrity, Weeds was a stop on his route. And in the late 1990s, Sgt. Sausage would walk into the colorful bar carrying a bucket filled with beer sausage, beef salami and garlic beerwurst. He wore camouflage pants. His name was Joe Perl. His father was Carl "The Happy Sausage Man" Perl, who delivered meat around Chicago between the 1950s and seventies.
Sergio retired from Weeds around 2014. The bar remains in the family, now managed and operated by John Martinez, a forty-five-year-old son of Uncle Paul. John remodeled and deep-cleaned the bar. He removed the bras and condoms. Sergio's posters still hang on a north wall. Several Weeds customers refer to the establishment as a sports bar and indeed sports are presented on five television sets and one in the beer garden. Live music is occasionally booked, but Weeds is so unconventional it doesn't have a website. Martinez can be seen in the morning at Weeds cleaning up the alley adjacent to the bar. He has a low-profile persona, quite the opposite of Sergio. "I'm very quiet and I don't like people to know what I'm doing," he says during an early September interview in the Weeds beer garden. "I'm a humble guy. I keep things to myself. My Dad had a stroke and that's when I started coming around more often to help out." At the time he was working with Section 8 housing in the neighborhood.
In his spare time, John rides with the Canaryville Veterans Association motorcycle club. Richie rides a custom-made candy-apple-red three-wheeler with a new Volkswagen engine. Several members of Chicago-area motorcycle clubs attended Uncle Paul's summer birthday party, a gesture that doesn't happen to most ninety-five-year-olds.
Sergio has dealt with health issues in recent years. He had a heart attack in the 1990s followed by open-heart surgery seven years ago. These events have slowed down his nightlife exploits. He has downsized his drinking. Sometimes he sings at a Chicago art gallery. He still makes an occasional appearance at the Old Town Ale House, where a Bruce Elliott color portrait of Sergio hangs near the bar. Elliott owns the Ale House. Unlike some of Elliott's other bar paintings, Sergio has his clothes on.
Sergio's orbit is so large because he is not uptight like so many Americans in 2022. He likes life's bright colors. His sight might be fading, but he still views life with wide eyes.
Sergio's parents took him to Mexico to live with his grandmother until he started school. He came to Chicago and grew up around Polk and California. He drew daily as a child. Sergio once told me he stopped drawing in his twenties because he thought his art was silly. "I was embarrassed," he says. "But later on I realized it didn't matter. If I draw a stick figure, it's important I drew that stick figure and you didn't. When you draw your stick figure, come tell me about it."
In 1990 Sergio wandered into the Old Town Cigar Shop and bought a couple of used cigar boxes. He began to draw on the boxes. He worked from ideas generated by reading Omni magazine or by watching television. Once the drawing was complete, he painted and varnished the box. Sergio drew on skills he acquired as a Chicago carpenter and welder. He would then glue artifacts such as colorful pieces of glass inside the box. Most of his spirit boxes reveal philosophical messages under secret doors.
In 1993 Sergio showed his boxes in public for the first time at artist Tony Fitzpatrick's late, great World Tattoo Gallery, 1255 South Wabash. Fitzpatrick knew Sergio from the poetry scene but he did not know about the boxes. "I never knew he was an artist," Fitzpatrick said in 1993. "He's a real artist. The boxes fascinated me. I'm intrigued by prayer and spirit boxes in Haiti. Sergio seems to be the urban inheritor of that. It's odd what boxes imply. Boxes are vessels."
Vessels of freedom.
And thousands of Weeds passengers have been along for the memorable journey.
Susann Craig was one of Chicago's most notable art collectors. She taught art at Columbia College, directed The Dorothy Rosenthal Gallery and operated many galleries and shops. Craig was a founder of INTUIT (The Center for Intuitive and Outsider Art) in Chicago. She was a passionate champion of Sergio's work. Craig died on June 28, 2021 from complications of breast cancer in Santa Monica, California. She was eighty-four.
Her ashes rest in one of Sergio's boxes.
Her last request was to hear Sergio sing the Stephen Foster ballad "Oh! Susanna" over the phone.
"Mom came to Los Angeles to be with me and celebrate her granddaughter's high school graduation," Craig's daughter Amy Coleman says in a phone conversation. "She was so excited. She was sicker than she was letting on. She got through the graduation and that night she took a bad turn." Craig went to Providence St. John's hospital in Santa Monica after the graduation and never came home. Coleman started going through her mother's ample address book to tell friends about Craig's grave condition. She knew Sergio was on the list but she could not find him. Coleman called Weeds. No one could help. I tried to call Sergio a few times but he only has a funky flip phone and never responded. He changes phone numbers. He does not use email.
"The next day she was intubated, in bed and she sat up and said, 'Sergio!?!'," Coleman recalls. "I said, 'I've been calling around. He's not the easiest person to get a hold of." Finally, filmmaker Jeremiah Hammerling connected Coleman with Sergio. He has been working on a Sergio documentary.
"Sergio offered to come and sit at her bedside," Coleman says. "And he doesn't fly. That didn't happen." She finally got him on the phone. "He was sobbing, My mom had no time for sentimental moments. She said, 'Sergio! Get it together!'" Coleman starts laughing. "He was trying. She asked him to sing to her. He always sang 'Oh! Susanna' to her. Poor Sergio's voice was cracking but he did it. Then my mom said, 'I want you to record it for me so I can play it whenever I want to hear it.'"
Craig died the next day.
Sergio had already gone to Jack Salamander's small studio in Des Plaines and recorded "Oh! Susanna" with haunting reverb that accented his deep vocals. The Salamander band was in regular rotation at Weeds. "She never heard it," Coleman says "It's unbelievable. But we played the recording at the first memorial at an art building in (Leland) Michigan. And then we did our memorial at St. Paul's (United Church of Christ) in Chicago where she was a member. At St. Paul's, Sergio came in his overalls and talked about their relationship. And then he sang 'Oh! Susanna.' It was so sweet." Sergio paid to have CDs burned of his tribute to Craig and he gave them away at the church service.
Craig had met Sergio at Weeds. I remember Craig being a semi-regular at the Thursday night jazz sessions. She teased me and asked me when I was going to grow up. "My mom was a curator of all things cool," says Coleman, who grew up in Chicago. "She knew the best bars in every town. The most interesting people and most interesting stories are what she was looking for. It didn't have to be fancy. She loved to talk to journalists, authors, poets and artists. She considered Sergio to be one of her closest friends. She was a champion of the people she believed in. She believed in him not only as a visual artist but she thought he was a brilliant poet. I know they drove each other nuts at times but she found him incredibly interesting."
Craig owned between fifteen and twenty of Sergio's bejeweled wooden boxes. They were the main feature in her 2,200-square-foot Logan Square loft that was designed by then-unknown Chicago architect Jeanne Gang. Today Sergio obtains his wood boxes from secondhand stores instead of cigar shops. He then sands down the boxes and applies varnish. "She didn't have any of his posters but his boxes were prominently displayed," Coleman says. "Many years before she died they talked about him creating a special box for her ashes. When we did her memorial service we had that box with her ashes and we did another memorial at an art center in Michigan. His box traveled with us to both places. It is very special."
Sergio reflects, "I would call Susann Craig once or twice a week. When she didn't answer I would sing. Later I said, 'Why don't you answer the phone?' She said, 'When I don't answer you always leave me a little song. I like hearing them. That's how that started."
Sergio made his spirit box for Craig in 1993. Underneath the box adorned with an Aztec eagle he inscribed, "May the Gods be with you Susan, here is your box." Coleman says, "The funniest thing to my sister and I about the box was that she hated it when people called her Susan. We got a chuckle when we found her birth certificate and her name had been spelled 'Susan' on that, too. So there was something full circle. She came into the world misspelled and left misspelled." The rest of Craig's boxes will be auctioned off with other items from her art collection early next year at Hindman in Chicago.
Coleman was a supervising producer for "The Oprah Winfrey Show" for seventeen seasons. Her father is Chicago documentary producer Scott Craig, who is living in Leland, Michigan writing books and directing community theater. Coleman moved to Los Angeles with her husband ten years ago. "I grew up wanting to be normal," Coleman says. "As a teenager can you imagine your mom hanging out at Weeds? It was different from the rest of the parents at (Francis) Parker school for sure. So it's my first season at Oprah. I'm trying to fit in. This group of women would have Friday night dinners together."
After a long wait, the Oprah colleagues finally invited Coleman for dinner on Easter weekend. Her mother had to leave town. But Craig told her daughter she was going to leave her Easter basket at Weeds. "I'm an adult now, in my early thirties or late twenties," Coleman says. "So I'm at dinner in a restaurant near Weeds with these new checking-me-out people from the office. I realize I don't care, I'm going to Weeds to get my Easter basket. We're standing at the valet and I say, 'I gotta go across the street to Weeds. My mom left me my Easter basket.' They're like, 'WHAT?' And at this point they're, 'Well, we're coming to see this.'
"So we all go into Weeds and there's Sergio in his uniform and dirty underpants all over the ceiling. These women are all prim and proper from work. And I get this beautiful handmade glass Italian pasta serving bowl my Mom found on one of her trips. It had nothing to do with Easter, maybe a couple of pieces of chocolate and a couple of eggs. She hid it behind the bar. These women are like, 'What is going on?' This is how we roll. She made life a lot more interesting.
"It was such a special time."
The Weeds Monday night poetry night gave a special forum to voices of color in the mid-1980s. Blacks and Latinos found a friendly groove for their craft. The late Black poet Joffre Stewart was a Weeds regular on nights beyond poetry night. Stewart was reserved and guarded but would be proud to show a customer how he was featured in Allen Ginsberg's "Howl." Stewart carried the Ginsberg story-poem with him to prove his point.
The Weeds poems could be poignant, offensive and everything in between. In 1985 the late White Panther Party propaganda minister Bob "Righteous" Rudnick had approached Sergio about conducting literary "bouts" on the small stage at the north end of the bar. Early poets were the outside scat-soul singer Thurman ("Hello Lucille, Are You a Lesbian?") Valentine and Marc Smith, who went on to create the Green Mill Poetry Slam.
Gomez, seventy, immigrated to Chicago from Veracruz, Mexico in August, 1963. He came of age at the legendary Get Me High Lounge, 1758 North Honore Street in 1980s pre-gentrified Wicker Park. The late owner Butchie Dakuras was every bit the effervescent and freewheeling character as Sergio. I have a vague memory of tagging along with Butchie and Sergio to Rush Street when Butchie was considering partnering with some nefarious Rush Street characters to open a club there. The original Get Me High also had a small stage and customers had to walk across jazz musicians on the stage—and sometimes Butchie sprawled out on the stage floor—to get to the bathroom.
"I'm a product of the Get Me High when it comes to poetry," Gomez says. "One of the poets told me about this crazy place called Weeds. I checked it out and that's when I met Bob Rudnick. He was a wild character and he was doing his poetry. There was a light bulb and a lamp. Not even a microphone. The poetry was sporadic because Rudnick and John Sinclair (activist, poet and manager of the rock band MC5) went back and forth from Chicago to Detroit." Sinclair, eighty-one, has been writing a "Free the Weed" newspaper column since the 1980s, although it is not about Weeds.
"Weeds was a place that was free from commercialism," explains Gomez, who was living in Wicker Park during the Weeds heyday. "We were a refuge for the hundreds of poets who were skewed from the ordinary language. That's how I created the Erotica Exotica Poetry Night. It was an anti-Valentine's Day thing. It attracted political people, including women. It was the urban alternative to the commercial alternative. We were late-night. We were rambunctious. People were offended. The things we were doing at that time we could not do today. We were ragtag Galactica going through the avenues of the mind. We were the only place that had hecklers with knowledge. The poets heckled back."
One Weeds poet included J.J. Jameson (Norman Porter, Jr.) who had been published by Puddin'head Press in Chicago. He was also a prison escapee. Porter had pleaded guilty to charges of second-degree murder in the 1960 shooting of a part-time clothing-store clerk in Massachusetts. Porter was on the lam as Jameson until 2005. A police officer saw his picture as "Poet of the Month" on ChicagoPoetry.com.
At the time of his arrest Porter was a member of the Third Unitarian Church in Chicago. Now eighty-two, Porter was denied parole in 2019 and is up for parole again this year.
Gomez says. "We were a group of actors who didn't take literature from the schools but our experience from the streets. We were not a 'poetry slam.' We were the longest-running underground literary venue with a hard edge. Who were those hard-edged urbanites? Blacks. Latinos. The girls that came in, they were hardcore poets. Poets liked the fact I treated them with respect and equality. That's one of the reasons I never had a featured poet. Every other venue had 'featured poets.' I treated everyone the same. We were all published in the air. And Weeds literally became a literary learning university. People would try out their work. I was like the headmaster. But it was the poets who came every Monday that challenged me to do better. They challenged me as a host. They challenged me as a writer. Weeds was not a place to hang.
"Weeds was a stepping-stone toward tomorrow."
Weeds is a template for the Hideout, the nationally recognized live music club and cultural center north of Weeds at 1354 West Wabansia. Like Weeds, the Hideout is a small, family-run bar in a legacy industrial neighborhood surrounded by gentrification. I remember sitting with future Hideout owners Tim and Katie Tuten in the late 1980s at Weeds when they talked about opening their own place—just like Weeds. They had their eyes on the Hideout, a blue-collar joint hat opened in 1934. Katie's father was a regular in the space that was built by Irish laborers in 1919.
"The first time I came to Weeds was with my brother in the 1980s," Tuten says during a conversation in the Weeds forty-seat beer garden. "From reading Nocturnal Journal"…—my Chicago Sun-Times weekend column—"You did a story about Weeds. We came on a Saturday afternoon. Paulie was cleaning up. It wasn't open yet. Weeds was family-owned. We thought that was cool. Paulie (a friend of the family), Richie, Sergio. We wanted the Hideout to be like family. Sergio was a positive role model for me but I also knew, 'Man, if I own a bar I cannot do tequila myself.' You cannot be the party. You need to have the venue that holds the party. Whenever people came in they wanted to do shots with Sergio.
"That much tequila makes a dude go crazy."
During the late 1980s Tuten was teaching U.S. and African American history at the since-closed Near North High School on North Larrabee Street in the Weeds neighborhood. He moved to Bucktown in 1988 with then-girlfriend Katie Nicholson. They married in 1991. "I came here on Thursdays for the jazz," he says. "Once in a while for Gregorio's poetry night. All the stuff Sergio used to do, 'Kennedy Assassination Night,' Jazz. Poetry. When we started, our calendar had all kinds of crazy stuff on it. It was influenced by Weeds. I used to joke at the Hideout, we want to be Weeds West. But also want to be like FitzGerald's East. And some of Lounge Ax." One of Sergio's cousins even gave Tuten a so-you-want-to-run-a-bar book. Tuten filled the book with detailed Post-it notes.
Tuten also collected Sergio's Weeds posters. He still has a bunch of them. "Posters were a very big deal," he says. "Before the internet and social media, you had to put up posters everywhere. Somewhere I have a photo of when Katie and I went to Tiananmen Square in China. One year after the Tiananmen Square massacre. We brought a Weeds poster and had our picture taken with it at Tiananmen Square. There were Chinese guards around. We took that Weeds poster all over."
The Hideout opened in 1996.
"When we got the Hideout they had just torn down Procter & Gamble for where the Home Depot is now," Tuten says. "The (City of Chicago) fleet management building was still there. United States Steel. Hanna Cabinet Company. Merrick Printing. Simpson Steel. We thought we'd be the same Hideout with working-class people. It worked like that until the places started closing and moving out."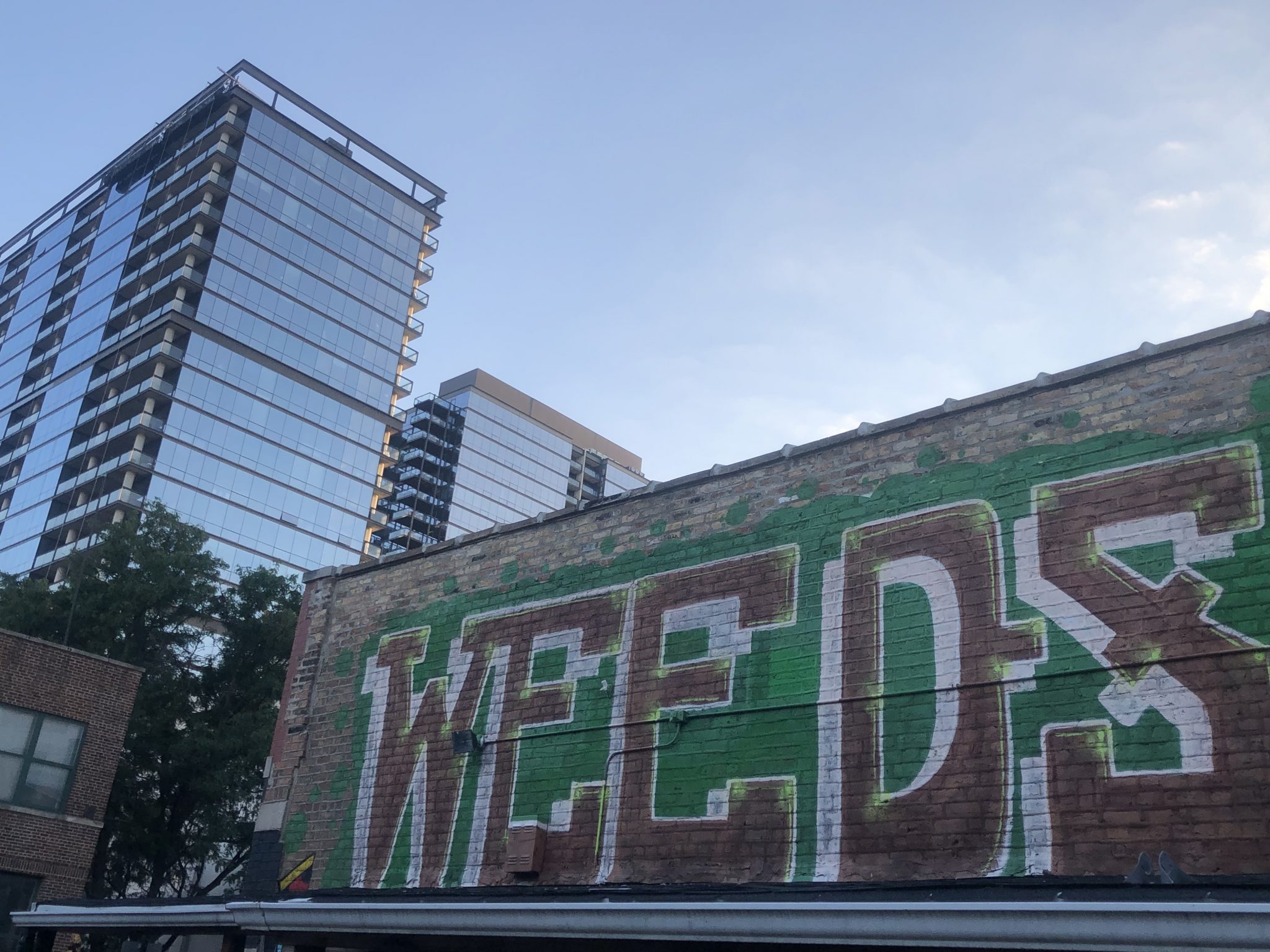 Weeds is now surrounded by high-rise condo buildings, Crate & Barrel, Starbucks, Dick's Sporting Goods and a nearby Apple store. John Martinez says, "People offer to buy this and I always tell them to fuck off. There are generations of family here."
Tuten looks up at a new condo high-rise just south of Weeds. "That's exactly what Lincoln Yards has planned," he says of the fifty-three-acre mixed-use development near the Hideout. "There they are. They were not here before. TURN DOWN THE BANJOS! I can't wait until they say that. But the Weeds family owns the dirt. We own the (Hideout) dirt. When we talk to people who own clubs in Austin, Texas or Los Angeles, nobody owns their bar. They rent their space. Bill FitzGerald owned his place. Joe Shanahan owns Metro. Other cities go, 'Wow, that's crazy, Chicago still has owner-operated businesses?' Look at Lounge Ax (in gentrified Lincoln Park). They didn't own it. They got pushed out."
Martinez looks up at the same sleek condo building. He says, "That went up about five years ago. One side is rental (Sono East Apartment Homes). On the other side is condos. Some of them (residents) come here. Martinez made the aesthetic changes at Weeds little by little. "The city wants you to change stuff," says Martinez, who lives at Belmont and Cicero. "We have daycare down the street. The British school came in. It's not factories no more. It was twenty-four-seven factories. Cars would be smashed in on North Avenue. Hookers were around. Now you can walk around here. This remains a family business. Everything you see here, we built by hand. The soul of the bar still exists."
"Change is a very hard thing to do," Tuten says. "People that came here twenty, thirty years ago are like, 'Where's the bras on the ceiling?' Why is it so clean?' Where's the incense? Because there's building codes. And we get shut down for that. And times move on. Things that used to be acceptable in the eighties, like 'Dress Up Like a Bitch Night'—and I came in second place after Sergio—those things are considered inappropriate. You have to have cocktails for younger people now. These places were shot and a beer. Young people now want a Tito's and soda with a splash of Red Bull. Ten years ago it was 'Fuck no, go somewhere else.' They want a craft cocktail for twelve dollars. We wouldn't pay it." In the late 1980s and 1990s a bottle of Corona and a shot of cheap tequila was as fancy as Weeds got. Martinez says that today the top-selling beers are Modelo, Old Style and Pabst Blue Ribbon.
Tuten looks at the Weeds family gathered around a beer-garden picnic table and thinks about his beloved Hideout. He says, "This is family. When you started the incentive wasn't just to make money. Your incentive was that you believed in the space. But you have to understand business. At the Hideout we're trying to gently adapt and retain the character. It's hard to do when you have a twenty-story condo moving next door. And developers want to clear everything out. You want to keep things steady. You want to have a venue that ne'er-do-wells can come to and that working folks know they can come to. That's a tough balance. Some people might not be interested in the jazz musicians, poets and the art. But the combination of workers and artists, to me, was the ultimate goal of what the New Deal Democrats were supposed to be about. Why can't a regular guy also be interested in poetry? With Weeds I would think of historic places like the Dil Pickle Club in the thirties and forties, College of Complexes of the fifties and sixties and Weeds, seventies, eighties and nineties."
Weeds was hit during the 1968 Dr. Martin Luther King riots. Martinez was on guard during the May 2020 George Floyd murder protests. "I was sitting here barbecuing, making arrachera," he says. "Everything got boarded up. My neighbors love me. They didn't do any damage here because I was here. The cops called this station one. They'd check out what was going on. People were scared of my dogs. I got big dogs, no little shit dogs. I've got a Boerboel, the largest and strongest Mastador dog in the world. It weighs 220 pounds. And I had two pit bulls at that time. And a Cane Corso (guard dog.)"
In April 1989 Sergio made a poster that said, "When Stress Closes In On You Relax!" It was part of his mantra when he made an unsuccessful run for Mayor of Chicago. In loud lettering he claimed to be "A Candidate for the Most Overlooked People in the Country—Lazy People!"
Sometimes the colors fade to blue.
On July 1, 2011, Sergio's oldest son Flame Joseph Mayora died of a drug overdose in his girlfriend's Chicago home. He was thirty-eight years old. Flame was a popular North Side DJ who favored a hip-house beat. For nearly three years he worked at the Chicago House Music label DJ International. He spun at Weeds, Pat & Joe's in Berwyn and the long-gone Betty's Blue Star at Ashland and Grand. Flame began his DJ career by spinning with a live ferret on his shoulder. He was a breakdancer and natty dresser who wore Adidas jumpsuits and a sweet Kangol cap. Flame was his given name.
Sergio keeps a shrine to Flame above his desk in his basement studio.
"I always think about him dying," Sergio says. "It doesn't stop. By the same token, you don't want it to stop. You can be walking down the street and all of a sudden you feel like breaking down and crying. It's the worst to lose a child." His voice breaks. "It made me more careful when I talk to younger people. Anyone can die right away. You never know."
On May 30 of last year Sergio's mother Anna Mayora died in Chicago. She was eighty-seven. The Szykowny Funeral Home obituary reports she was survived by four children (including Sergio), fourteen grandchildren and thirteen great-grandchildren. She was preceded in death by her husband Sergio.
The senior Sergio worked at the Joseph T. Ryerson steel factory on the South Side. He lost two fingers in two separate accidents on the factory line. After graduating from Gordon Tech, the younger Sergio worked at Ryerson for three years as a stockman and loading trucks.
Sergio's father taught him to cook which opened the doors for his Weeds life. He makes a mean nopalitos salad and shared his secret recipe with Donato. He is proud of his vegetarian enchiladas. He once made "Weeds American Hot Sauce" and sold it at the bar. "Taste is a skill one cannot easily attain when learning how to cook," he says. "Many cookbooks show great-looking dishes but taste like zilch compared to other dishes that are geared to addict you to tastiness. So I started cooking at the 1555 Club. By that time I was paying to work there just to sleep on the pool table. I wasn't making enough money to get my own place. I was partially bartending anyway so I just became a bartender there."
Sergio's defiant underdog streak is not lost on Los Angeles filmmaker Jeremiah Hammerling. In 2019 he began work on a Sergio documentary with the working title of "I'm Alive." The animated lettering on the film's title card is inspired by Sergio's poster design. The still-in-progress film features actors Michael Shannon, Hannibal Buress, Mark Vallarta, Chicago singer-songwriter Ike Reilly and of course Sergio. Buress used to hang out at Weeds while playing the bowling machine.
The rough storyline deals with Sergio's health issues and the assumption he is going to die. The theme is based on Squat's real-life "Death Party" for Sergio that he organized and paid for at Pops for Champagne. The project went into hiatus during the pandemic. "Sergio's been on his last legs for the last twenty years," Squat says.
And Sergio is still alive.
He works in his basement studio, surrounded by more than 300 books with crayon, marker and pencil drawings and dozens of detailed journals. There's also reference books like the "Reader's Digest Book of Facts" and "Act of Creation: The Founding of the United Nations." Occasionally he burns incense while working.
Sergio leans over a desk and pulls out one of his journals. He looks at an essay titled "For Goodness Grace." In elegant cursive Sergio wrote, "The only thing left to do is to leave whatever is left undone, alone. This may be more difficult than I had anticipated. In which case if I succeed the sacrifice shall bestow grace on me or so I feel. Then again what a waste considering we're all born with enough grace to last 10 lifetimes. Or are we? I just hope we can all walk out with just as much grace as we walked in with. For goodness sake anyway." He signed it 'Serf.'
"In my mind I'm a serf," he says. "Someday someone will wonder what one serf is thinking about. Some people think the word 'serf' is not smart. I'm not stupid."
Sergio is still making spirit boxes. He has thirty different boxes in motion. "When someone needs a box I give it to them," he says.
Why doesn't he sell them?
Sergio raises his voice and declares, "It's hard to sell a spirit box! It takes the spirit away. Come on, man. It's kind of disingenuous. If I need money real bad, I'll tell somebody to borrow me two or three hundred bucks, I'll give you the box and pay you back the money when I get more money." Sergio does not have a bank account and he has not had a driver's license since the late 1970s. "I'll tell you the truth. Most of my boxes go to charities and they auction them off for money. I enjoy it but those auctions make good money. If someone is happy and I know they're going to keep that box, I feel good. It's a big turn-on for me."
Sergio plans for his own departure to be in one of his spirit boxes. He ponders the idea and looks around his crowded studio. "I've tried making my spirit box twice but I gave them away," he says. "I lined the inside with collages like the posters. Family. Different mysterious looking things. It wasn't for me. It would be for whoever opened the box."
Squat's hopes are to record Sergio for posterity in a professional studio. A few years ago he began a project with Chicago artist Wayne Kusy. Kusy is the renowned folk artist who makes large-scale ocean liners out of toothpicks. But fewer people know about his toothpick puppets that are fun-loving characters in a band he calls Wood Zeppelin. "He does the animation," Squat says. "He puts strings on the puppets, changes the positions and takes pictures. Then he changes the positions again, takes pictures and makes a video out of it. It's crazy. He puts music to the animations."
Sergio and Kusy have spent a lifetime living outside of Chicago's conventional margins.
Of course they would know each other.
During the peak of the pandemic, Squat brought Sergio into a green-screen studio in Chicago to become a guest Wood Zeppelin. Sort of like when the late Sandy Denny sat in with Led Zeppelin on "The Battle of Evermore." Sergio sang his hypnotic folk-blues composition "Baby Please Don't Leave Me" in front of the screen with his guitar. He was filmed and the sound was sent to Squat in San Antonio. Squat hired San Antonio musicians to overdub bass, drums and guitar. In the video the Texas band also becomes toothpick characters.
"Wayne actually made a Sergio toothpick doll with the overalls and the whole nine yards," Squat says. "We were going to morph from the real Sergio to the toothpick Sergio. We put a lot of work into it. But we never did that. At one point Sergio said, 'I played the song wrong and have to start over.' I said 'Dude, doing over means we have to start from scratch with all the music.'"
Like Hammerling's documentary, the project is on hold. Hammerling is a graduate of Columbia College Chicago and an alumnus of Werner Herzog's Rogue Film School. In the mid-2000s he lived near Weeds in a loft above a North Clybourn storefront. "The back of our apartment overlooked the Weeds beer garden," he says. "This was long before the Apple store moved in across the street. It didn't take long before we became close with John Martinez and Sergio. You would see Sergio at open mics across the city, holding court and making people laugh all over town. At that time I was just getting out of film school at Columbia."
Hammerling started filming Sergio's performances across Chicago. He wanted to capture Sergio's mystique. "Here's this intimidating-looking guy in overalls with a long ponytail and dark sunglasses," he says. "And then he starts to read poetry and he's got this booming soulful voice along with a sharp sense of humor. There was a sense he had broken the rules of reality to fit his image of the world.
"I was intrigued by the layers. The bartender, the poet, the musician, the posters, the spirit box creator. And eventually I started to hear stories from others and saw I wasn't the only one who felt this way. Don't get me wrong. Sergio is no saint. But he did and still does have a real gravitas that has commanded a lot of respect from people of all walks of life. People respected his opinion because he didn't mince words and he didn't change how he felt based on who he was talking to. It's hard not to respect someone who doesn't waver in their opinions. Especially someone who more often than not was going to bend over backwards to come to your aid if you were in trouble."
Squat adds, "I've met a lot of characters in my life. He's a character unlike none I've met before. There's a lot of people who are unusual but they're full of shit. What you see on the surface with Sergio is nothing like what you see when you go deeper. A lot of people are like, 'He swills tequila, I see him at the Ale House,' and all that. That man is extremely intelligent and he sees the world in the way it really is. And it's not the way we've been trained to perceive it."
Marla Donato has kept in touch with Sergio over the years. Her consistent belief is that Sergio's art is a reflection of how he is thinking and what he is visualizing. "When you meet him he seems very basic," she says. "How do I say this? Underneath it there's multi-layers of thinking. He puts together these incongruent elements and somehow makes them work. It also speaks to how he sees multi-layers in the world."
The eclectic musical vibe of Weeds plays on through the popular Chicago-based Latin rock-soul band Rico! The band coalesced at Weeds in 1989 and 1990. Rico's founder-guitarist-vocalist Ricky Baker heard about Weeds from Lindell Thurmond, a funky bassist at the Kingston Mines blues club. Thurmond knew Cleo Patrick, the outrageous blues-rock player who was in Weeds' regular rotation. Thurmond brought Baker to an open jam night. Baker had just arrived in Chicago after playing minor-league baseball in the Cubs and Cleveland systems. He attended San Francisco State on a baseball scholarship. Rico! was formed in 1991.
"Weeds was a place where you could let your hair down and do anything you wanted musically," Baker says. "I would go there just to be creative spontaneously with certain musicians. I learned about other musicians in Chicago and that's how Rico! started. Sergio would ask us to do a gig here and there at the bar. Sergio was the man that kept it together and he was a great host. He was interesting. I liked his art and the artiness of the bar. It was sad when Sergio wasn't doing that anymore. I never revisited after that.
"There was nothing like Weeds."
Hammerling saw how the unique Weeds vibe informed Sergio's persona. "While Sergio never owned the bar, for a while he became synonymous with it," he explains. "It was interesting to use Weeds as a jumping-off point to explore Sergio's life and the people in it. And in some ways it is becoming a film about mortality and what it means to be alive in the first place. Which is where the working title ('I'm Alive') came from. Any time you'd bump into Sergio on the street or in the bar and ask him how he's doing, he'd say 'I'm alive.' That's a reminder that despite how much things have changed in our lives, we're still here."
And just like its namesake, the neighborhood tavern Weeds won't go away.
Although the characters and craziness have moved on to an undiscovered garden, there is still a certain audacity about a tiny family bar throwing back cheap drinks in a neighborhood defined by fancy condos and chain stores. Richie says, "Everybody around there is high-class now. And then there's little Weeds. I mean it's been there for almost sixty years. I remember being thirteen and watching my grandmother cook burgers and chili. I'd take the food to the metal shop and the jukebox factory across the street."
Sergio Mayora, his family and cast of urban characters delivered the goods that made Weeds one of the most important taverns in this city's history.