A gap in a resume supposedly tells a story, seldom a good one. Employers' imaginations fill in: got fired, didn't get tenure, living off unemployment. The resume is helpless to explain: raising children, caring for parents, disability or illness, recession.
Mom's work history (1) seemed typical for the privileged young woman of her age, even if this facetious resume is not. Twenty-five years after her college degree, she finished requirements for her elementary teaching credential and went on the job market with a twenty-year employment-history gap. At that same time, my ninth-grade social science class was debating "should women work?" Evidently our little debate did not consider that twenty years of raising five children was relentless work.
(1)
EDUCATION
1946
BS Physical Education
1972
California Elementary Teaching Credential
EMPLOYMENT
1946-51
Physical Education teacher K-12, Chadwick School
1951 – 73
Housewife and mother
1973 -1980
Elementary school teacher
I filled my looming resume gap with graduate school instead of children. Right before that invisible gap, I'd been preparing for a career in secondary education. I dropped the plan after a semester of practice teaching under the guidance of a man six or seven years older who spent as much time probing my anxiety about my virginity—perhaps even using it as a means to talk about his own marital sex disappointments—as he did "teach" me about teaching. Was my bewilderment, preoccupation, conflict, disinterest in and abandonment of teaching caused by the (average at best) teaching itself… or by his behavior? Behavior which, only two years later, would be called sexual harassment. (2)
(2) In 1980, the two forms of sexual harassment were identified: quid pro quo, and any (sexual) behavior that creates a hostile environment. There was other language to assist in defining "hostile": intimidating, offensive, unreasonably interfering with the person's ability to work or learn and unwelcome.
But the real gap in Mom's resume was not the twenty years of being Mom. It also doesn't show up in the oral timeline we learned of her life. And both the brief gap, and what caused it, were thwarted before either derailed her. It's something she might have told me (but didn't) if I'd revealed to her what was going on during my student-teaching (but didn't).
She was twenty-one years old in 1946. She'd graduated in June in Boston, then, with her parents, drove the 3,000 miles to California where her brother, through contacts he had among board members of a private school, had paved the way for her to begin teaching physical education and boarding at Chadwick Seaside School in Palos Verdes. She had been a gregarious resident in college dorms. And in her eighties, Mom had not-so-secretly longed to move to assisted-living which she imagined as a boarding school for elders, where they slept in their dorm rooms, ate in a communal cafeteria, and met for games and activities in lounges. So boarding on her first job would not have been objectionable. Plus, she was single, female and very young; her brother lived one-hundred miles away—her parents were likely comforted by the school's faculty-boarding.
In 1946, Mom did not have a car. She went east for summer vacations; she recalled a plane-trip home where the plane seemed to stop in every state as it crossed the continent. Eventually, as a Californian, she had her own convertible. After one of her summer visits to Boston, she returned to Chadwick with her dog, so a car would have been necessary. In 1948 she took a photo of a male faculty member holding her dog. This young man, Ed Babbott, was new to Chadwick in 1948-49, so the photo would have been fall of 1948… late fall, because that year Mom didn't return to work until November. Included on the album page immediately following the young man and her dog, photos of a November 1948 fire that destroyed the music building.
By the time I started looking into this story, Mom was not alive and available for me to ask questions. But years earlier our mother had told my sister that she resigned her job at Chadwick after the 1948 school year because there was a man who was flirting with her and he was the husband of a friend of hers. My sister points out that she's not sure Mom used the word flirting. What would Mom have said? Bothering? Pestering? And how would a parent tell a child a story like this, what kind of editing or screening or glossing-over might occur? Putting the event back together, with the kind of evidence available, admittedly is more speculation than fact, more fantasy than forensics. Maybe it's the only way I'll "hear" what she would have said if I'd learned (or hadn't unlearned) to confide in her.
Using Mom's Chadwick yearbooks and a Chadwick promotional catalogue, I isolated married male faculty who were at Chadwick in both 1947-48 and 1948-49. I found two, Ray and Gilbert.
Gilbert Myers taught at Chadwick two years, the year before and year after Mom's two-month gap. The catalogue gave his credentials as the U.S. Naval Academy and Harvard. A faculty photo used Captain instead of Mister. The school's founder, Joe Chadwick, always went by Commander, as he was also retired U.S. Navy. Captain Myers lived in San Pedro, a navy town where Commander Chadwick had lived when first stationed in California in the 1930s. The connection seems obvious for why and how Captain Myers was hired. The most interesting (for me) aspect of his Chadwick involvement is that he taught physics, which was Dad's field. Dad began teaching chemistry at Chadwick in Gilbert's final year—where he would meet Mom—so they would have been close colleagues.
Gilbert's 1995 obituary in the San Pedro News-Pilot verified all the particulars, including his three years teaching at Chadwick. His wife was a women's-club "socialite" in San Pedro, hosting and organizing lectures, book clubs, and choral groups. Her age and public activities would have made her more than just an improbable "friend" of Mom's. Gilbert was fifty in 1948. While fifty-year-old men have surely been known to flirt with twenty-three-year-old women, it's doubtful. So, not him.
Ray Jahn's storyline is comparatively more provocative. He was only a year older than Mom. Since he was a freshman at University of Idaho in 1943, his year of graduation would be either 1946 or 1947, so he probably started at Chadwick the same year that Mom did.
Mom was the K-12 girls physical education teacher. Her attire for her job, as shown in the faculty photo, was often the tunic she wore in college for team sports and activity classes. The tunic ends ten-to-twelve inches above her knee while the prevailing fashion for the other women is just below the knee. Should this be a factor in how others "related to" her? No. Was it a factor?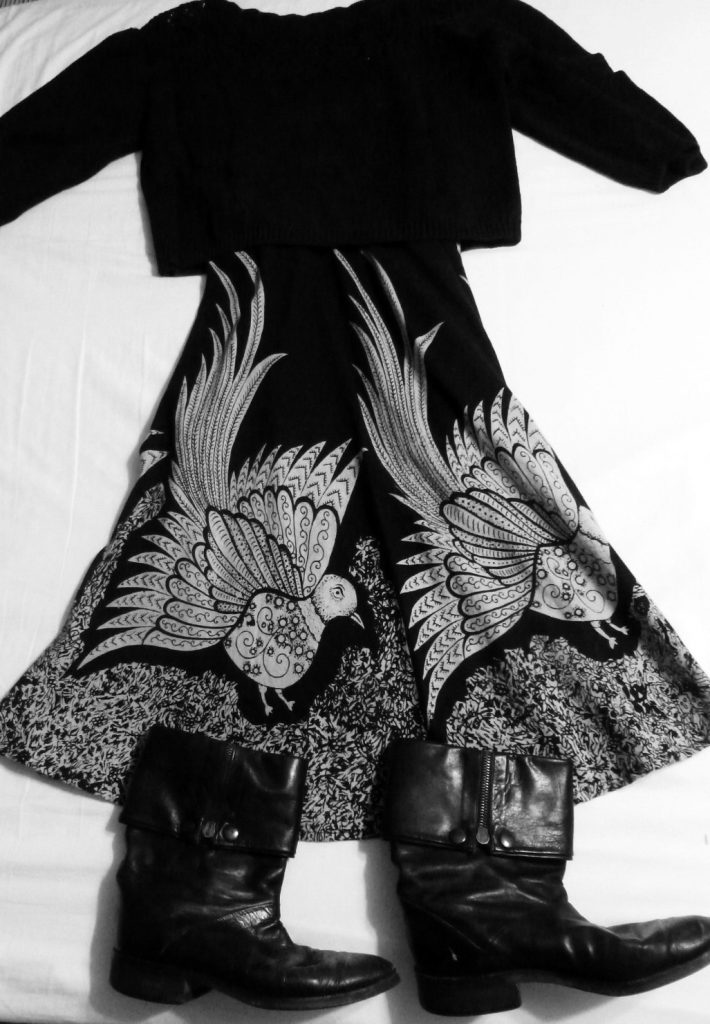 Was it a factor for me in 1989? My resume gap starting to close, I got a temporary position as writer-in-residence at a college in another state. At the pre-semester dinner to introduce the new writer-in-residence and artist-in-residence, the latter sidled up to me during the mingling and said, "You get sexier every time I see you." Both of us were married, but I couldn't claim the interest was unwelcome, nor that the tryst, lasting exactly the length of our residencies, was a man "bothering me," although there's no doubt I was distracted and couldn't function effectively in my job. Was I trying to look "sexy"? I can admit to going for bohemian. I was wearing ankle-high boots and a mid-length wraparound skirt I'd bought at a clothing bodega in Brooklyn eight years prior and wore only to job interviews (the last one in 1993) before switching back to androgyny. (Pants still an inauspicious choice for job interviews in the early nineties.) Hard to say if my attire provoked the artist's first approach, which I did not reject. And, going back to the beginning of my resume gap in 1979, that "master-teacher" mentoring my practice-teaching wrote in his observation log that I was "looking particularly lovely today," although at some point I was criticized by my university education supervisor for lack of professional attire (too many days in pants).
But while in 1946 Mom was a young woman (3) who might easily have been noticed by a man near her age, Ray Jahn had noticed something else. Mom and Dad's 1951 wedding announcement revealed they were the second Chadwick faculty members to meet there and marry. Ray and Irma were first, their wedding date in February 1947 coming approximately six months after Ray's first semester at Chadwick. The passage in the Chadwick memoir uses the adjectives young (for her admirers) and handsome (for Ray, one of those young admirers). This was the memoirist's genteel way of not saying that Irma was more than thirty years older than Ray.
(3) From the Chadwick School founder's memoir:
…Mrs. Irma Reddick, … [became our music teacher]. Irma was a warm, colorful and very talented musician, winning the hearts of all her students. She brought along her attractive daughter, Mary, thus joining the Barter Group. This lady was unforgettable—flashing brown eyes, smooth dark hair, a full, low-pitched voice, a robust love of life, and an unparalleled rapport with teen-agers. Among her many young admirers at Chadwick was our Librarian, a graduate of Pomona. Irma's vibrant spirit, her exceptional musical ability, and her way of relating to others proved irresistible to handsome Ray Jahn. In a simple ceremony, Irma and Ray were united in marriage in the living room of the Chadwick's home on campus. Irma and Ray had quite a long and a very happy marriage, interrupted not long ago by Irma's death [in 1972].
In spring 1947, the Jahns placed a lost-and-found notice in the San Pedro newspaper for their missing toy dachshund and gave their address as Chadwick School (the dog in this photo from 1948 appears to be a terrier). Voter registration records for 1948 have the Jahns still at Chadwick School for their residence—this could have been in the spring before the California presidential primary. Mom resigned (temporarily) in June 1948. Neither of the Jahns are on the 1949-50 Chadwick faculty, and in September 1949 their home address is in San Pedro (from a newspaper wedding announcement for Mrs. Jahn's twenty-one-year-old daughter). A ship manifest says they left for England in fall 1949 with the intention of staying for a year.
So, was it Ray Jahn? When Mom had her 1948 yearbook signed by friends and acquaintances, it's evident that the signers knew she'd given up her job and was returning home to Massachusetts. "Don't get snowed in," one said, "The kids are sick about your leaving," said another. Another bantered, "I shall miss seeing you next year with your boots and balloons." But Ray Jahn, signing beside his wife's foot, seemed more serious. Not "love from us," but "from me." Yes, the L-word is all too easy to use in yearbooks, and I remember treasuring signatures from boys who dared to put "Love," before their names, meaning little by it. Nor would I have dared to use it as a yearbook signature. Nor did I use the less-sincere popular-girl "Luv" or "Luff-ya." The artist-in-residence eventually used the L-word. He also used an F-word: forever. Both had an expiration date, and I "sexually harassed" myself by understanding but still not believing.
But these weren't Mom's predicaments. Her oral account included that the bothering man's wife was a friend of hers. Like Mrs. Myers, fifty-four-year-old Irma Jahn would have been at a phase of life where friendship with a twenty-three-year-old would be improbable. And Mom, a voracious photo taker, has no pictures of any of the musical events that would have been Mrs. Jahn's arena. (Although, she did photograph extensive fire damage to the music building in 1948.)
Irma died in 1972 at seventy-nine years old. Her last residence was in Missouri. Ray remarried in 1976 in California, then he returned to Missouri in 1979 until his death. His second wife was also older, but this time by only two years. She was fifty-four at the time of their marriage, nearly the same age as Irma when he'd married her in 1947. He had no children with either wife. Irma's daughter was only three years younger than Mom. Despite the "Love from me," this stacking of facts tends to move Ray from the forefront as a person-of-interest for unwelcome flirting with Mom. It might be a safer (but still crass) assumption to wonder if Ray Jahn exhibited gerontophilia, or if he twice sought a beard.
My sister reminded me that while Mom's report included the man's wife being her friend, she had not specified that the man was Chadwick faculty. The Chadwick yearbooks' archaic use of Miss, Mrs. and Mr. instead of first names makes it easy to locate the married women on the faculty. The chemistry teacher, Mrs. Gray, stands out, not only because she was on the faculty all of the significant years and then left after 1948-49, but because in her personal album Mom had a small professional portrait of Ingrid Gray, like a school photo made to give to friends and family. In 1946 Chadwick didn't do individual photos of either students or faculty, and the Mrs. Gray in the 1946-47 faculty photo was clearly not the same age as the Ingrid Gray school portrait in Mom's photo album. This more-than suggests that Mrs. Gray gave Mom the photo, a sign of some level of friendship.
In 1946 an Ingrid Carlson, born 1922, married a Robert D. Gray just as she was finishing her military service in the Navy. This makes her three years older than Mom. Accounting for four years of college, then three years of naval duty, Ingrid was therefore on the same "track" as Mom to begin her teaching career in 1946. Ingrid's husband continued with a career in the Navy and they lived in nearby San Pedro.
As mentioned, Mom's 1948 yearbook contained signatures indicating her friends and colleagues knew she would not be returning in the fall. Ingrid Gray apparently didn't feel she could express what she wanted in the yearbook, so her signature, squeezed beside a lavish poem from the French teacher, was concise and abridged. Did she ever write the long letter? What would it say? Advice to a friend? An apology? An assurance?
A question?
A wife asked me a question, thirty years later, in 1979. She was married to my practice-teaching mentor. During our "office hours" over the course of our three months together, he'd revealed to me his dissatisfaction with his sex life, that his wife was too inhibited, even that she didn't move her hips. Once he'd taken me to the booths of sex videos in an adult bookstore in a nearby military town. Later, because I lived forty miles from the school and had an early event the next day, he suggested I stay at his house one night near the end of the semester. Around his kitchen table, it was his idea to roll a joint and share it with me and his wife. Suddenly remembering an evening obligation at school, he abandoned us there together, stoned. Me for the first time. 
"Does he ever talk about me at school? … I mean, did he tell you anything… about us, about me, about… I've lost him, haven't I? Have I?"
An evocative photo looks out of my grandmother's photo album. It's labeled simply, "Elinore November 1948." The photos before are summerish, the ones after definitely winter. It is the lone photo of her resume gap. Mom is dressed up, holding her dachshund, and stands facing the camera, posing for the photo. It's an event, a documentation, a milestone. Mom is returning to Chadwick School. Before November 1948 was over, she was back in California, taking a photo of a young man holding her dog.
The reasons Mom returned to her job will remain more mysterious than whatever form of harassment she experienced and by whom. She may have talked to the headmistress Mrs. Chadwick or to a friend (like Ingrid whose husband could have been completely uninvolved in the drama). She would have had to tell her mother something about why she was not returning to work in the fall. Some pressure to resume her career might have come from both coasts. Mom was back in her girlhood bedroom indefinitely, without a job. And Chadwick School had not filled Mom's position by the time they printed a brochure that listed the 1948-49 faculty, including newly hired Ed Babbott.
Mrs. Chadwick's inscription in Mom's 1948 yearbook is almost as evocative as the photo of a young woman dressed for travel in November of that same year. "You've been a grand girl, and lots of help. Hope you'll return, someday." The door is left open for Mom to change her mind.
It's logical to assume one wouldn't say "hope you return" to an employee resigning to take a new job or to get married in another state. It's something that might be said if an employee leaves to join the military, to go back to school, to raise a family, to care for elderly parents—life choices that have a finite time-length—or if an employee has had a bad experience from which she seeks escape. So Mrs. Chadwick's yearbook epilogue suggests she was told something of why Mom was leaving. If the man's expression of interest in Mom reached the levels of frequent phone calls, suggestions for meetings, or groping, would Mrs. Chadwick have let Mom go without also reacting vis-à-vis the man? Yet if the man was not an employee, what choice would the headmistress have?
Chadwick School paid its faculty well below the already poor pay grade of public school teachers. Add that fact to the post-war population surge which caused record need for a new supply of teachers, and experienced teachers saw an open path to career improvement. This apparently wasn't true for Mom (having no academic subject), but it may have been the case for Ingrid Gray. The 1949 faculty directory gave a San Pedro address for Ingrid Gray. In 1953-1958 the San Pedro newspaper carried various articles about a public school which included a kindergarten teacher named Ingrid Gray. Did Mrs. Chadwick encourage Ingrid to pursue a better-paying job? Or was she just aware that Ingrid might be leaning that direction? Did Mrs. Chadwick know that Ray and Irma Jahn planned an extended stay in Europe during the next academic year? Is that how she reassured Mom that she could come back to work at Chadwick School, forecasting a broad faculty sea-change starting in fall 1949? Auspiciously, that was the same year Ralph Mazza, who'd graduated in Chadwick's first class, would be ready to begin teaching chemistry after World War II and GI Bill college.
Or did she simply gaslight Mom with "You were imagining it?"
There are only these facts: Both Ray Jahn and Ingrid Gray were still on faculty in 1948-49. And both were gone in fall 1949 when Mom met the new chemistry teacher. Her truncated school year of 1948-49—her resume near-gap—might have been the most crucial in the development of Mom's independence.
It might have made her someone I should have talked to when I twice stepped away from facing life, both times precipitated by a man's "flirting."
From "It's No Puzzle: A Memoir in Artifact" by Cris Mazza. Copyright © 2023 by Cris Mazza. To be published March 21, 2023 by Spuyten Duyvil. Excerpted by permission.
Wednesday, March 15 is the book launch for "It's No Puzzle" in conversation with Gina Frangello, the author of "Blow Your House Down," at Madison Street Books, 7pm.