Sometimes autumn brings the longest shadows.
But there's always something brighter down the path.
Mike Veeck and his son William Night Train Veeck are sitting together in the lobby of a hotel in downtown St. Paul, Minnesota. They are in town during an end-of-summer weekend because the St. Paul Saints baseball team is honoring the men who in 1993 founded the renegade Saints, born in the baseball backwaters of the now-defunct Northern League. Besides Mike Veeck, the Saints founders are Marv Goldklang, a minority owner of the New York Yankees and principal owner of the Charleston (S.C.) RiverDogs, actor Bill Murray, and photographer Van Schley, a Northern League co-founder. If they were a rock band they would be the Kinks.
Sunny afternoons.
It is one of the first times the father Mike has been interviewed in tandem with his son Night Train—named after the late Chicago Cardinals-Detroit Lions football cornerback Dick "Night Train" Lane. Night Train is in town because he is proud of his father. Mike Veeck likes to point out that Dick "Night Train" Lane was married to jazz singer Dinah Washington. It is a long interview.
Their fabled ride into our hopeful America begins this way:
• William Veeck, Sr. (1876-1933): Former Chicago American sportswriter and president of the Chicago Cubs when they won TWO pennants in 1929 and 1932. Veeck, Sr. lived in west suburban Hinsdale.
• William Louis Veeck, Jr., better known as Bill (1914-1986): Owner of the Chicago White Sox, St. Louis Browns and the Cleveland Indians, when in 1947 he signed Larry Doby and began the integration of the American League. He planted the ivy on the walls of Wrigley Field. Baseball's eternal good guy was inducted into the Baseball Hall of Fame in 1991.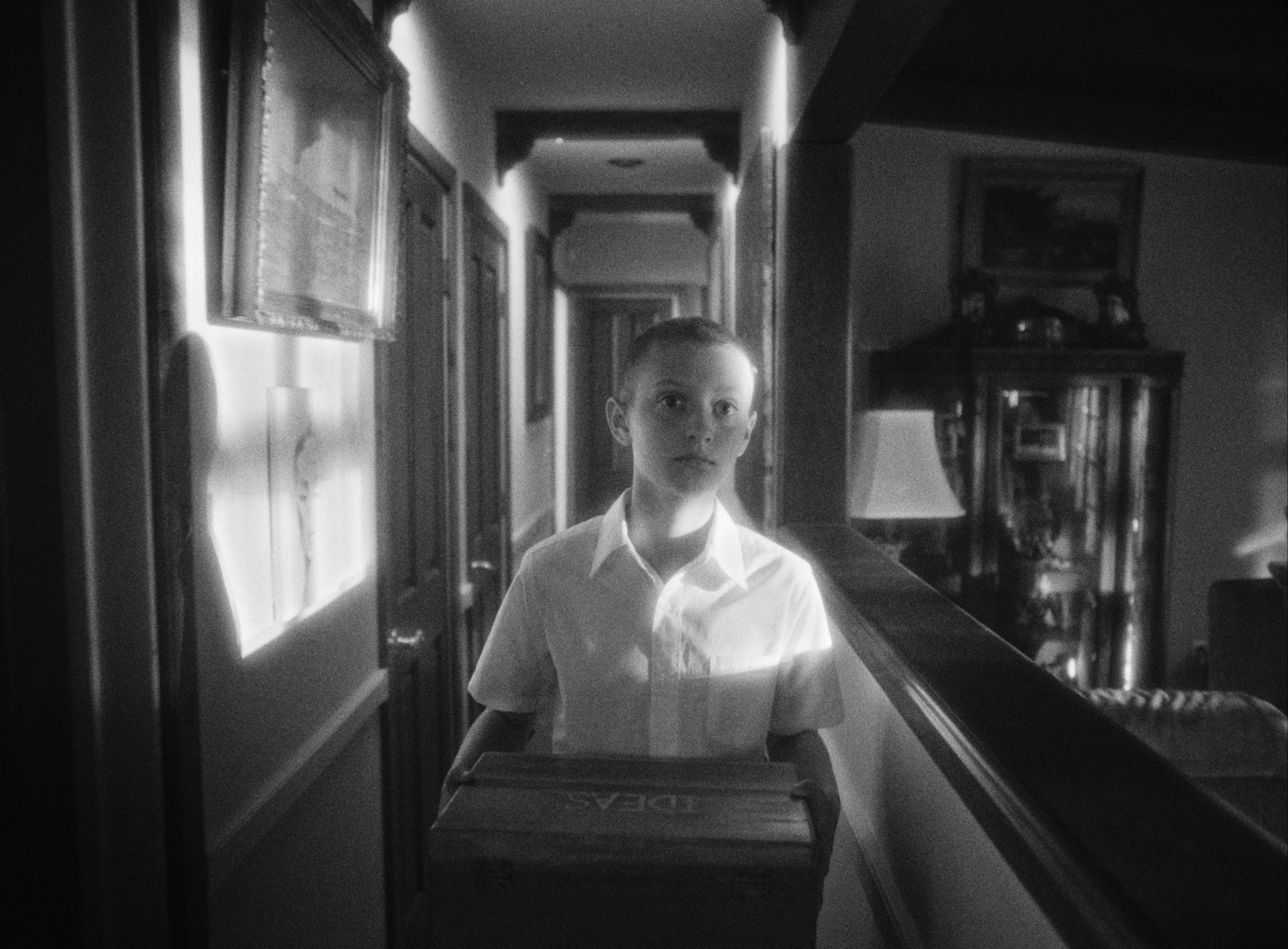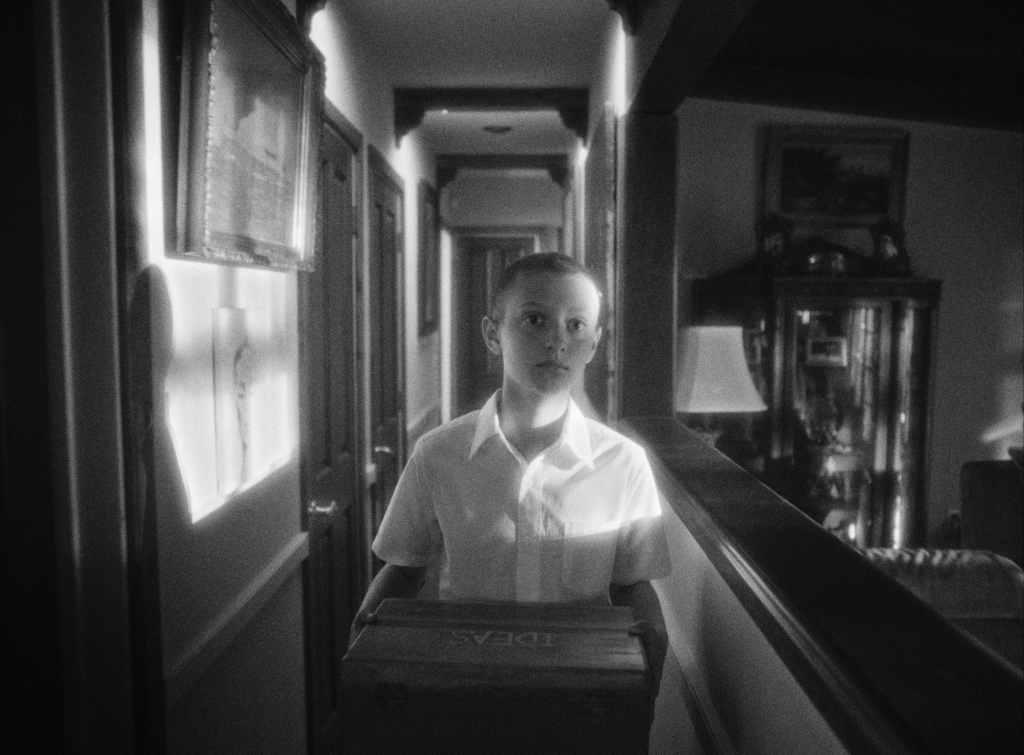 • Mike Veeck (Born in 1951 in Chicago): Son of Bill and Mary Frances Veeck, former co-owner of the St. Paul Saints and all-around fun guy, who wrote the book "Fun is Good" and who is co-author of "Another Boring, Derivative, Piece of Crap Business Book." Veeck also brought "Mime-O-Vision" to St. Paul. Along with Murray, he remains a minority owner of the Charleston RiverDogs in the Carolina League and was a co-conspirator of the Disco Demolition stunt at Comiskey Park. Mike is seventy-two years old. His father died at the age of seventy-one from cancer.
Mike Veeck is also the central figure of the Morgan Neville documentary "The Saint of Second Chances," which debuts September 19 on Netflix. The documentary about love, redemption and hope is narrated by ardent Detroit Tigers fan Jeff Daniels.
• William Night Train Veeck (Born in 1986 in Pompano Beach, Florida): Night Train lives in Chicago's South Loop. He recently spent two years in Melbourne, Australia doing marketing for an upstart cricket league. He dreams of forming a team to buy the Chicago White Sox someday, but he's also interested in the connective global possibilities of sports. He was a group sales executive for the White Sox between 2010 and 2014.
That is why you want to sit down with father and son, but then you also do not forget Mike Veeck's sister Marya Veeck, who has operated the beautiful August House gallery in Roscoe Village for thirty-six years. And there's Mike's sister, Juliana Veeck-Brosnan (1961-2010). She was a clinical psychologist at Children's Memorial Hospital and before that, she was an elephant trainer at Lincoln Park Zoo. One time an elephant escaped from the zoo and Julie brought it back into the zoo without a stick.
Don't forget Mike's brother Christopher Veeck (1963-1995) who was in charge of concessions at the Pavilion and Summit sports complexes in Houston, Texas when he died in his sleep of a heart ailment at the age of thirty-two. He began his career working at Comiskey Park. And sister Lisa Veeck, a former magazine editor and owner of Clean Communications who recently moved to South Haven, Michigan. And their brother Dr. Gregory Veeck is a professor emeritus in the Department of Geography, Environment and Tourism at Western Michigan University in Kalamazoo.
You certainly don't forget Rebecca Veeck, the daughter of Mike and Libby Veeck. She died in 2019 after a fierce battle with Batten disease. She was twenty-seven years old.
The Veeck family is as Chicago as big shoulders.
It was daunting for Mike Veeck to grow up in the shadows of Bill Veeck. His father was a cultural giant who once signed a little person to bat in a baseball game and also marched in Martin Luther King Jr.'s funeral procession on his wooden leg. He lost his right leg in a 1946 accident with the Marines but made the best of a lousy situation. He carved an ashtray into that wooden leg.
In 2016 I wrote the book "Disco Demolition (The Night Disco Died)" with radio personality Steve Dahl. Mike Veeck had a promising career in baseball until the disco night of July 12, 1979 when a promotion turned into an on-field riot that resulted in a forfeited game for the White Sox. "For ten years it was very painful for me," he told me then. "I couldn't get a job in baseball. I was red hot with soccer clubs because they like riots. I went to hang drywall in Florida. I got divorced. I never wanted to hear the phone ring again." Mike Veeck quit the White Sox and his family legacy on the night of the event.
So, what was it like for Night Train to grow up in the shadows of Mike Veeck?
"Same shadows but longer," he answers. "It is everything he faced and fought. Just extend that to a different time. There's a [Popular Mechanics] cartoon that came out about my grandfather. It was called 'Bill Veeck's Ballpark of the Future.' It had like thirty things on there. I've never forgotten that because he was right on like eighteen of them, like automated concessions. Some he missed. That cartoon came out forty years ago. But [the legacy] is beautiful, it is difficult, it is hard, it is all of that. It's a lot of stuff my Dad probably felt intimidated by, motivated by and afraid of. I felt that, too.
"It is equal parts fear and motivation."
Mike looks at his son and remembers a night that tumbled into the morning amongst the peanut shells on the floor at the old Chances R on North Wells Street in Old Town. The Victorian-stained restaurant served sixteen kinds of steak burgers, cocktails and pitchers of beer filled with truth. "I had a moment with my dad at Chances R," Mike says. "It was three o'clock in the morning. And we hugged at three o'clock. I said, 'You're going to hug me? Because it was a generational thing. So he hugged me and I said, 'You have no idea what a pain in the ass it is being your son.' And he looked at me like I was stupid and said, [he drops his voice into a slower cadence like his father] 'What? You think I don't know exactly how you feel every single day?'"
Night Train says, "What do you do when your family has created the alphabet? You look for the twenty-seventh letter."
Mike continues, "When grandfather died—great-grandfather to Night Train—Gracie [his wife] got fourteen sets of silver. He was the most beloved man in Major League Baseball. It shaped my dad. But my dad looked at him and said, 'He always wears a stiff-collared shirt with a tie? Okay, I'm going to go in a different direction.' I left that night at Chances R feeling like the dumbest person in the world with my myopic view. Until you see the light it's suffering in the way nobody has suffered before."
Night Train was hired by the Chicago White Sox in 2010 as a group sales executive. The 2010 White Sox finished in second place with an 88-74 record under manager Ozzie Guillen. In 2014 Night Train became the White Sox manager of marketing and fan engagement, then left the club in 2016. He holds an MBA in Sports Marketing from Northwestern University and Bachelor of Science in Business Administration and Management from the College of Charleston in South Carolina.
Night Train is a child from Mike's first marriage. Veeck and his then-wife Jo came up with the name en route to a Jimmy Buffett concert at the old Miami  Arena. Jo passed away from cancer in 2006 when Night Train was nineteen years old. She was fifty.
His father believes that naming him Night Train was a simple idea. "I have no middle name," he explains. "Michael Veeck. Marya Veeck. I moved seventeen times in the first eleven years of my life. I was a good ballplayer. Every time I got to a new town I had to build a reputation. But I never had a nickname. They didn't even know my name. I got to play a few games and I loved those guys, 'Stinky' and 'Tuna Fish!' I thought 'Night Train' was the coolest name in the history of the world. He was married to Dinah Washington. She was one of the best. Night Train Lane was a bad guy and a gentleman. My son's given name was William Night Train Veeck. It made him unique. And he is unique on his own. When he was born the nurses made a 'Night Train' headband for us. They thought it was cool. But as he went to the playgrounds he got picked on because of his name. Do you want to have Robert? Or do you want to have NIGHT TRAIN on your team?"
Night Train says his name brings varied responses.
"I'm me and there's no mistake," he says. "It's kind of fun in that way. But it made life pretty difficult for the first several grades and teachers responded pretty poorly. People do know you. It's like a handshake. But if I get an email that says, 'Hey Night,' well, we've never met before. Sometimes it is tough to get an apartment. I'm Night Train, looking for an apartment with my partner Lauren [Ross] and I'm just coming in from Australia. In my eyes I'm one-half disappointment and one-half confusion. I couldn't figure out why I wasn't getting phone calls returned. The Australians loved it. There's less friction there. I found it hard to have a sponsorship conversation with somebody called Night Train."
Night Train Veeck was born in Pompano Beach, Florida, but has lived in Texas, Minnesota, Chicago and Charleston, South Carolina. He was a self-proclaimed Baseball Brat. "There was a lot of unpaid labor," he says.
"That was a big theme. I've been filling up Cokes and getting them to concession guys since I was six years old." His father laughs and adds, "That was the worst. Hand-to-eye coordination. And they would tip him!!" Mike Veeck gets more excited about that memory than his son.
Night Train continues, "There was a lot of learning. Laughs. And cries. This is where I got the love for the game. I came to hang out with my Dad. I didn't realize all the things that were happening around me at times. I just knew Darryl [Strawberry who played for the Saints]. I knew a pig [the Saints mascot, the latest being Squealon Musk]. I knew my sister [Rebecca] and I were going out to dance in the fourth inning.
"That's what life was."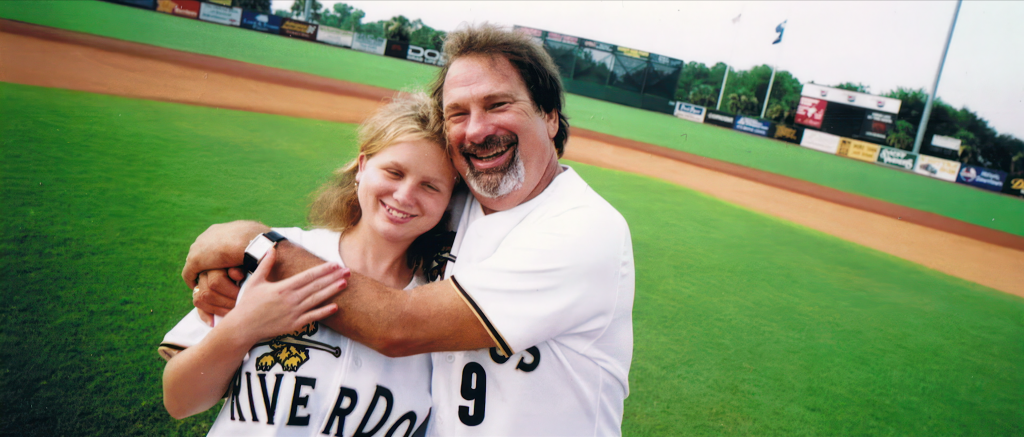 Rebecca Veeck was a boundless spirit with a beautiful smile that connected with strangers. When Rebecca was five years old she was diagnosed with retinitis pigmentosa, a gradual deterioration of the retinas that leads to blindness. She learned the Veeck ethos of perseverance, second and third chances at a young age. She danced to hip-hop and she played piano by ear. She loved to ride horses. "The fun thing about horseback riding is that I'm doing something independently," she told me in 2005. "My mom and dad don't like to do it. And when I ride, my stress just kind of flies away."
There was hope.
Until 2015 when Rebecca was diagnosed with Batten disease. Batten disease is a rare, inherited affliction that attacks the brain, central nervous system and retina. The disease is named after British neurologist Frederick Batten. It causes seizures, vision loss and issues with movement. It is almost always fatal.
Four days before her death, Rebecca stopped counting her beans, which is how she kept track of her days until her December 12 birthday. That's when Mike and Libby knew the end was near. Mike told the ABC-TV affiliate in Charleston, "She joined the '27 Club.' I find great comfort in that. She loved music so maybe she and Amy Winehouse are jamming."
Libby was fiercely protective of sharing her daughter's story in Morgan Neville's documentary. "I was set against it," she says in St. Paul. "I didn't want the exposure of such a personal thing. It was tough enough to be dealing with what we were dealing with. But they did a phenomenal job of putting the story together."
Mike adds, "Libby was the last person to jump on board. She had to have lunch with Morgan and [director] Jeff Malmberg ["Marwencol"]. She came away from that and loved them. About six months earlier we had dinner in Nashville with [the documentary's executive producer-comic creator] Jon Berg and [his wife] Kodi. They were enchanting people. Jon made 'Wonder Woman.' I saw young girls coming up to Jon and thanking him for his portrayal of women as strong. So Libby liked the people involved. It's about hope. We need hope more than ever."
And Night Train says to me, 'It's always a pain in the butt for you to talk about your dad and your career. But I'm fourth-generation and I'm for that." Mike leans over on the hotel sofa and asks his son how many games he worked in Charleston. And then with the White Sox.
"About 1,500," he answers. "Then 600, 700 with the White Sox." His father says, "That's a lot of games. And he's thirty-seven. He told me I'd have to live with all of this [family legacy]. It's 110 years now. That never occurred to me. He actually said to me, 'I'm proud to be a fourth-generation Veeck.' I wondered what he was smoking. But the more I thought about how it was right. It was something magical. It was that declaration that made me want to be enthusiastic about this project."
Mike Veeck has books, baseball caps and business cards that promote "fun being good." His telephone voice message reminds callers that fun is good. He leads "Fun is Good" workshops and seminars. But what happens when fun goes bad?
"You double down," Mike answers in a heartbeat. "Do you think I give my father credit for being this wonderful hustler and a great father? When Rebecca was stricken—and I mean stricken—suddenly Dad looked like a pretty good father. He had given me a lot of tools to operate. I was carrying Rebecca up the stairs in Tampa. It was a three-story townhouse. At the top of the first stairway I had a picture of my dad. I take my hand and put it across her nose and there's Bill. I see the same blue eyes, blond hair, that same look." Rebecca and Bill Veeck had blond hair and blue eyes in a mostly brown-haired family. Both were left-handed.
He stops and his voice breaks. He continues, "From the moment we knew, we decided as a family to be vocal about it."
Veeck's Charleston RiverDogs introduced a braille page in their game program. The team had a sight-impaired radio analyst named Don Wardlow. "In March of 2000 we testified in front of Congress [to advocate] for $10 million for the National Eye Institute," Veeck says. That's how important back then research money was. There was no money. But how do you get the $10 million? They make you submit everything in writing and you read it. So I get through reading it and half the people are asleep. But [Paul] Simon from Illinois, I look down and say, 'You're a Cubs fan aren't you?' He goes, 'I am.' I said, 'You're going to have a miserable year this year.' And he laughed. And my handlers, the PR experts for the National Eye Institute, are horrified. But that's when they held the vote. And we got the money.
"I cried when I testified. Marv came over and put a check for five grand in my pocket. He was sitting up front with me because I was so nervous. Libby was on one side. Rebecca went with me. At one time my voice cracked, and she goes, 'You're crying, Dad! But it was the humor that got us the vote. That's what my dad taught us more than anything. You'd look at my dad's leg and there were welts on there the size of baseballs from the friction from prosthetics. He never complained. And then he'd take his leg off and twenty kids would follow him around the pool because they just saw a guy take his leg off.
"Mom and Dad taught us something about the spirit of a story. The death of a child kills families. It kills people. But it didn't because of what I learned from my mother, father and my family."
Night Train Veeck was the third generation of Veecks to work for the Chicago White Sox. But he left the team in 2016 when he got a call out of left field from a friend. Night Train says, "They had a job opening in a sport that I had never worked in, that I didn't know and was across the world."
The sport was cricket.
The place was Melbourne, Australia.
"They had a newer league called the Big Bash League [BBL]," Night Train says. "Cricket doesn't have rules, it has laws. They put in giveaways. They focused on women and families. Mascots. All the stuff that we know. And a league that was seven years old was outdrawing Major League Baseball. Different schedules."
BBL matches are played in the Australian summer of December through February. Night Train did marketing for the league for nearly two years. There were eight teams in six markets throughout the country. He left to help take care of Rebecca with his mother and father in Charleston.
"I went to Australia and had no idea what was happening," he says. "You don't get the opportunity of being a fan of something new as an adult. You're in a bar, look at a screen, you know what's going on in a basketball game or a hockey game. You may not know the infield fly rule, but you know what's happening. I learned cricket from a 'Cricket for Mums' book. I got to be a fan of something new.
"The Big Bash League was viewed as the pirate ship. You could experiment and fail. They're a wonderful form of cricket. Any game that had Dibbly-Dobblys and Slog Sweeps was okay by me. They've turned into a different version of the game that brought new life into it. You can go watch a cricket match, but you can also go have some beers, have fun, connect with people."
The BBL also emerged as a vehicle for Australia to address the long-neglected areas of indigenous engagement. One of Night Train's crowning achievements was helping to create a short "Welcome to Country" video in 2017-2018. "We wanted to come up with a meaningful video acknowledging the owners of the land, the teams that came to play and their indigenous history throughout Australia," he says. "When I was there it was called the indigenous match, but in South Australia I believe most groups are referred to as Aboriginal. Indigenous is a bit more all-encompassing."
Night Train and his colleagues traveled to Alice Springs (population 25,000) in the middle of the country. The small town hosted a match between the Perth Scorchers and Adelaide Strikers. "We got footage of the sacred sites and we worked with the town elders to do that," Night Train says. "They were fantastic. It was another one of those life moments where you are lucky to be where you are. We worked with them and with others who were the bridge between the old and the new. They would do things like body paintings. The kids knew how to paint themselves and their family symbols. We featured them in the video. They were stars."
The Daily Telegraph reported that Perth beat Adelaide in "oppressive conditions." The game was broadcast to more than 130 countries. Night Train recalls, "We had a sandstorm, brush fires and a torrential downpour that took down almost an entire ring of LEDs around the oval. The storm cut a hawk's head clean off. For the players, it was oppressive heat. That was all in thirty-six hours. I've never seen anything like it." The Adelaide Strikers wore jerseys designed by Aboriginal artists. The designs represented the Strikers journey to Alice Springs, the place of the Arrernte Aboriginal people of Central Australia.
It is easy to conclude that when Night Train was in a pinch so far away from home, he would call his father. Sometimes he did. But he learned to lean on his younger sister Rebecca. "That gave me a little piece of home," he says. "I told her about the animals that were out there. She fell in love with Tim Tams [chocolate cookies] all the way until the end. And that's a wonderful thing, to bring them straight from there. It was special.
"We had always known about Rebecca's eyes but we kind of got head-faked. Once we found out it was deeper, worse, and [that it was] Batten's we went into a different mode. I ended up taking care of her a lot when they [his parents] were out of town. She's the reason we came back from Australia. It was difficult. I'd talk to her before I'd go into the office, one to three hours a day, go to work and do it again in the evening. When we heard about Batten's we figured we had a limited time. Once it came time to extend my contract in Australia, I had a choice to make."
Night Train Veeck chose family.
After Rebecca passed away, Night Train helped launch the Chicago House soccer team during 2020's global pandemic. The House now plays in the Midwest Premier League. And yes, the son of one of the architects of Disco Demolition worked for a team that is named after house music.
"That was an unbelievable experience," he says. "We started from scratch. Ideas in our house. We built a $3 million team in ten months. We played our first match [at SeatGeek Stadium] in Bridgeview. I've never been so happy to see 1,500 people show up for a game. Ownership changed and here I am."
Mike says, "I'm going to interject something. There were two or three moments when I was honored to be a father. The whole world is falling apart around his ears at the end of the soccer experience. [The team was sold.] Well, after seven months I had failed in dramatic fashion in Tampa [Bay Rays]."
Former Saints Vice President Tom Whaley went with Mike Veeck in October 1998 when he was hired as sales and marketing director for what was then called the Tampa Bay Devil Rays. Veeck was given an option to buy into the franchise with Bill Murray. He promoted a fireworks display for the 1999 home opener at the domed stadium. Tampa Bay lost the game in part because their outfielders lost the balls in the smoke. Whaley and his wife decided to have a pool built in their yard.
The same month that Mike Veeck accepted the job with Tampa Bay, Rebecca was diagnosed with retinitis pigmentosa. He quit the Devil Rays. Veeck and his wife Libby wanted to take time for Rebecca to see the world. They took her to see the Bill Veeck plaque at Cooperstown, covered thirty-two states and all the National Parks in America.
"The day I resigned the front-end loaders scooped Tom Whaley's front yard away for the pool," Mike says. "He told his wife we're digging this hole, I'm Mike's guy and I have no chance of surviving. So he calls Bill Murray because he can't think of anything else to do. Murray says, 'Stay as long as you can, because you're going to learn a boatload of what not to do. I stayed one year too long at 'Saturday Night Live' and I learned more about television and better stuff for my career.' So Tom did that. So when Train is calling me [about the Chicago House changes], a normal father's reaction would be, 'Oh, that's too bad.' But I was like, 'Bring it on—fire and brimstone!' The only thing that got him was that he had to fire everybody [at the Chicago House]. We had a father-and-son conversation about how horrible that is. I had to fire fourteen people in Sioux City [at the Explorers baseball team]. It's bad, but I'm good at it. I knew he had to go through this.
"Dad taught me that at Disco [Demolition]. He didn't cover up and make excuses. He was like, 'They're gonna beat you up, take it.' I was okay with that.
"But Night Train making cricket for the indigenous people? The Tampa [ballpark] was built on a Black neighborhood, they razed it and they never had peace. They're telling me this story when I get there. We had an event where we handed a baseball from person-to-person a mile long. That's 5,000 people. Larry Doby started it, he handed the baseball to Rebecca, and Rebecca handed it on to people who lost their home. The idea was to heal the neighborhood. Night Train made the indigenous film. Dad signed Doby. I'm trying to make this neighborhood understand that we knocked down their homes and they're wondering why they don't come to Devil Rays games. By 'they,' I don't mean just Black people. I mean poor, white people and others. They razed the neighborhood and built this terrible ballpark. I'm so proud of him because this is intellectual promotion, like him making that film. Like when Dad signed Doby."
In March, the Diamond Baseball Holdings (DBH) national investment group purchased the Saints, now a Class AAA affiliate of the Minnesota Twins. DBH owns more than a dozen minor league teams including the Iowa Cubs in Des Moines. Terms of the deal were not announced. "Libby and I got the call from Marv [Goldklang] who tentatively accepted an offer," Mike says during the St. Paul conversation. "He said he had a fiduciary responsibility to all of us. They made four offers, Marv turned them all down. He took the fifth one. I believe they're going to use this as a petri dish to learn how to run one of these teams. That's what my hope is."
Major League Baseball sent two representatives to St. Paul for the ownership farewell ceremonies and a screening of "The Saint of Second Chances." Mike says, "Today the MLB guy and I had a lot of laughs  about this. There wasn't a major league baseball representative at my father's funeral."
Bill Veeck was the only MLB baseball owner to testify on behalf of Curt Flood in the outfielder's 1970 lawsuit against MLB, asking to be declared a free agent. Flood won. He changed baseball forever.
Independent baseball has always been a cornerstone of redemption and freedom. In 1997 Ila Borders became the first woman to pitch in integrated men's professional baseball (Toni Stone had played for the Indianapolis Clowns in the Negro Leagues) when she signed with the Saints. The left-hander played four seasons in independent baseball. She appears in "The Saint of Second Chances" and was on hand for the ownership tribute in St. Paul.
Former New York Mets-Yankees outfielder Darryl Strawberry is a highlight of "The Saint of Second Chances." In 1995 Strawberry received a sixty-day suspension for violating MLB's drug policy. The Saints took a chance on him in the summer of 1996. Strawberry played in twenty-nine games, hit .435 with eighteen home runs and thirty-nine runs batted in. He worked his way back to the major leagues. The Saints retired his number 17 at the mid-August ownership ceremonies. Strawberry was in town, taking a break from his job as a minister outside of St. Louis. He has been sober for more than a decade.
"By the time Darryl got to us he was all folded in on himself," Mike says. "He looked like a human origami. I knew how he felt because that's how I felt. We didn't have any 'moments,' but we had a lot of little moments that spoke to both of us. I told him all you're going to do here is play a game in front of people who are going to adore you. He said it had never happened to him before. I said, 'Of course not. You've never met 'Minnesota Nice.' These people are so used to dealing with people in Hazelden and rehab. They're going to welcome you with open arms.
"They are forgiving."
Mike Veeck did a stint in Alcoholic Anonymous. He rode a bicycle to his first AA meeting in Fort Lauderdale. "I looked at Darryl today," Veeck says with a smile. "We said how MLB sent two people here to interview the two guys who were probably blackballed as much as anybody could be. He thought that was the funniest thing. MLB is humorless but they were very supportive in making the documentary."
In the smallest of worlds, "The Saint of Second Chances" was made in collaboration with MLB Studios, a content partnership with Ron Howard and Brian Grazer's Imagine Entertainment. Their initiative is to reach an audience that goes beyond baseball's traditional fan base. For sections of the film Charlie Day ("It's Always Sunny in Philadelphia") portrays Mike Veeck. It creates a spin into a deeper story that Morgan Neville also used in the 2019 mini-series "Shangri-La" about music producer Rick Rubin.
"The Saint of Second Chances" winds down with Mike Veeck saying he would like to run a team with Night Train someday. "There's a wonderful backstory that Train will never tell you," Veeck says with Train sitting next to him. "Libby gets a call one day because Night Train is on all the bus benches and billboards in an advertisement for Northwestern Business School. He had gotten his master's. He never told his parents. So I know exactly what my son is made of. I know what is important to him when I say in the doc I want to work for him.
"And it's Joliet [Slammers of baseball's independent Frontier League]. We're still chasing that." Bill Murray has suggested that the team consist of players named Jake, as in the Blues Brothers. Mike continues, "And Larne, Ireland. It's just south of Dublin. We're pursuing a soccer team. For one year I want him to do whatever he wants to do and I want to come in and say, 'What should I do, how can I be helpful?' Because my Dad didn't have an education and I certainly didn't have a master's. I crawled out of Loyola [in Maryland]. And he has a master's. Ten years ago I never would have listened to the idea of buying a soccer club in Ireland. You might as well have told me that Santa was coming down the chimney.
"He changed how I think. His willingness to go to a place seventeen hours away [Australia]. Fearlessly."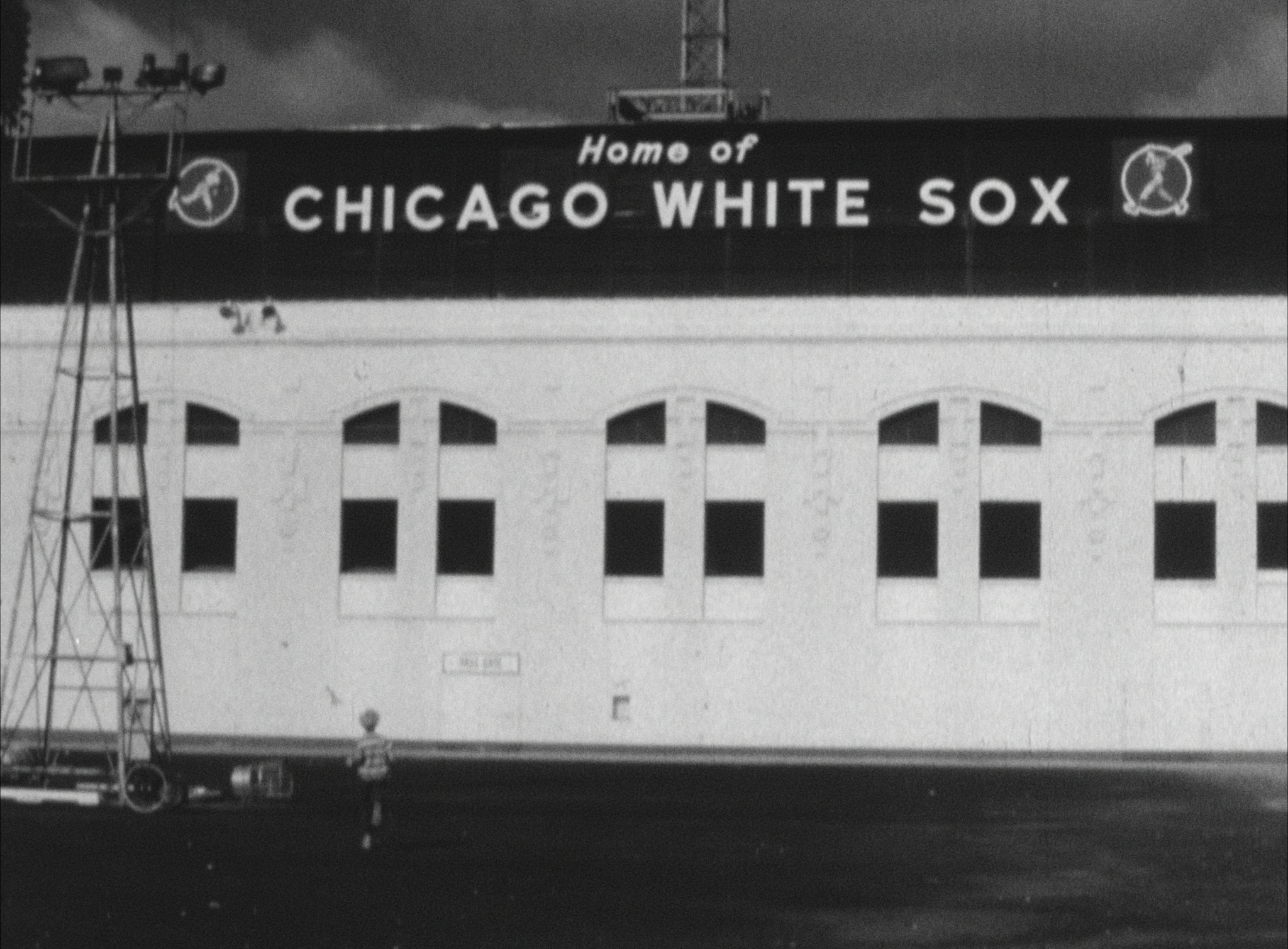 The Veecks always take a swing on a fearless idea.
White Sox owner Jerry Reinsdorf, eighty-seven, has said he won't sell his team as long as he is alive. In late August he hinted about moving the White Sox from Guaranteed Rate Field when the team's lease expires in six years. According to Forbes, in March 2023 the White Sox were worth $2.05 billion, ranking them fifteenth in Major League Baseball. Reinsdorf has owned the team since 1981. "It would be a blast to buy them," Night Train says. "I would love to. The time is right."
Mike says, "It would be a blast. But it's got to be somebody younger. I'd go in as an investor or consultant. You know, I've almost come to admire Reinsdorf in a way. Because he is so loyal he is willing to ride the ship down. And it is killing him. He is loyal to a fault. Night Train and I went to a speaking engagement with the Baseball Writers Association. Jerry Krause [the late Bulls GM and baseball scout] stands up, shows six rings and they boo him. It is wrong, but he was hated as a scout for a terrible reason. The man would see three games a day. Jerry Krause didn't have anything else to do. Thelma [Krause's wife] wanted him on the road. And Jerry [Reinsdorf] rode with him. I don't care how difficult Michael Jordan could be, Reinsdorf backed Krause forever. He stood by him. It was almost Tammy Wynette-ish."
As in, "Stand By Your Man."
Night Train thinks that his time in Australia will be an asset in any forward moves he makes. "Adaptability is number one," he says, the blank slate offering him a chance to learn "all those things, being able to be flexible is huge. That serves you in any career, sports or non-sports. But we're in a time, especially for sports, where people have to be more flexible. We're learning all these things about content and we're migrating into the digital world. We're going to talk about direct-to-consumer streaming. To be able to think about those objectively and clearly is important. And how to learn and listen—I've always been a pretty good listener because of my sales background, but coming into something where you don't have the knowledge of all these things and you put together groups of people. That helped me immensely, knowing who to ask, knowing who to bring in and how to get them working together."
I believe in sports as a unifying force that can bring people together.
I am such a baseball nerd that in early August, I watched Pakistan play Palestine in an international baseball game at Wintrust Field in Schaumburg. Pakistan is drafting players from cricket teams to play baseball. The game was a minor precursor to the new Baseball United league that former White Sox player Nick Swisher, Hall of Famer Adrian Beltre and other former MLB stars are involved in. The league features franchises in Mumbai and Karachi, the first pro baseball franchises in the history of India and Pakistan, respectively. The league begins play in November at the Dubai International Stadium.
It wasn't Dubai, but I had a blast watching Palestine beat Pakistan in Schaumburg. I enjoyed the music from their homelands and the colorful garb of the spectators. Ironically, Ozzie Guillen, Jr. was the Palestine manager. And back in St. Paul, the Saint's Van Schley is using money from the sale of the team to build baseball fields in Ukraine. He bought a tractor with St. Paul dollars.
Mike says, "I was so proud of my son. He got two years of boot training in Australia. He's going to look at the world like this," and he smiles and opens his arms. "As opposed to the way I look at it from the South Side of Chicago."
Night Train adds, "We're a global world now. What you saw in Schaumburg was a nice taste of what it can be at different levels. People are beginning to think about how people connect, where demographics are all over the world. The NFL is doing that now. And people are looking at places that have different ties whether that is through heritage, family or just marketing. Baseball can take a similar approach and find those countries that are interested in the game in their own way and their flavor. And truly try to make it a real World Series instead of a North American World Series. They are starting to look out there which is cool. When can we finally say we are the melting pot that we are?"
Mike Veeck listens and nods in approval.
Life's many paths brought him to this special moment with his son. The family legacy is in fine shape. Dreams will continue to blossom and reach for the stars, even the fallen ones.
"The Saint Of Second Chances" begins streaming on Netflix September 19.