Interlude One of a ten-part series.
Read the Intro here with links to the entire series. Read Act One here.
In the early twentieth century, Samuel Insull was the most powerful man in Chicago. The fanatically focused Englishman had started out as Thomas Edison's secretary before becoming his business manager, providing a steely eyed business acumen as he marketed and manufactured the many inventions Edison had patented. But he craved more, and when the president of the Chicago Edison Company died in 1892, Insull nominated himself as the replacement. He quickly demonstrated his talent for playing utility monopoly, building his dominance with Commonwealth Edison and People's Gas, Light & Coke Company until he controlled power plants, gas companies and interurban railways in eight Midwestern states. His empire generated sums in the Roaring Twenties that are staggering today, even before they're adjusted for inflation. (From the Fine Arts Building, John T. McCutcheon caricatured him as a dour desk jockey commanding his empire by push buttons and telephone.)
During his rise, he had been smitten with an actress, the possibly teenage ingénue Gladys Wallis (real name Mary Bird), who he had first seen onstage. (Sources disagree on whether it was in "The Senator" at the old McVickers Theater, "The Head of the Family" at Powers' Theater, or "The Squire of Dames.") Wallis was so tiny—barely five feet tall and weighing less than one-hundred pounds—the papers called her "a pocket Venus." After they were introduced at a dinner party, the decade-and-a-half-older Insull courted Wallis. Either despite their age difference or because of it, he proposed, and they were married in 1899, upon which she promptly retired from acting.
Over the next several decades, Wallis, who'd taken Insull as her married name, became a society doyenne, presiding over a Gold Coast apartment, a Libertyville estate and social functions where the assembled jewelry frequently valued in the millions. Her hands and feet were so small that her gloves and shoes were custom-made—as were the diamond and emerald bracelets she wore, as many as ten at a time. By most accounts, Wallis was beloved neither in society nor at home and the marriage was cold and brittle. Some reported that Wallis frequently reminded Insull she had given up her performing career for him.
When her only child, Samuel Jr., graduated from Yale in 1925, Wallis decided to leave her empty nest for the floodlit stage. To indulge her, Insull financed a revival of Richard Sheridan's "The School for Scandal" as a benefit for St. Luke's Hospital; its board was a who's-who of Chicago. No expense was spared: the limousines of arriving city elites passed under a canopy of blazing orange and green electric light bulbs said to be three blocks long. The Armours, the Marshall Fields, the Pullmans and the Drakes all witnessed fifty-six-year-old Gladys Wallis' star turn as the coquette, Lady Teazle.
After the two-week run raised $125,000 for St. Luke's, Wallis resolved to pick up her career where she'd left off and took her act to Broadway, with Insull as her producer. But her reception on the Great White Way was poor. "This play has been pre-empting Little Theatre for weeks by weight of money and without question of merit," snarled the New Yorker. "It will probably cost Insull $100,000 loss, to keep the play going, but Mrs. Insull is having her fun."
Wallis soon returned home to Chicago, undaunted, and planned further theatrical adventures. Insull objected to her travels, and as a compromise financed the Repertoire Theater Company, to be based in the Fine Arts Building's Studebaker Theater. An August 1, 1926 press release proclaimed that its offerings—new plays by American authors with selected revivals of popular works—would be "on the same level as New York's best." Showing either faith in her ambition or dogged determination to save his marriage, Insull leased the Studebaker for five years. The company's premiere effort, Gretchen Damrosch's "The Runaway Road," was generally well received, but the second play, in which Wallis once again played a gamine, was a disaster. The comical miscasting was seized upon by the press, who also savaged the rest of the cast. Facing reported losses of $1,000 a day, the company quickly ended the season, citing an unspecified illness of their star performer.
But the Insulls were not done. Wallis tried again to reverse the company's fortunes, this time by recruiting the legendary Alfred Lunt and Lynn Fontanne to bring their Theatre Guild to the Studebaker. Lunt and Fontanne's six performances played to raves and full houses, but that good feeling was not transferable. Wallis' next two plays (George Bernard Shaw's "Heartbreak House" and A. A. Milne's "Mr Pim Passes By") took critical and financial drubbings. In December, Wallis finally admitted defeat. "I have reluctantly reached the belief that my ambition was misdirected, my money wasted," she announced. The following month the Repertoire Theater Company officially folded.
Insull declared himself "out of the theater business" but was unable to break his contract with the Studebaker. The banks handling his affairs were still paying the lease in 1932 when his tottering business pyramid—he had stacked companies into holding companies financed by the sale of securities—finally collapsed under its own weight. For three hours he sat at his desk signing resignations as chairman, director and president of his companies. One newspaper called him "The World's Greatest Failure," noting that it had taken him only fifty days to lose what had taken him fifty years to build.
Urban legend, frequently repeated by Chicago tour guides, holds that the Civic Opera House, financed by Insull, had been built for Wallis, and the reason its chair-shaped design faces west is her rejection by New York's Metropolitan Opera. None of it is true: Wallis was no opera singer, and its construction began in 1927, one year after her second retirement from the stage. It may be correct, as some have said, that Insull refused to rent space to anyone in the arts there—though that could have simply been a business decision.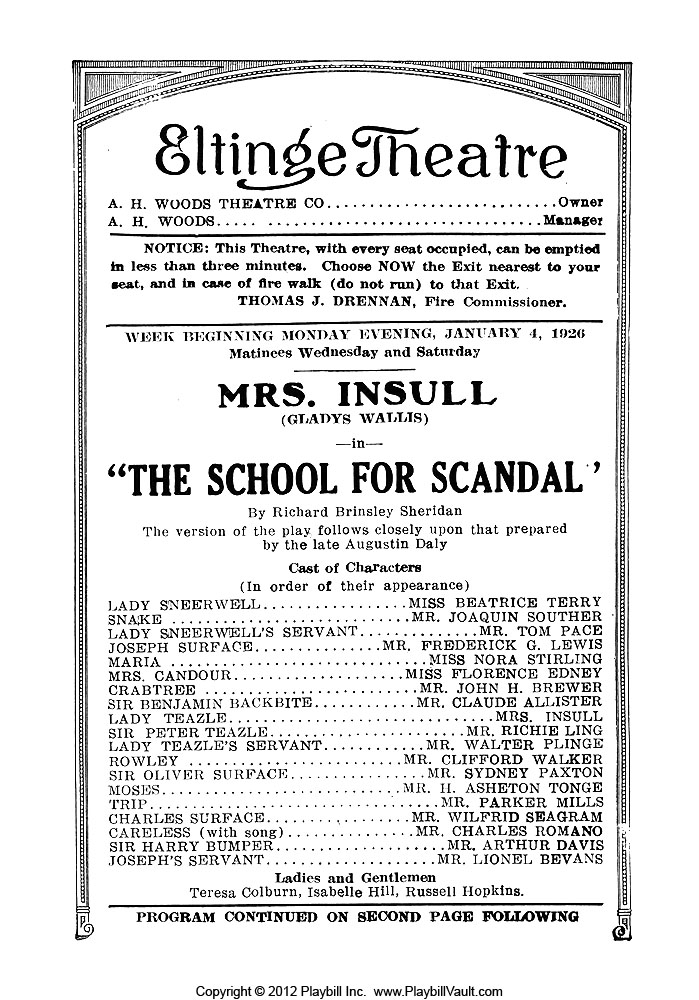 Wallis' New York snubs were immortalized in one of the greatest movies of all time, however. When "School for Scandal" played New York in 1925, Herman Mankiewicz, then a young drama critic for the New York Times, was assigned to review its opening. He hated it, but after getting drunk before, during, or after the production (likely all three), he was in no shape to write his review. When he returned to his desk, he had only managed to type the lede ("Miss Gladys Wallis, an aging, hopelessly incompetent amateur") before passing out at his desk. Senior drama critic George Kaufman probably finished the review.
Fifteen years later, hired by Orson Welles to write what would become "Citizen Kane," Mankiewicz used this scenario and embellished it. Charles Foster Kane has a talentless young wife, Susan, for whom he builds an opera house. When she performs in it, her ineptitude is revealed, and Kane's friend, Jedediah Leland, is assigned to review it—but collapses before he can finish his savagely honest review.
The incident may have been fictionalized in "Citizen Kane," but in real life, the Fine Arts Building is where it all fell apart.