Interlude Two of a ten-part series.
Read the Intro here with links to the entire series. Read Act One here. Read Interlude One here. Read Act Two here.
The fates of the two first-floor theaters have followed the Fine Arts Building's fortunes.
When it opened on September 29, 1898, the beautiful Studebaker Hall received rave reviews. The larger of the two, it seated 1,500 concertgoers on three levels with thirty-four box seats—a level of crowding that would be rethought after the Iroquois Theater fire killed 602 people in 1903. The Studebaker was originally conceived as a music venue, and its inaugural performance was a piano concert by Fannie Bloomfield-Zeisler. But when musical bookings failed to materialize, Charles Curtiss converted the concert hall into a theater. Boston's Castle Square Opera Company performed there for two years, but its offerings, too, failed to pack houses, and for the next half-dozen years the Studebaker hit its stride with lighter works for larger crowds. "King Dodo" and "The Prince of Pilsen" played for long runs, and "Peggy from Paris," written by Fine Arts Building tenant George Ade (studio 839), helped establish his reputation and Chicago's, too.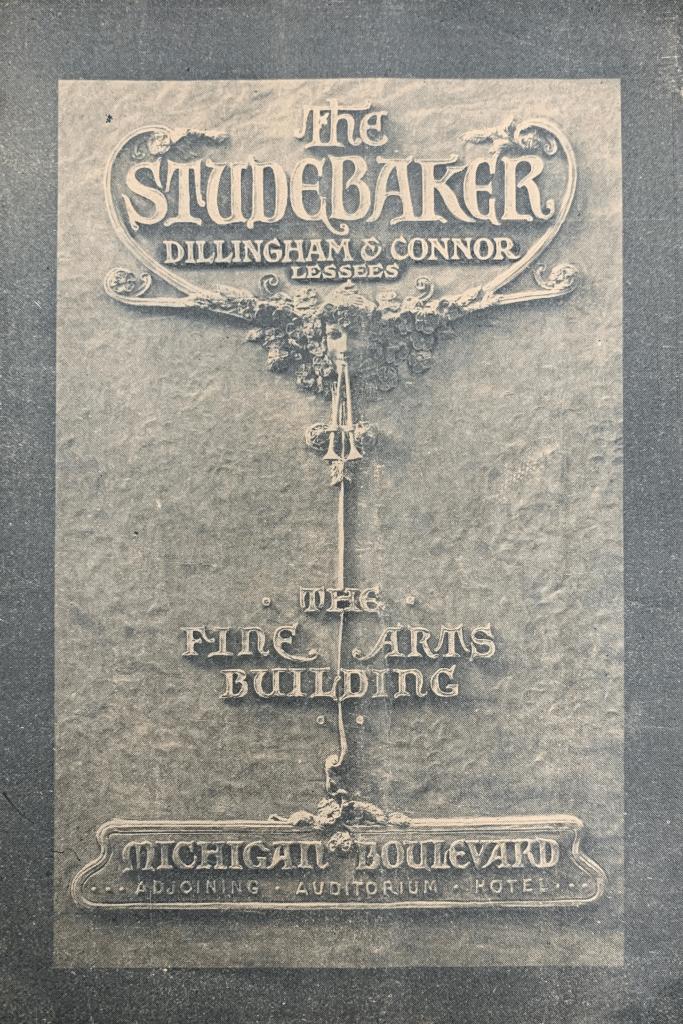 But theatrical success is measured with a short ruler. In 1907, the Studebaker was leased to New York theatrical producers Connor & Dillingham, who refurbished it and booked their own slate of programs that earned diminishing box office returns, with some notable exceptions: in 1910, the legendary Sarah Bernhardt played a two-week repertory engagement that showcased her signature roles in "Camille," "Phedre" and "Jeanne D'Arc."
By the advent of World War I, the theater was in need of a rethink. Frohman, Klaw and Erlanger operated it as a vaudeville house for several months, but couldn't compete with the three other theaters they operated locally. The lowbrow fare also horrified the high-minded Curtiss—probably another reason the experiment was short-lived.
The Studebaker's first flirtation with film came in October 1915, when new management reopened it as a movie theater showing three movies for two dollars. One bill offered a Mack Sennett comedy, a Thomas Ince drama, and a D. W. Griffith spectacular. But even when this surefire scheme failed to catch fire, the building's owners and the theater's leaseholders decided to once again launch the Studebaker as a legitimate theater, this time under the direction of the Shubert Organization.
Notable Chicago architect Andrew N. Rebori designed and oversaw the major remodeling at a cost of $100,000. The theater reopened in November 1917 with an enlarged proscenium arch, a rebuilt stage, new lighting and improved acoustics. The side walls had been rebuilt, and the main floor, balcony and gallery were all new—only the original ceiling remained.
The theater appears to have been moderately successful in the following years, attractive enough that in 1927, utilities magnate Samuel Insull would take a five-year lease to showcase the talents of his wife. (See "Interlude: Samuel Insull and Gladys Wallis.")
Post-Insull, the Studebaker was leased to a wildly varied troupe of itinerant occupants, including the Central Church (which held services there from 1944–1950) and NBC Studios (1950–1955). From 1956 on, it was operated by multiple bookers and producers including the Nederlanders. But more and more often the house was dark. Its final live production before the present day may have been a traveling performance of "A Prairie Home Companion," in 1982.
University Hall opened on December 29, 1899, and immediately showed its promise as a versatile, mid-sized venue. According to Duis in "Chicago History": "During its first year, that 750-seat hall saw a highly diversified collection of gatherings. The University of Chicago held Extension classes and Convocation there. Ethnic singing and dramatics societies, innumerable charity benefits, the Order of the Eastern Star, and an Isadora Duncan dance recital kept the booking agent busy that first year. A few small religious groups with offices in the Fine Arts also used the hall, as did the followers of self-proclaimed agnostic Robert Ingersoll."
Despite a name change to Music Hall around 1903, when a balcony was added, the space continued hosting a variety of music, plays and meetings. Only five years later it was lightly remodeled and again renamed, this time the Fine Arts Theater, as management leaned into theatrical productions. Then again, in 1912, the venue was completely rebuilt as the Fine Arts Theater name became more established. In 1914, it became a part-time movie theater (programmed by the delightfully named Alfred Hamburger Organization) when no play was running. Still more renovations occurred in 1916 as the space was renamed the Playhouse Theater, a moniker that almost stuck. Despite being leased to Metro Pictures in 1919, the Playhouse continued to alternate between films and plays throughout the 1920s.
The Playhouse's most interesting chapter began in 1927, when a few film-loving entrepreneurs founded the Little Cinema there in reaction to the so-called "popcorn palaces" popping up elsewhere in Chicago. With the newly created Chicago Film Guild as its advisory board—members included Edith Rockefeller McCormick and then-film reviewer Carl Sandburg in addition to usual suspects Lorado Taft, Harriet Monroe and Jane Addams—the Little Cinema set itself apart both by its programming and by its style. The first film in its largely foreign and serious slate was Sergei Eisenstein's "Battleship Potemkin," and there was no music or skits between showings. Usherettes wore mufti instead of the quasi-military uniforms found in other theaters. Patrons were encouraged to smoke the free cigarettes and put their feet up on chair backs if they wished. One newspaper was so put out by these developments that it called the Little Cinema "the I-Hate-Movies Club."
In 1933, with the Century of Progress thrilling visitors from around the world, the Playhouse Theater became the World Playhouse, Chicago's first art-house cinema. But without significant new investment under its indifferent owners, it became shabbier and shabbier—finally showing X-rated films—before closing in 1972.
After the Playhouse was briefly renovated and reopened in 1980 as a venue for chamber music, in 1982 both theaters were taken over by the Skokie-based M&R Amusement Company. M&R converted them for use as movie theaters, the first to open in the Loop in a decade. Over the next two years, the old theaters were chopped and channeled to add two more screens for a total of four. Booked by Tom Brueggemann throughout the 1980s, the Fine Arts Theater was the place to see first-run foreign, art and indie films.
But conglomeration foretold the end. Loews bought M&R's Chicago theaters in 1988. Then Sony bought Loews and merged with Cineplex Odeon to become Loews Cineplex. In 1991, Loews opened the art-themed Piper's Alley in Old Town, creating their own competition. What had been faded elegance curated by loving local management became a shabby, neglected cog in the nationwide chain, a dumping ground for films that were dragging down more prosperous locations. Seats were broken, films were poorly projected, the atmosphere downright swampy in summer.
With growing competition from not only Pipers Alley but Landmark's Century Centre Cinema and others, the theater was losing money, and in 2000, Loews Cineplex pulled the plug.The four films playing the final weekend were "Billy Elliot," Lars von Trier's "Dancer in the Dark," the Val Kilmer bomb "Red Planet," and a low-budget indie called "Cleopatra's Second Husband" that registered a weekend gross of $173.
"Our intention is to convert them back to stage theaters," building owner Tom Graham said at the time of the darkened cinemas. "That's our fondest hope."
The theaters' original dimensions were eventually restored, and the Studebaker and World Playhouse were occasionally opened for events, but mostly it was one-offs.
In 2014, Berger Realty began working to restore both theaters, and they reopened on October 18, 2015 after modest renovations. Chicago Opera Theater and the Chicago Jazz Orchestra, both Fine Arts Building tenants, held performances there.
Then in August 2021, Berger announced a major renovation and restoration—and delivered. With a rebuilt stage, new seats and state-of-the-art sound and lighting, the Studebaker Theater reopened as a live theater in May 2022 with "Skates: A New Musical." In Chris Jones' review for the Chicago Tribune, you can sense the critic straining to be charitable, so desperate is he to see an original live performance post-pandemic. "Personality: The Lloyd Price Musical" debuted in the summer of 2023 and played to much better reviews, but also some half-full houses. Seven Thirty Theatre's "The Color Purple" played a two-night engagement at the end of September, and "Emmett Otter's Jug-Band Christmas," with puppets created by Jim Henson's Creature Shop, is scheduled for a six-week holiday run.
There's a lot more going on, too: one-off classical concerts, movie screenings and comedy shows; live recordings of WBEZ programs "Mortified" and "Science Friday"; and a residency of the hit NPR show, "Wait, Wait… Don't Tell Me!"
Nothing happens overnight at the Fine Arts Building, but you can feel the theaters coming back to life.